---
Covered in this Article:
---
Current Diving Support
Although we plan to enhance SwimTopia and Meet Maestro with more diving support in a future release, please keep in mind that the current support is limited to adding diving events to your meets and entering athletes into these events for the purposes of exporting an entries file when the meet is run using a meet management system other than our own, Meet Maestro.
» Note: SwimTopia does not support dive score formatting through results import, or scoring dive events separately from swim events.
If using Meet Maestro and your entries include diving events, you will see a message in Meet Maestro post-merge that will remind you that "diving is not supported".
If a results file is uploaded that includes diving results, these results are not viewable or editable in SwimTopia.
We are happy to work with customers to explore diving requirements and enhance our product offering in this area. If interested, feel free to document your requirements by submitting a support ticket.
---
Add Diving Events
Once you have created your swim meet, use the "Add Event" menu to add your diving events.
For more information on creating a swim meet ➞ See our Creating Meets (Options)

Competition Category: Girls/Women, Boys/Men, or Mixed
Age Range: Team Setting, Open, or Custom
Dives: 3, 4, 5, 6, 11, or Custom
Height: 1Meter, 3Meter, and Platform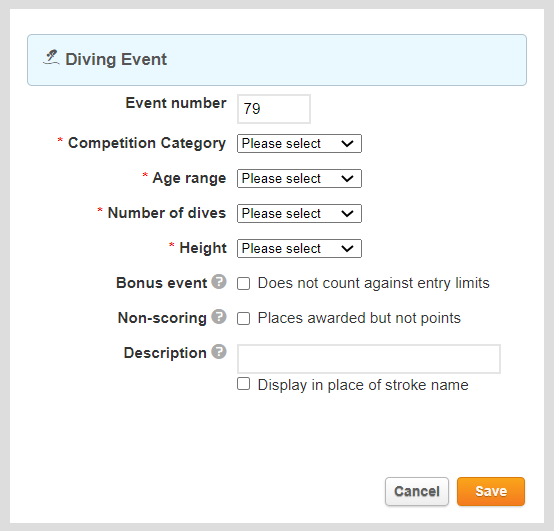 ---
Enter Athletes in Diving Events
Individual Entry: Use pencil icon
Bulk Entry: Select "Edit Entries"