We suggest you create what we call a "Meet Template" which is an example Meet with all the important pieces in place —
Swim Events -- including all event numbers, strokes, distances, ages, etc.
Entry Settings -- configuration of your entries requirements
Jobs & Shifts -- your list of jobs and shifts for this type of meet
Follow these steps to create a meet master or template:
Make Sure your Season is Current
Go to Manage Team > Schedule. Add your upcoming season in the Seasons tab if it's not already created. See the Schedule & Seasons tutorial for more info.
Set up your Meet
You can create a meet from scratch or copy an existing meet.  If you're creating a brand new meet for the first time you set up a meet, we recommend you import a meet events file from Meet Manager (.ev3). This will ensure you import all the meet events in the right order for your team and league.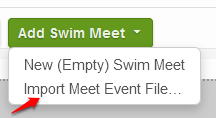 For more information about creating a new meet, see our Help Center article on Creating and Managing Swim Meets.
If you'd like to copy an existing meet, go to Manage Team > Schedule, and select a meet that has a complete set of swim events (imported meets will only retain events that have times entered). Click the Copy button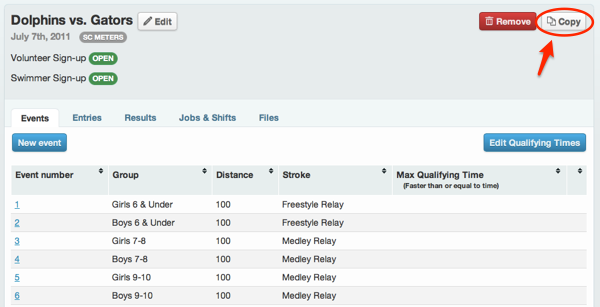 Change the dates to dates for your current or upcoming season (make sure the year is changed for the Meet Date, the Age-up Date, and the Entry Due Date)
Rename your meet, i.e. Home Meet Template
Select Do not display this meet on the public schedule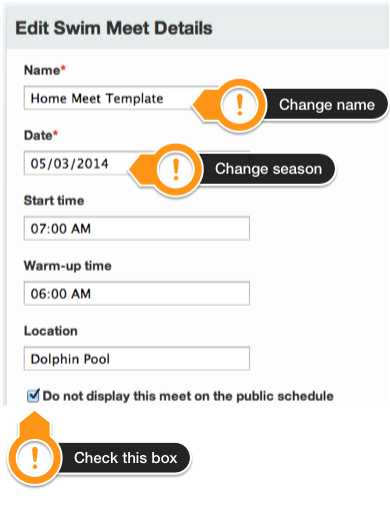 Click Save.
Set up your Basic Meet Elements Before you Begin Copying 
Again, it is important that certain aspects of your Meet Template are set up properly before you begin making copies of your template:
Swim Events -- including all event numbers, strokes, distances, ages, etc.
Entry Settings -- configuration of your entries requirements
Jobs & Shifts -- your list of jobs and shifts for this type of meet
Swim Events
Go through the swim events to make sure they're in the right order. These swim events are needed for meet entries and meet results.  To check your swim events, click on the "Events" tab.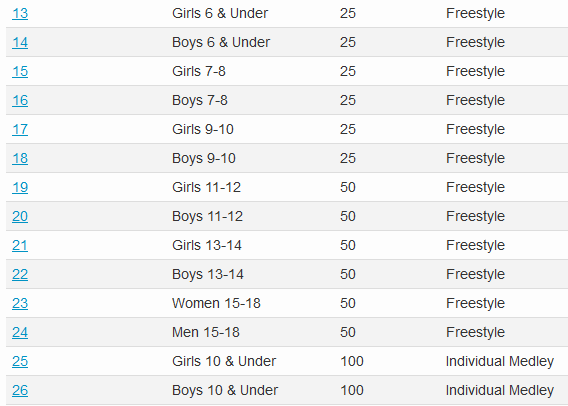 ➞ To learn more about viewing and editing a meet's swim events, see our Swim Events section of our article about Creating Meets.
Entry Settings
Next, set up your meet entry settings, such as how many individual and relay events a swimmer can swim, relay settings, how parents sign up for events, and more.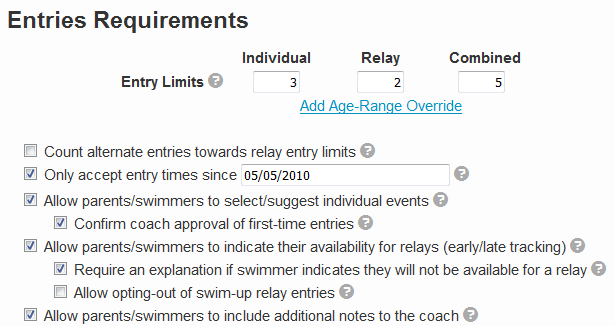 There are many choices here that will affect how parents and coaches can sign up swimmers for events in each meet.
➞ See this tutorial for detailed information on settings, entry requirements, fees and participation requirements.
Jobs and Shifts

Add a complete set of jobs to your template by clicking the Jobs & Shifts tab. It's easier to remove jobs than to add them to several copied meets later.   NOTE: you can also use Job Templates to save and reuse jobs and shifts that are specific to certain types of meets and events.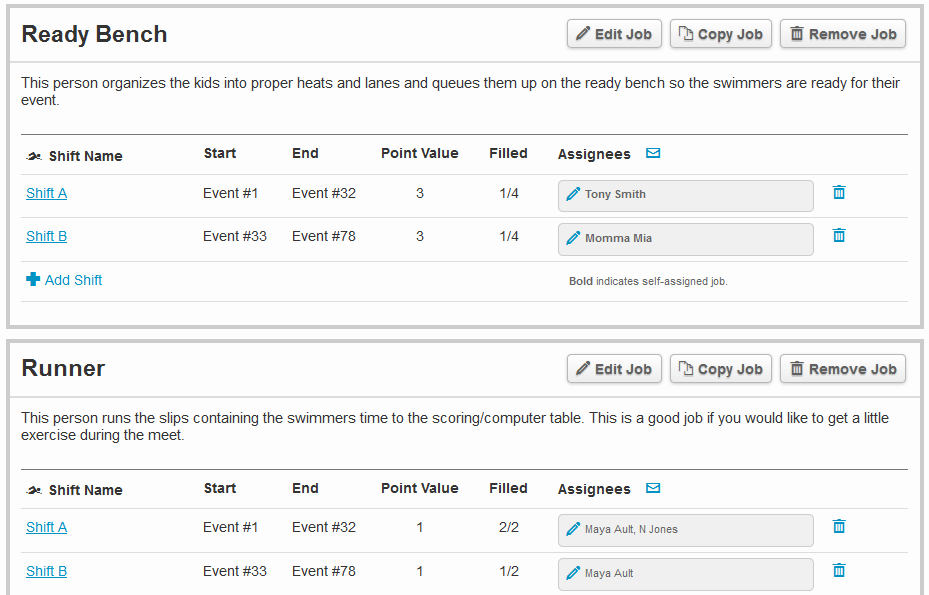 ➞ For more information, see our tutorials on Job Templates and setting up Jobs and Shifts.
Copy your Templates
Copy this template over and over to fill out your current season meet schedule.
When making your copies, be sure to:
Edit the name of the meet
Change the Meet Date, the Age-up Date, and the Entry Due Date
Change the Start Time and Warmup Time if needed
Change the Location if needed
Uncheck "Do not display this meet on the public schedule "
You can have as many Meet Templates as needed, for Home, Away, etc. meets.