SwimTopia's mobile app is available to all members of a team using a SwimTopia website.
Our FREE mobile app shows a personalized view of your family's meet entries, volunteer signups and swim history. And includes great features to help keep parents better informed, like our Notification Alerts, and Live Event/Heat bar!
If your team is using Meet Maestro™, SwimTopia's meet management solution, you'll have access to heat sheets, estimated start times, live meet results and team scores when you upgrade to our Pro subscription (details below).
>>Note: A valid SwimTopia login is required. If you or your parents need assistance with a login/password ➞ See our Login, Password and "My Account" Details Help Center article. 
---
Covered in this Article:
---
SwimTopia Mobile App Download
The SwimTopia mobile app is available in the Apple App Store and Google Play Store.
Mobile System Requirements:
iOS 9

 or higher

Android 8 or higher
---
SwimTopia Mobile App - Features Overview
Notification Alerts (Free)
SwimTopia Live Event/Heat Bar on meet days (Free)
Family Overview (Free)
Swim History (Free)
Heat Sheets & Estimated Start Times*
Meet Results & Scores*
*Feature requires use of Meet Maestro™ and a Pro subscription.
Try Pro for FREE for 7 days, then upgrade to Pro for $1.99/month
---
SwimTopia Mobile App - Feature Details 
Notification Alerts (Free)
Notification Alerts are helpful when your team or coach needs to get information out quickly to parents or athlete's, such as rain delays or weather alerts. Team admins have the option to send Emails or Alerts from within the Communications tool of their team website (not from within the app directly at this time).
Sending an alert triggers a push notification to team members' who have downloaded the SwimTopia mobile app AND allowed notifications within their phone settings, removing the need for external texting apps. 
>>Note: Alerts will be sent as emails for members wo do not download the app, OR download the app but do not have notifications turned on. Version 2.1.17 or higher is required to receive push notifications.
To receive alerts:
Download the SwimTopia mobile app

 on the

App Store or Google Play

 

Log in with your SwimTopia login

Be sure to check your app notifications in your phone's settings -- ensure that it's set to pop up on your screen
>>Android Users: ensure the PhoneGap Push Plugin notification setting is not turned off. If you experience any issues after checking this ➞ See Android's Notification Support Article. If this does not help, we will need screenshots from your phone to assist - Submit a request
Additional Mobile App Notifications (Pro Subscription & Meet Maestro™ Users)
Team members that upgrade to a Pro subscription will receive swim and job reminders on meet days when their team uses the SwimTopia Live Event/Heat Bar feature in the app. And when the host team is using Meet Maestro, team members will receive live results notifications after their kids have swum. More details below.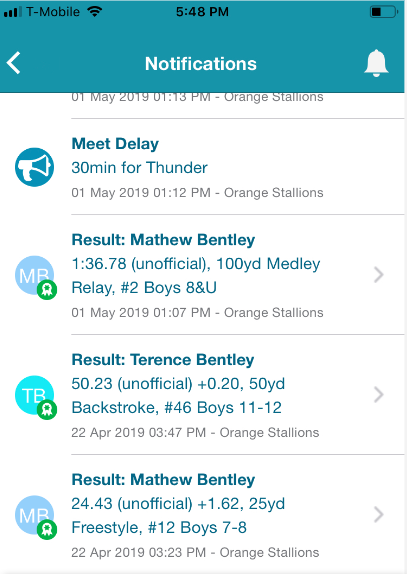 For more team admin instructions on sending Alerts ➞ See our Communications Help Center article. 
SwimTopia Live Event/Heat Bar (Free)
Like having an Event/Heat board in your pocket, SwimTopia Live is really handy for members who can't see the pool from a volunteer position or they want to time their arrival at the pool. The team can access SwimTopia Live features in the mobile app when a team admins perform a few simple steps.
SwimTopia Live features include:
Live Event/Heat bar on the mobile app for all your team members
   > Requires a team volunteer to broadcast the current event/heat from app
Live Event/Heat bar on the mobile app for the visiting team (if they also use SwimTopia)
   > Simply share a subscriber code with the visiting team
For more team admin instructions on getting started with SwimTopia Live ➞ See our Help Center article about Enabling SwimTopia Live
Family Overview (Free)
A family can see all the team's upcoming and past calendar events, and then drill down to specific meets to see which swim events and volunteer positions their family is signed up for. When the SwimTopia mobile app is used with Meet Maestro™, team members can also see their swimmers' heats, lanes, and estimated start times per event.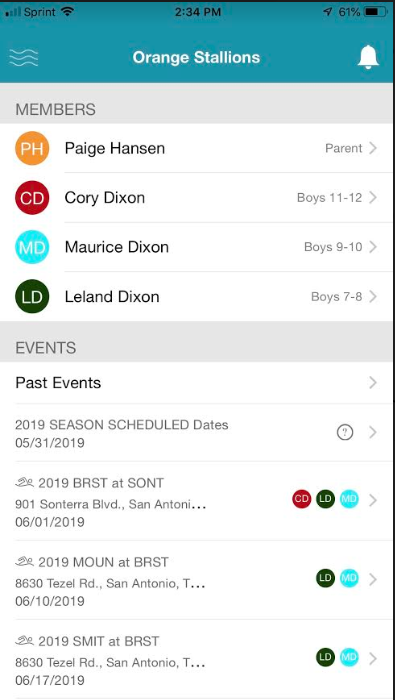 >>Note: To sign up for meets (entries or job signup), members need to access the team's website through the browser on their phone. Some teams choose NOT to display relay team designations on the app. 
Swim History (Free)
SwimTopia's mobile app keeps the swimmer's best times and swim time history at your members' fingertips, with details on every swim for which SwimTopia has data, organized by stroke and distance. The app shows a summary of best times for each swimmer, and from there members can drill down into each event for more information.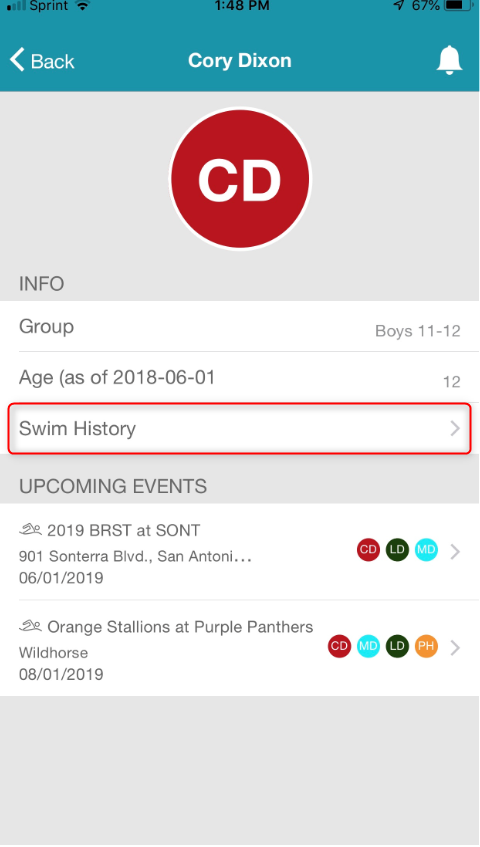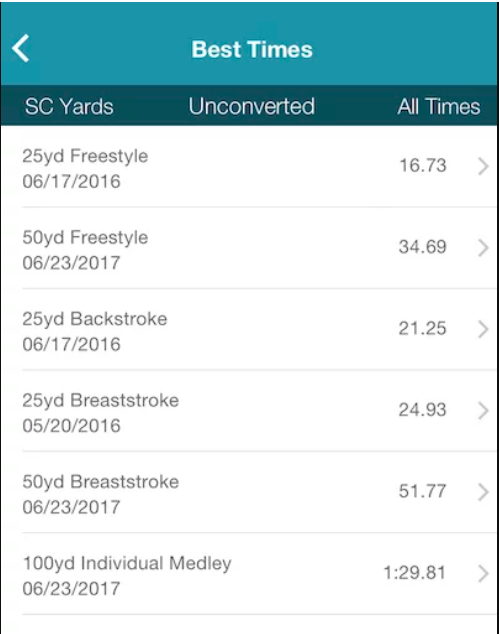 Heat Sheets & Estimated Start Times
(Pro Subscription & Meet Maestro™ Users)
With a Pro subscription, Meet Maestro™ members can view the meet's heat sheets in the app, including heat/lane assignments and estimated start times for each event on the family's swim meet Overview screen. If your team is updating the Live Event/Heat Bar as the meet progresses the estimated start times will adjust according to the actual progress of the meet for added accuracy.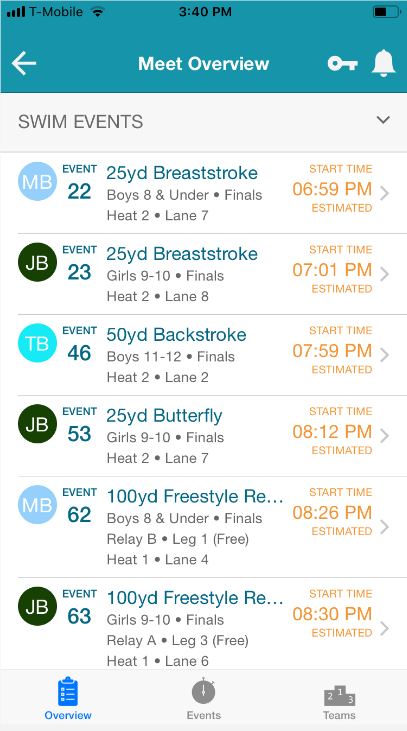 Meet Results & Scores
(Pro Subscription & Meet Maestro™ Users)
For teams that use Meet Maestro™ to manage their meets, team members with a Pro subscription, are notified of swim results and team scores for all swimmers live throughout the meet. For non-Maestro teams and basic subscribers, meet results are updated after the meet and teams can choose to display the meet scores.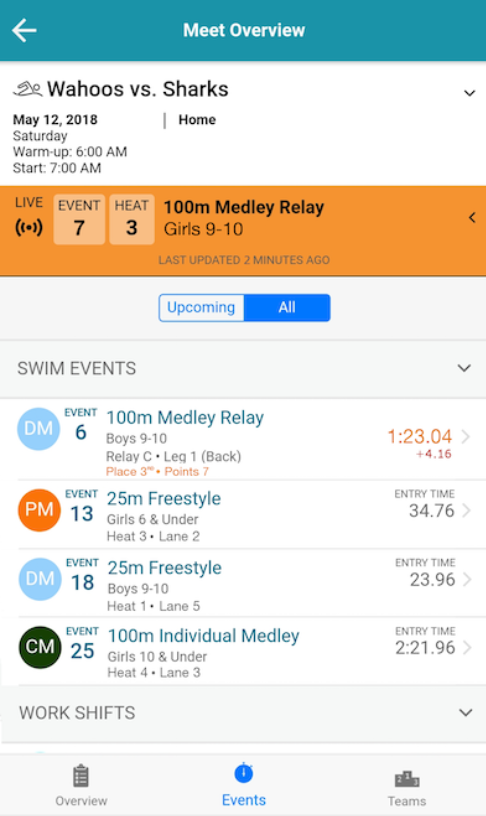 ---
Pro Subscribing & Unsubscribing
For more information on subscribing to Pro ➞ See our Help Center article How to Subscribe to SwimTopia Mobile Pro
If users wish to cancel the Pro subscription, this is done through the app store subscription tool, not within the app itself. ➞ See our Help Center article How to Cancel a Pro Subscription
---
Communicating to Parents about the Mobile App
We suggest mentioning the SwimTopia Mobile App to your parents in communications, social media, swim meet descriptions and on your website.
We've also provided some tools to help you get the word out about the mobile app:
Sample letter
Snippet for your website
Flyer to post or distribute
➞ See our Help Center article Tools to Inform Parents about SwimTopia's Mobile App
hcmanagescheduleswimmeetmeetsetuplinking