Your team's Meets and Events are managed in the Schedule tab in the Manage Team console.
The events listed here will be by default from your site's "current season", which is set in the Seasons tab. To view meets and events in a different season, click on a season name on the left.
➞ See the Managing Seasons tutorial for more info on your current season.
About Meets and Events 
Two types of events can be added here which will display on your website's Upcoming Events snippet and Swim Meets page.
» Swim Meets allow you to define events and set specific meet parameters. Members can sign themselves up to work a job and enter their swimmers in meet events. Some teams refer to signing up for a meet as an RSVP—in SwimTopia, that's called attendance declaration or meet signup. See: Creating and Managing Swim Meets for more on setting up swim meets. And see Meet Job and Swimmer Sign-up for Parents for more about this from a parent's perspective.
» Calendar (Social) Events are non-meet events such as banquets or informational meetings that members can sign up to attend and/or work. 
Note: For swim clinics or other paid events which require a limited capacity, you can add these as Merchandise items with limited slots and offer them for sale on your Online Store or during Registration.
Creating Calendar (Social) Events
Click the Add Calendar Event button for a new meeting or social event.
Enter your event details, and check the Do not display box to save it as a draft accessible to admins only.
Uncheck this option when you are ready for it to appear on your Meets & Events schedule, and to allow parents to RSVP.
Click Save to add this event to the schedule. 
RSVP Settings for Calendar Events
Click on the event name in your Schedule to edit RSVP and payment settings for this event.
Click Enable online RSVP's to allow parents to RSVP for social events, and select your preferences for how to handle each RSVP. Once a person has responded to an RSVP their response cannot be changed. Adjustments will need to made by other means.
Open:
✓ Allow RSVP and view it (parent account login required)
Pending: 
×  Disable view and RSVP
Closed:
✓ Allow view RSVP (parent account login required)
×  Disable RSVP
Click Collect online payments and enter your fees per athlete if this event requires payment. 
Click Save to save your changes to this event, for example to waive a fee for older swimmers.
Once RSVP's are entered, click Replies to view and download a CSV export of all RSVP responses.
Jobs & Shifts for Calendar Events
Create volunteer jobs, and manually assign/remove volunteers to/from shifts.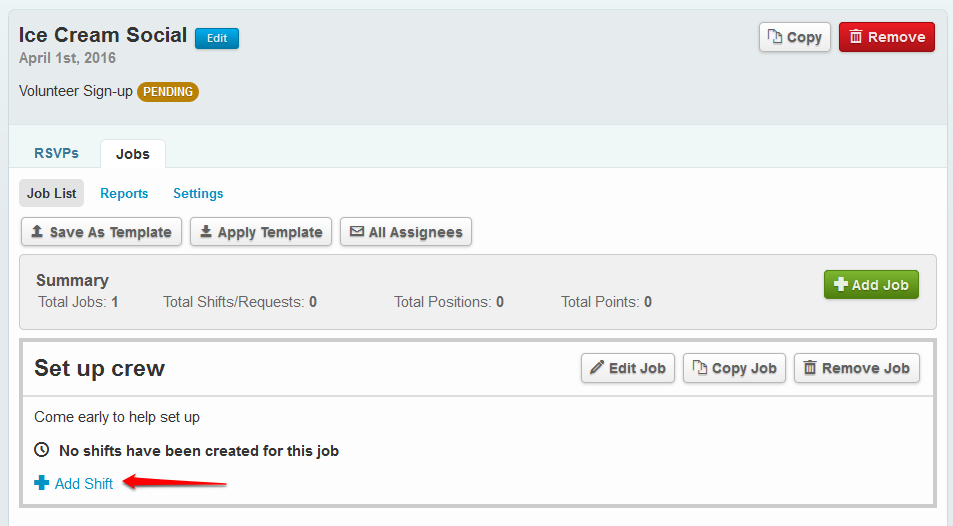 Sometimes you'd like people to be able to sign up to bring donated items, such as concession stand items, raffle prizes, etc.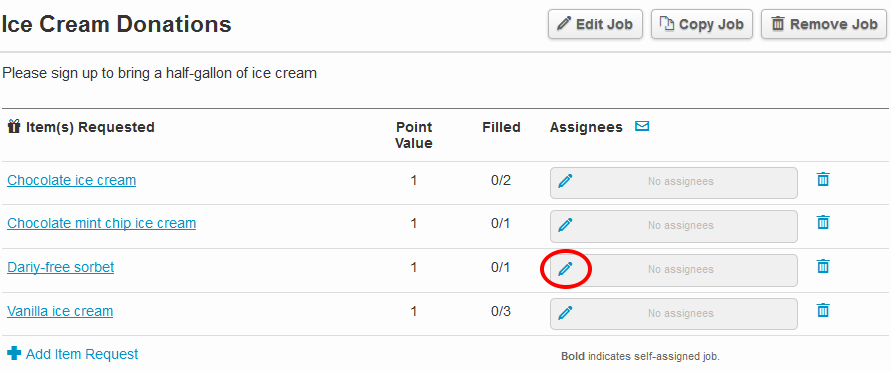 ➞ See the Jobs and Shifts and Job Templates tutorials for more info on creating jobs and assigning volunteers for your meets and events. 
➞ See the Creating and Managing Swim Meets tutorials for more info on creating swim meets.