Job Templates make creating volunteer jobs and shifts and sharing them between swim meets and other events a snap.
Job Templates can be created from scratch or saved from an existing meet, and they can be edited independently. A Job Template can be applied, or imported into, any existing event.  You may wish to have a Home Meet Job Template and an Away Meet Job Template, and you can also set up Job Templates for non-meet events.
Creating New Job Templates
To create a new Job Template, go to Schedule > Job Templates and click on "Add Template"

To add jobs and shifts to your template, click on the name of your newly created template, then click the green "Add Job" button.

Enter your job details and select whether the shifts for this job are defined by time, by meet event number, or by an item request.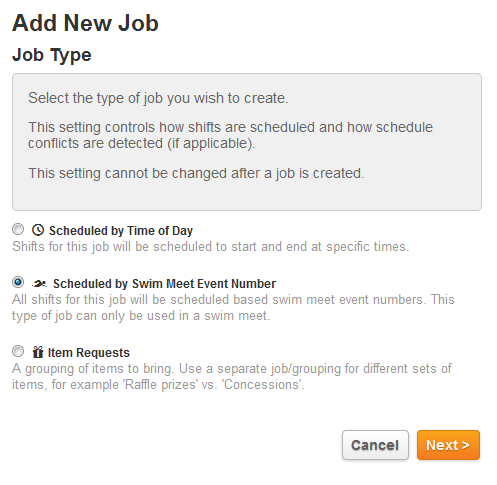 Jobs that require prior approval or training can be restricted to those members who have been assigned by an admin to a particular role.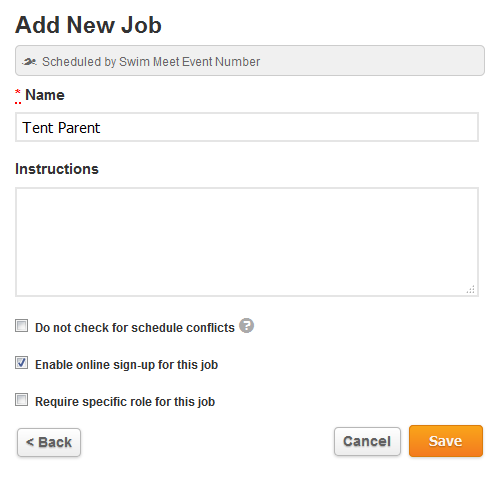 Check Require specific role to restrict online signup to members and select the role from the list below the checkbox. One example of this is a Stroke & Turn Judge. Most leagues require training for this job.
➞ See the Assigning Volunteers to Roles tutorial for more info.
➞ See the Defining Roles tutorial for more info.
Your must now add shifts to this Job -- click on "Add Shift." (Note:  volunteers will not be able to sign up for jobs unless you have at least one shift set up for each job.)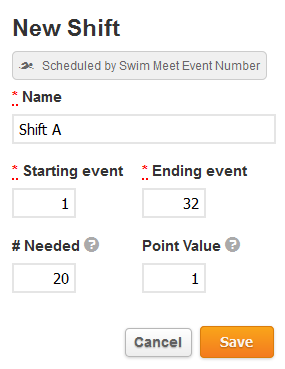 You can review your shift setup and edit if needed:

Continue adding the jobs and shifts that are needed for the entire event
Copying Templates
If you have job templates that are very similar to each other (Home Meet vs. Away Meet), you can create one template and then copy it, rename it to the new template, and make any adjustments to the jobs and shifts.

Saving Existing Jobs and Shifts as a Template
Rather than creating a Job Template from scratch, you may find it easier to save the jobs and shifts from an existing meet into a new Job Template. From any previous meet go to Jobs > Job List and you'll click "Actions" to see the option to "Save As Template."

You'll see a display window to give your template a name, then click on "Save."
Applying Job Templates
When you set up a new meet, you can apply an existing job template to that meet.  Go to Jobs > Job List, and click on "Actions" then "Apply Template."

When applying a Job Template to a meet that already has jobs defined, the new template is merged intelligently. It will only add those jobs or shifts that do not already exist. If you prefer, the option is available to completely replace all existing jobs, shifts and assignments with those in the template.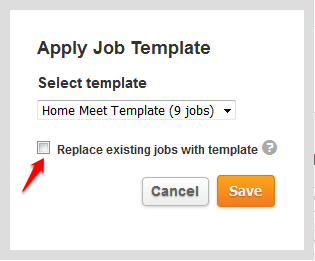 ➞ See our tutorial on setting up Jobs and Shifts for more details about setting up specific jobs and shifts.