---
>>Tip: We are introducing exciting new features throughout the season, so be sure to upgrade to the newest version when prompted to do so, or check for updates on your mobile device periodically.
Download the SwimTopia mobile app on the App Store or Google Play
---
Covered in this Article:
---
▶️ Video - SwimTopia's Mobile App (under 2.5min)
A quick overview to learn more about how SwimTopia's mobile app makes it easier than ever for parents to stay in the loop before, during and after each meet.
---
Notification Alerts
Notification Alerts are helpful when your team or coach needs to get information out quickly to parents or athletes, such as rain delays or weather alerts.
➧

Sending an alert from the mobile app:
A red badge "super" admin or user assigned to a role with permission to manage communication can access the Manage Team console from within the SwimTopia Mobile App to send a notification alert. This access is through the key icon at the top of the screen within your app (next to the bell icon).
Sending an alert triggers a push notification to team members' who have downloaded the SwimTopia mobile app AND allowed notifications within their phone settings, removing the need for external texting apps.
>>Note: Members that don't download the app, OR download the app but do not have notifications turned on, will receive the alerts via email. You need to update to the new release of SwimTopia's mobile app to receive push notifications (Version 2.1.17 or higher)
➧

Receiving Alerts:
Download the SwimTopia mobile app

on the

App Store or Google Play

Log in with your SwimTopia login
Check your app notifications in your phone's settings -- ensure it's set to pop up on your screen. If you do not want a banner notification, you will always find the notification stored under the bell icon in your SwimTopia app as long as you have notifications on.
>>Android Users: ensure the PhoneGap Push Plugin notification setting is not turned off. If you experience any issues after checking this ➞ See Android's Notification Support Article. If this does not help, we will need screenshots from your phone to assist - Submit a request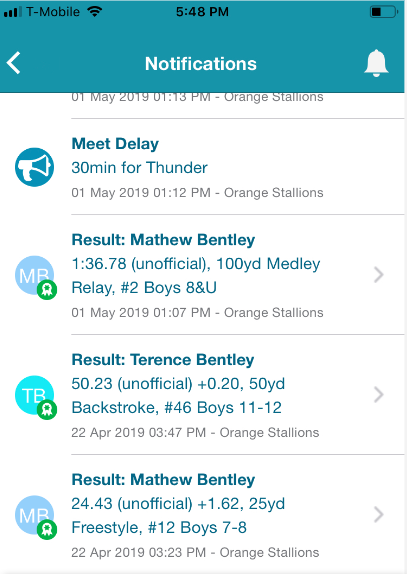 For more team admin instructions on sending Alerts ➞ See our Communications Help Center article.
---
Meet & Job Signup
PREMIUM
Job signup is only available to our Premium customers.
Signing up for meets and volunteer commitments is easy in the SwimTopia mobile app. When a team opens sign-ups for meet declarations or volunteer job/shift commitments, the correlating signup buttons appear on the Meet Overview screen of the mobile app.
>>Note: Signup from the app is only available for meet entry signup, not non-meet calendar events at this time - i.e. socials, practices, EOY banquet. You can still easily access the signup calendar using a browser on your phone until this is available in the app. There's also a "Visit Website" link at the top of the app when you log in to take users there faster as well.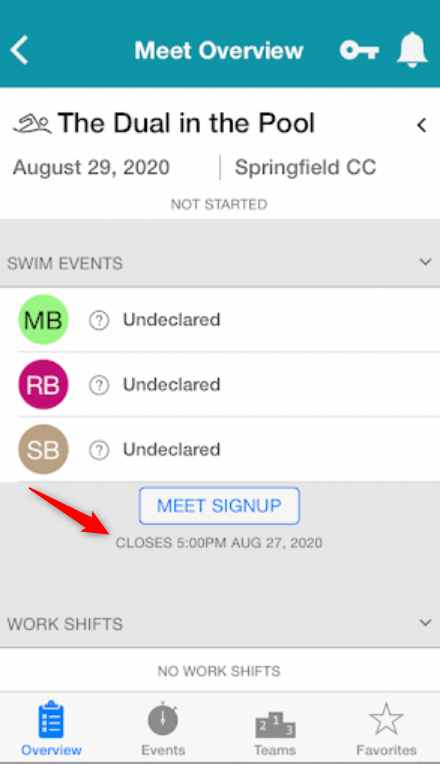 If meet or job sign-ups are scheduled to automatically close at a specific date and time, that date is shown in the mobile app under the signup button.
>>Note: Sign-ups for meets or jobs will only appear for events happening today or in the future. These options are automatically hidden for any past events.
Upon clicking on the Meet or Job Signup buttons, the user will be presented with a mobile responsive view of the meet and job signup page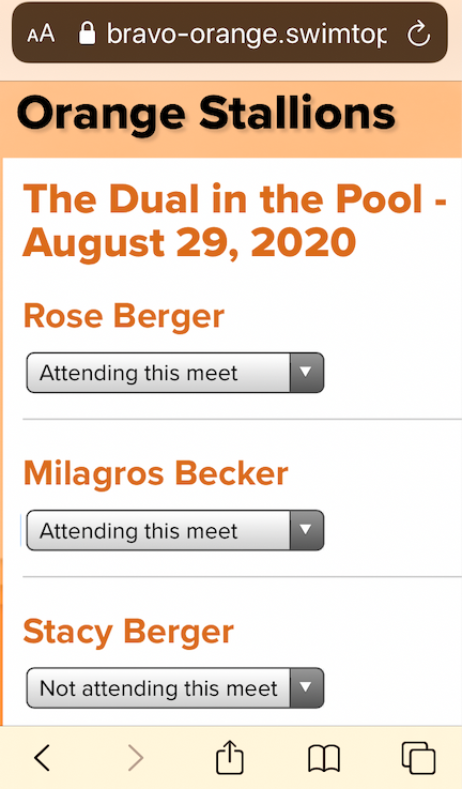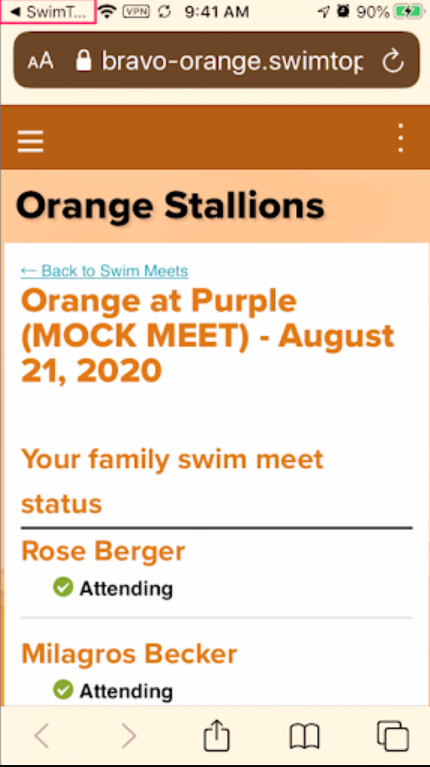 After making your meet and/or job selections and returning to your SwimTopia mobile app by clicking the "<SwimTopia" backlink seen at the top of your device, you'll see these declarations displayed in your app as seen below.
>>Note: This backlink is an IOS only feature, and is not something SwimTopia can control.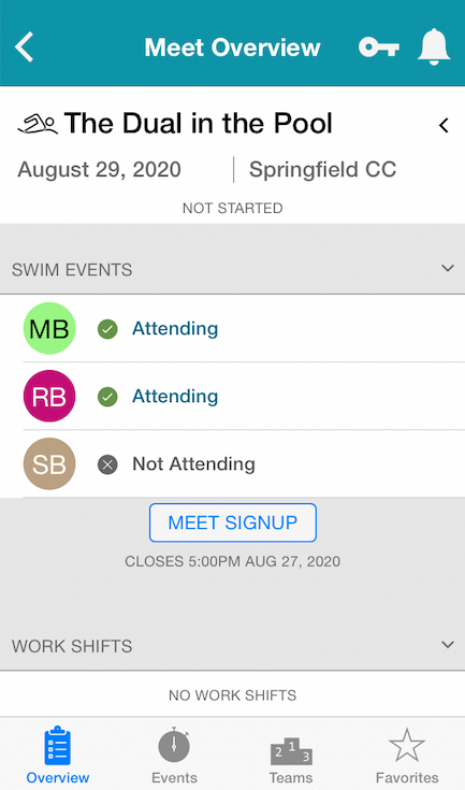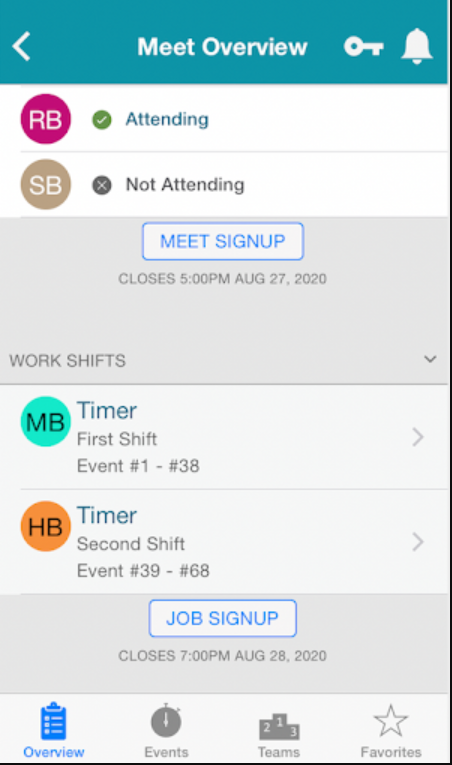 ---
Public Meet Search
The Public Meet Search is accessible from the settings menu (wavy lines in upper left) for those logged into their SwimTopia mobile app or by signing in as a guest through our Guest Mode Access.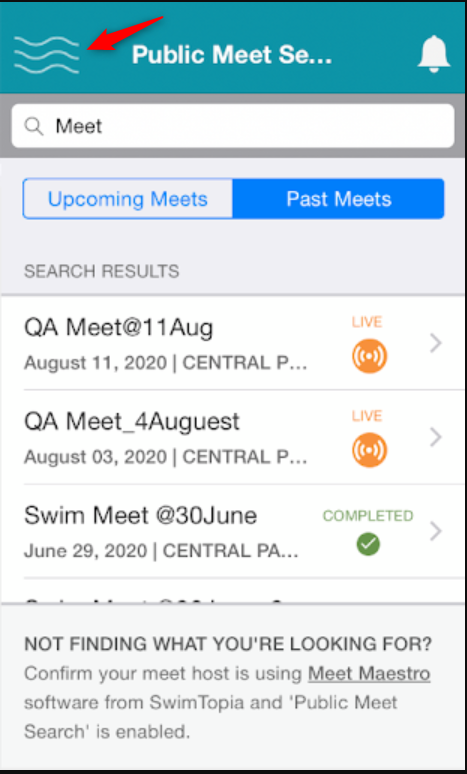 For a meet to show up in the Public Meet Search, the meet must be using SwimTopia's Meet Maestro meet management software AND the "Public Meet Search" option must be explicitly enabled by a team admin under the Mobile App settings in Meet Maestro (disabled by default). Team Admins: ➞ See Meet Maestro Settings - Mobile App for more details.
>>Note: The Score Display is also determined on the Maestro Settings - Mobile App screen and set to be on by default for all scores. (configurable by a team admin)
"NOT FINDING WHAT YOU'RE LOOKING FOR?" - This message displays at the bottom of the screen to provide a possible reason when a meet is not coming up in the search.

---
Swim History
SwimTopia's mobile app keeps the athletes' best times and swim time history at your members' fingertips, with details on every event for which SwimTopia has data, organized by stroke and distance.
The app shows a summary of best times for each athlete first, and from there, members can click into each event to drill down for all times in each event.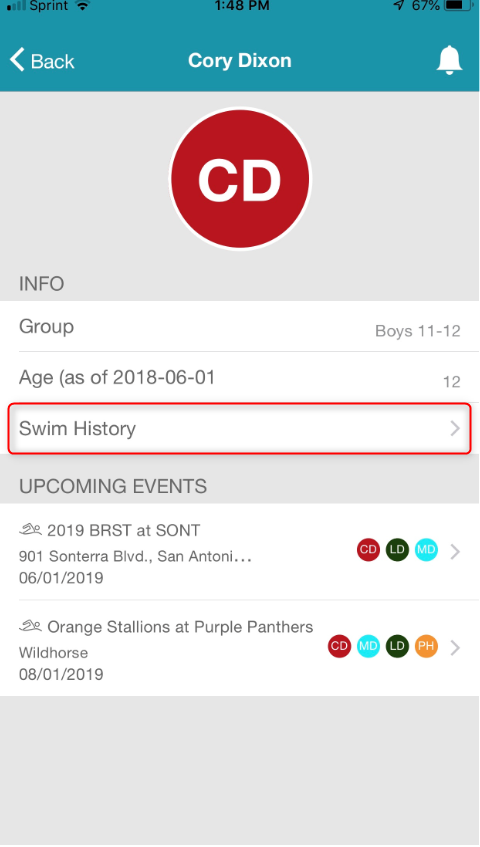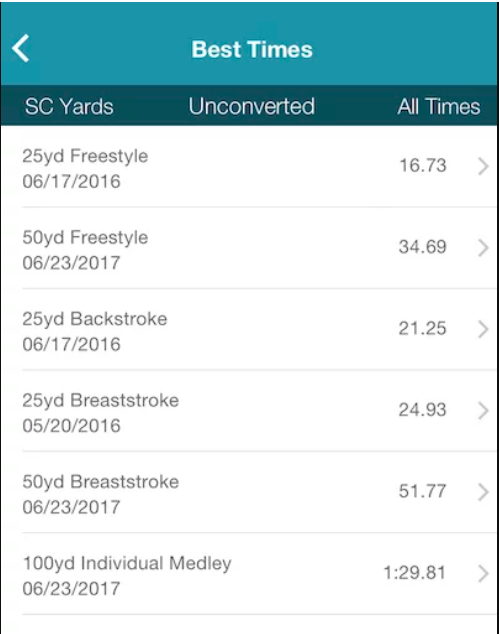 ---
Post-meet Results
For teams that use Meet Maestro to manage their meets, the app updates team scores and results for all swimmers throughout the meet when you upgrade to a Pro subscription (FREE for 7 days, then upgrade to Pro for $2.49/mo or $9.99/yr)
For teams not using Meet Maestro, meet results for your own athlete(s) are updated after the meet, and teams can choose to display the meet scores.
---
Family Overview
A family can see all the team's upcoming and past calendar events, and then drill down to specific meets to see which events and volunteer positions their family is signed up for. When the SwimTopia mobile app is used with Meet Maestro, team members can also see their athletes' heats, lanes, and estimated start times per event.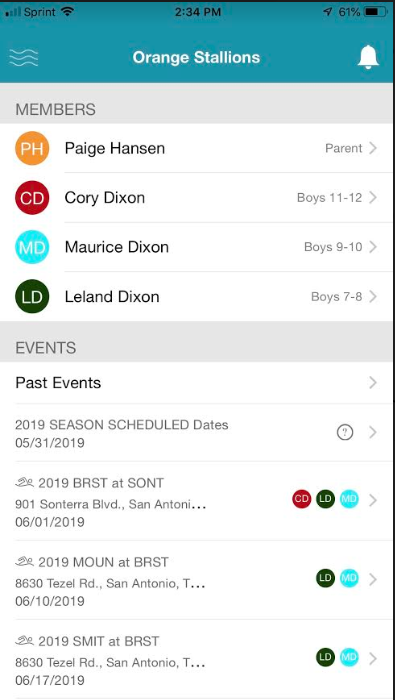 ---
SwimTopia Live Event/Heat Bar
Like having an Event/Heat board in your pocket, SwimTopia Mobile displays a Live Bar that keeps you up-to-date on what's happening in real time. The Live Bar is invaluable if you can't see clearly from your volunteer position, or you're home with the siblings and trying to time your arrival. You'll never miss an event again!
➧

SwimTopia Live features include:
Live Event/Heat bar on the mobile app for all your team members

Requires a team volunteer broadcast the current event/heat from app. No volunteer needed when using Colorado Time Systems Dolphin timing v5+, since updates occur automatically.

Live Event/Heat bar on the mobile app for the visiting team

The visiting team can view the Live Event/Heat Bar by logging into their SwimTopia account on the app (if a SwimTopia customer), or using the free Guest Mode Access (as long as the meet is configured to be accessible in the Public Meet Search).
>>Team Admins: Team members can access SwimTopia Live in the mobile app when team admins perform a few simple steps. ➞ See Enabling SwimTopia Live
➧

Multi-Session or Virtual Meets
If a meet has multiple sessions (like a boys pool and a girls pool, or virtual meets), the volunteer can select a session (or team/pool for virtual) to manage. As long as both pools have a volunteer manning the live bar, then parents from either team can pull up the live bar that corresponds to their "session" and see the live event/heat updates.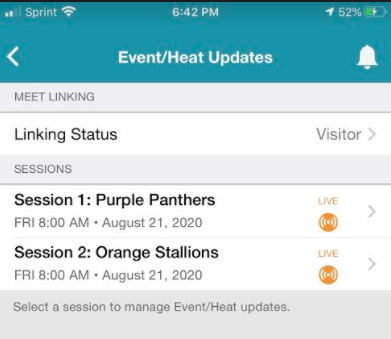 ---
Manage Team Access (for Team Admin & Coaches)
Often coaches and head volunteers on the pool deck need to look for a team member's contact details, or send an email or push alert to the team.
Users with administrative permissions on the team site will see a "key" icon to the left of the notifications "bell" icon (shown below). Clicking that key will give access to the admin menu in the app without having to log in again.
If the user has access to the "Manage Team" areas of the team account, they will see a new "Manage Team" link in the mobile app. Selecting this item will open a web browser to the Manage Team area of the team site.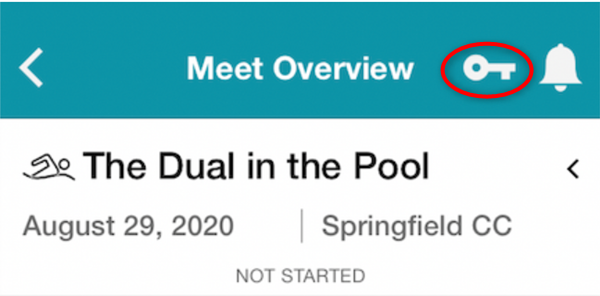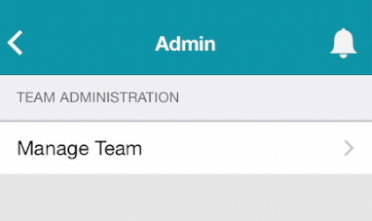 >>Note: If using an IOS device (iPhone), you'll likely see a "<SwimTopia" backlink at the top that will take you back into the SwimTopia app. This backlink is an IOS only feature, and is not something SwimTopia can control. Also, we have plans to add administrative features directly to the mobile app in the future, and to make the "backend" team management portal mobile responsive as well...stay tuned.
---