Items such as t-shirts, caps and team suits for sale during registration are managed in the Merchandise tab of the Manage Team menu.
Adding Items
To create a new item to be available for purchase during registration, click New Merchandise Item. 

Enter the details and an image to describe your item, including whether it can be personalized. Note that SwimTopia will not calculate sales tax. If you need to include tax, add it to the item price.
» Tip: Gender-specific items such as team suits will be available for each athlete during registration according to his or her gender.
Click Save to save your new item in the Merchandise list.
Adding Options
Options such as sizes, colors, etc. can be added to any merchandise item.
Each individual option offered can have its own price if it differs from the default you set when you created the item.
You can also set each size/option to have its own order quantity limit. Once an option is sold out, it can not be ordered until that limit is increased. 
To allow size or pricing choices during registration, you will need to edit your new item and add options by clicking Edit or the item title from the catalog items list.

To edit the name, default price, image, or personalization settings for your item, click Edit item.
To add sizes or other options, click New option for each option offered.

» Tip: The order of your options can be changed by clicking and dragging the items up and down.
For each new option, enter a name and whether that option requires a price override (a specific price for that option only) or an order limit. Items with limits will show as "sold out" during registration when all the options are gone.
Note: online store orders do not reflect the order limits which work only for registration orders.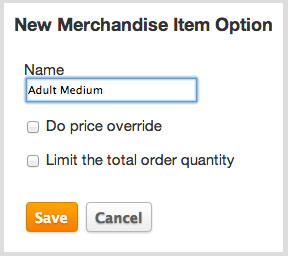 Click Save to go back to the item detail.
Archived Merchandise
You can "Archive" a merchandise item and have it not show in your catalog. You can also choose to display archived items and restore them to the catalog. Archived items aren't deleted, they just don't appear unless you choose to show them. Archived items also won't be options when setting up offers in registration or your team store and offers using archived items will be removed from registration and the team store. Offers for Restored items will reappear when the item is restored.