To edit the Main Registration section, click the title from the registration section menu.

» SwimTopia Lite customers: We provide the option for you to use a registration form so your members can create an account and use the SwimTopia mobile app. You can keep your form simple to expedite the process. Just because a section is there, does not mean it has to be used. ➞ See our Creating Accounts - How do Parents Log In? article for more details.
---
Covered in this Article:
---
Registration Limits
SwimTopia can automatically limit registrations to the maximum number that you set. These limits are per form so that each form you have open in a season can set its own limit.
➞ See the Registration Limits tutorial for more info on setting up age group registration limits, waitlists, and automated notifications once limits are reached.
---
Title and Description
Enter a descriptive title for the form and any other information about registration for families in the Description text area.
» Tip: We suggest using the season in your title to differentiate forms on the Registration Form page. Examples:
2022 Registration, 2022 Early Registration, 2022 Late Registration
2022 Summer Registration, 2021 Winter Registration
2022 Non-Member Registration, 2022 Registration (Board Members)
» Note: Keep Require Home Address checked to ensure that every new registration includes a mailing address.
---
Reply-To Address
The system-generated registration confirmation email that is sent to your new members after they complete their registration will display the "From" field as notifier+teamname@swimtopia.net: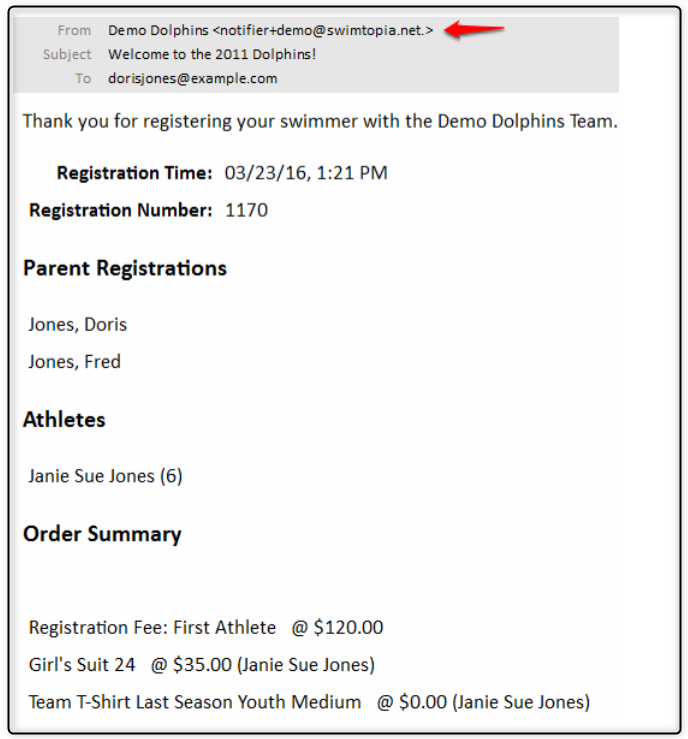 To ensure you receive responses from your members when they reply to their registration confirmation email with questions or comments, the Reply-To field is required on each registration form.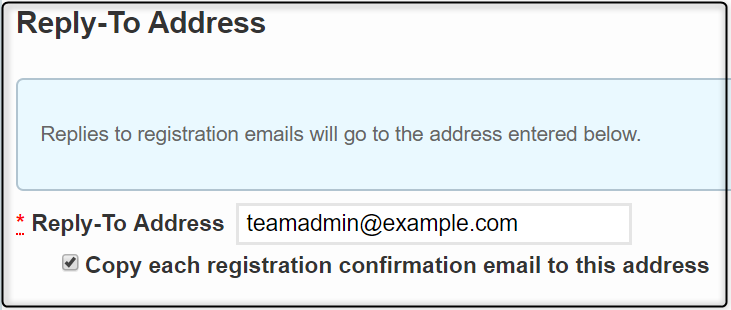 By default, a new form created using the "New Registration Form button will display the email address of the person logged in but can be updated as needed.
➧ Do you want this email to be notified about each registration? - check the box next to "Copy each registration confirmation email to this address".
» Tip: If you do not want your personal email used, we suggest creating a team email in Gmail (or some email program). This would also allow you to set up this email with aliases if multiple people want to receive the confirmation copies since only one email can be listed in the field.
This will populate the team admin's email address in the Reply-To of each confirmation email.

---
Privacy - Private Forms
Private forms can be used for alternate pricing (say for board members) or to allow a select few registrations to take place "privately" after the open registration period has closed.
A private registration form will not be linked to by the Registration Alert snippet on your website when you check this box:
Users will be able to access this form only via a direct link which will be shown on the main registration forms list.
» Note: A Private form must be in an Open status for members to access.
---
Returning Registrations
Check the box to "Display prompt encouraging registrants to log in to pre-load registration data."

The system will auto-fill the last known parent/athlete info when a parent logs in each season after they've previously made it past the first page of the registration form on any team site powered by SwimTopia.
Keep in mind, that if a parent registered one athlete on a different team site powered by SwimTopia (i.e., Middle or High School and then wants to register all athletes for Summer team), or they bailed before getting past the first page and then started again, or their last registration was only for one of their athletes (i.e. clinics), the system is only going to auto-fill what was last saved.
It's also based on registering once per season. If a parent registers again in the same season, the system assumes it's to add a new sibling (and not duplicate who'd already been registered that season). So any athletes who were registered that season will not show up.
» Note: Pre-Populated Parents/Athletes are not editable during registration to avoid possible family/sibling data entanglement issues (i.e., if a parent were to over-write one athlete with the data of another athlete). In addition, the person logged in to register cannot edit/remove themselves beyond changing their team email preference and volunteer choice (if the Volunteer Opt-in below is checked). We inform parents to contact their team administrator if they need updates to existing information, or log out if they are not the person displayed on the screen.
---
Volunteer Opt-in

---
Athlete/Child Registration Requirements

---
Age Restrictions
Check Enforce age limits to activate minimum and maximum ages for swimmers.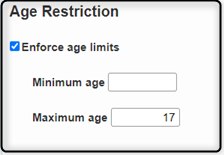 ---
Registration Fees
➧

Athlete Fees
Click Add Additional Athlete Fee to gradually reduce fees for multiple swimmers in one family.
Click Maximum charge per registration to activate an upper fee limit (only applies to this fee, not acknowledgment fees, league fees, merchandise, or other fees).
➧

SwimTopia Fee Collection
SwimTopia's billing policy is on a per-athlete basis. We charge a lower annual subscription price and eliminate extra invoicing by deducting the per-athlete fee during registration when payment is accepted online, and the league is not already paying this fee upfront for teams. ($3/athlete for Premium, and $1.50/athlete for Lite)
» Note: This section will only display for teams who are not on a league-wide billing plan, where this fee is paid by the league upfront. If you are seeing this section and do not believe you should, then contact your league administrator for clarification.
Teams or leagues who are eligible for online athlete fee collection will have the choice for this to appear on the payment screen of the registration form as a separate line item by checking "Collect per athlete fee from registrant." This fee is displayed to members as the "Per-Athlete Technology Fee."
By default, the fee is not collected from the registrant and will be deducted from the payment prior to depositing funds in the team's Stripe account.
In the example below, the per-athlete fee is displayed as a separate line item charged to the registrant. The $190 registration fee will be transferred to the team's Stripe account, and $3 will go to SwimTopia.
➞ Additional Details:
Collection: We only charge the per-athlete fee once in a 12-month period (Per Team - if on more than one SwimTopia team). If an athlete is registered with your team more than one time in the same year (for example, for a winter season, or a season used to manage pre-season clinics), we won't charge the per-athlete fee more than once for that athlete.
Exception: if an athlete's 12-month anniversary will fall in a new season, we'll collect the per-athlete fee for that athlete. (f

or example, a family registers their athlete in April 2023 for the upcoming Summer season. The following year, that family registers their athlete in March 2024 for the next Summer season. In that case, the family will be charged the per-athlete fee on their March registration, since the athlete's 12-month anniversary will fall during the new 2024 season.)

Refunds: You can choose to refund these fees or not when performing a registration refund from the Payment History Report.
Per-Athlete Invoices: Teams that have registration forms that do not accept online payment (check, member accounts, no fee to register), or manually create athlete accounts, will receive a per-athlete fee invoice from SwimTopia for any outstanding athletes based on their billing plan.
»Tip: Consider increasing your registration fees to recoup this cost if you do not want to display this per-athlete technology fee to your parents, but do not want to incur the costs. You could provide a breakdown of your fees using the available description boxes on the form, and on your website pages, as appropriate.
Learn more about this fee ➞ SwimTopia Per-Athlete Fee Collection - FAQs
➧

Age-Range Fee Override
To provide special pricing based on athlete age, add one or more Age-range Fee Overrides below.
Age-Range Fee Overrides take precedence over base registration fees.
» Note: Any athlete that has an override fee applied will not be counted toward multi-athlete (sibling) discounts, but will be counted toward the per registration maximum charge limit (if any).
---
Custom Questions
Custom questions are for things that will not change the fees or determine if an athlete is eligible to participate in the team. Use Merchandise for things like team t-shirt orders, and use Acknowledgements (discussed below) for questions that DO impact registration or require signatures like Liability Waivers and Photo Release Waivers.
Click Add Custom Question, and fill out the form.
Enter your question heading, the question text and display order. A preview of how the text will appear is in the Preview box. (These are usually short and sweet, so the preview box was built with this in mind)
Uncheck Answer Required to make this question optional, choose how the answers will be selected and enter a list of answers in the Answer Options field.
Click Add Custom Question to enter another question, or click Remove Question to clear it.
» Note: To view the answers to custom questions, download the registration data from the View Registrations or Reports pages.
---
Acknowledgements/Waivers
Click Add Acknowledgement Section for each Liability Waiver, Photo Release Waiver, Facility fee, Volunteer Opt-Out agreements, Resident confirmation or Non-resident (non-member) fee, Neighborhood or HOA fees, Scholarship Funds etc. you will be including on your registration form.
Enter the title, text and display order of your acknowledgement.
Click Require Acceptance if it is necessary for registration approval, and review or change the text you want your users to see next to the checkbox.
Require electronic signature will allow the registrant to enter their initials to indicate acceptance.
» Tip: Some teams require parents to provide documentation such as birth certificates, vaccination cards (Covid, etc.), certifications, insurance, etc. We do not provide support to upload and store this information, so you can either provide instructions for where the parent should send this information on your registration form or use a service such as Dropbox or Formfacade (embed your form into a text area snippet on your website).
➧

Automatic Role Assignment (optional)
You can automatically assign all parents/guardians to a Role you specify when the acceptance box is checked.
Assignment during registration to an exempt Volunteer Opt-Out Role will allow users to bypass the volunteer page and pay a fee (see below).
» Tip: Some teams like to use this to assign all first year parents to a "First Year Parents" Role, so they can communicate to this group specifically. A great way to provide tips and suggestions to these newbies to make them feel more comfortable and excited about volunteering etc.
➧

Acknowledgement Fees (optional)
Check Include additional fee to allow the collection of an additional fee required for registration, such as a non-resident, non-member, volunteer opt-out fees or other types of one-time per swimmer or per registration fees.

» Tip: there is a place in the Payment Section to add an HOA or Club member number for registration payment.
Set the parameters of your fee and a description your users will see on the payment confirmation page. The example below shows how to charge a non-member facility fee per swimmer, except for those older swimmers who already pay a reduced registration fee (see Age-Range Fee Override above).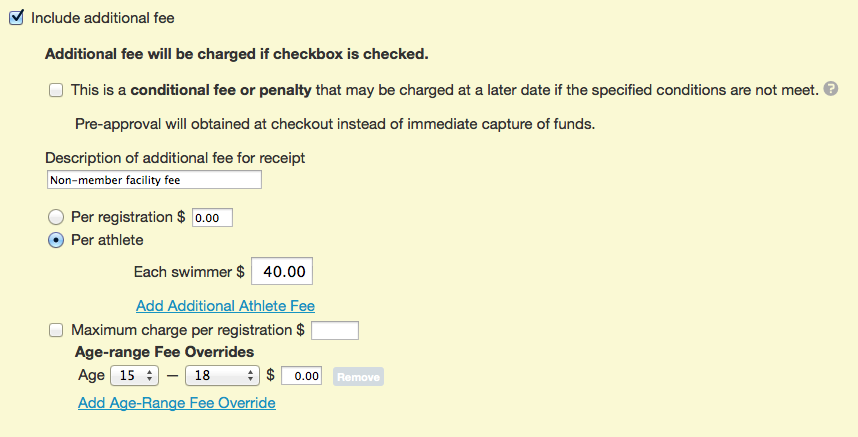 Fees can be charged immediately (as in the example above), or pre-approved for capture or release in the future (conditional fee).
» Tip: You could use an acknowledgement form to request parents sponsor a family or add to the scholarship fund. You would need to come up with some amount $100 etc and you would not check the Require Acceptance checkbox, since this should be optional. Make it very clear this is optional and not to check the box if they do not want to participate.
➧

Conditional Fees (optional)
Conditional fees provide a way to collect pre-approved fees at a later date if some condition is not met.
For example, you can charge a "Volunteer Penalty" as a conditional fee per swimmer or per family, to be applied during registration but only charged to the pre-approved credit card after the season is over.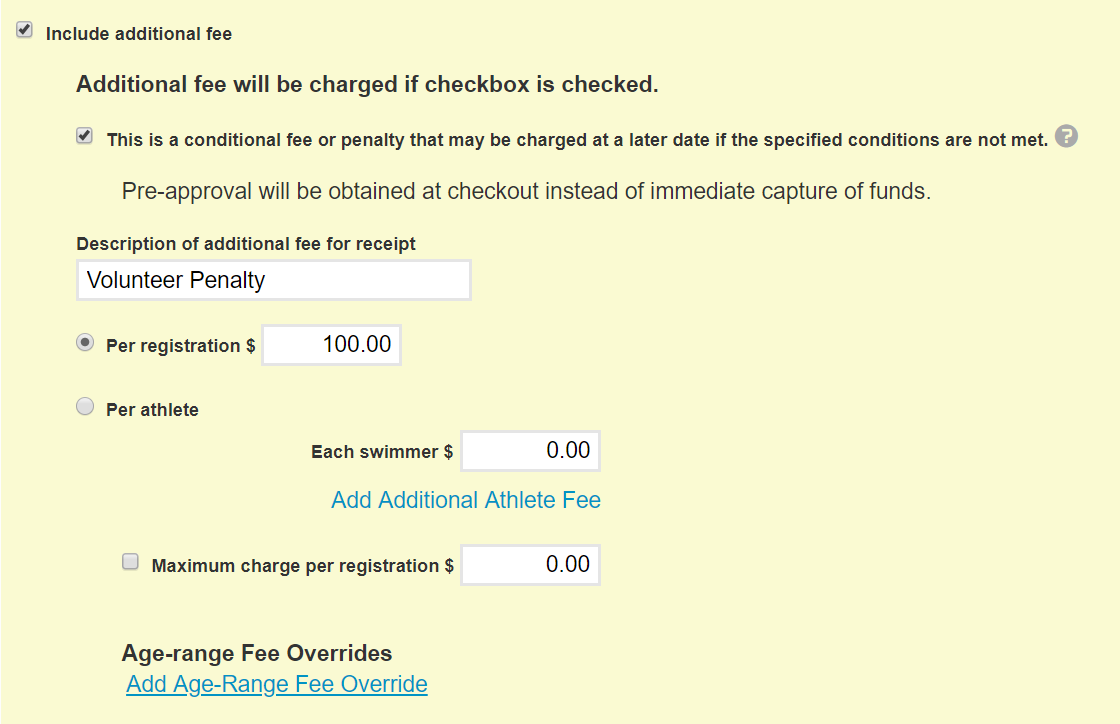 » Note: The pre-approval is not a "hold" on the card, so it won't affect the member's ability to use their credit card during this time. Instead, it is a pre-approval in the sense that the member has authorized their card details to be stored temporarily (with Stripe, not SwimTopia) for use in a future transaction, if necessary.
During checkout, conditional fees are noted separately from all other itemized charges. Only the "Total Amount Due" will be charged at checkout.

» Note: Our payment processor must be set up and enabled in your registration form in order to process conditional payments during checkout. ➞ See our Stripe Account Setup article for more information.
Each payment transaction will be processed separately. The first (amount due) transaction will be processed immediately and assessed the standard processing fee of 3.4% + $0.30, while the second (conditional) transaction (if and when it is processed), will also be charged a processing fee of 3.4% plus an additional $0.30, because it represents a separate transaction.
➞ See the Conditional Fees: Pre-Approve, Capture & Release article for more specific details on this topic.
➧

Shared League Forms - Waivers and Fees
SwimTopia offers a feature to integrate league waiver sections into your team's registration form. These waiver sections can include fees to be paid directly to your league, should your league require it.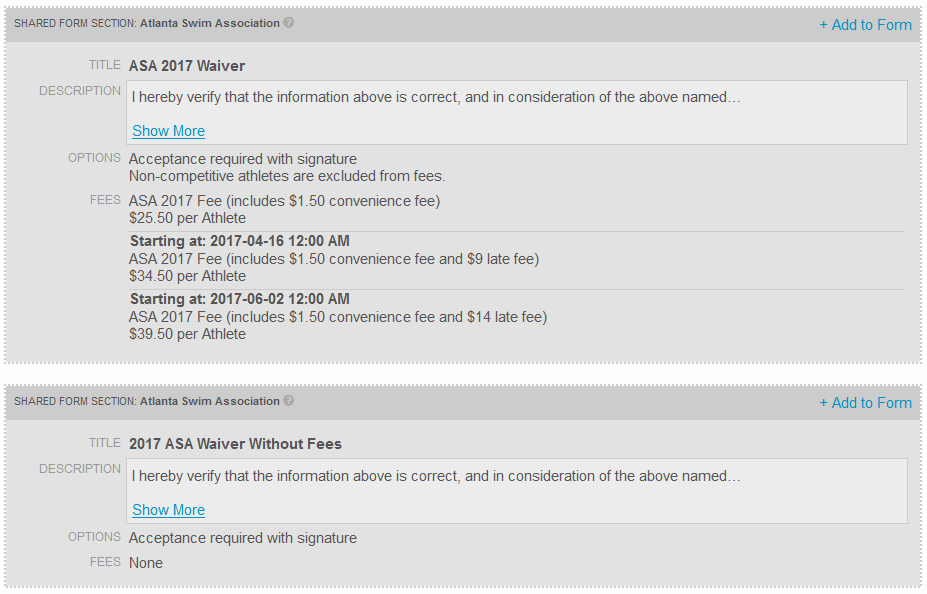 ➞ See Adding League Waivers and Fees to Your Team's Registration Form for full details and payment requirements.
---
hcmanageregistrationnewregistrationform