In addition to managing Pages and Navigation, the Website section of Manage Team is where you manage Sponsorships.

Go to Manage Team > Website > Sponsors to manage your team sponsorship information. 
Sponsors
The Sponsors tab is where you'll find a list of all sponsors from all seasons. This is where you'll define the businesses and organizations who will be sponsoring your team.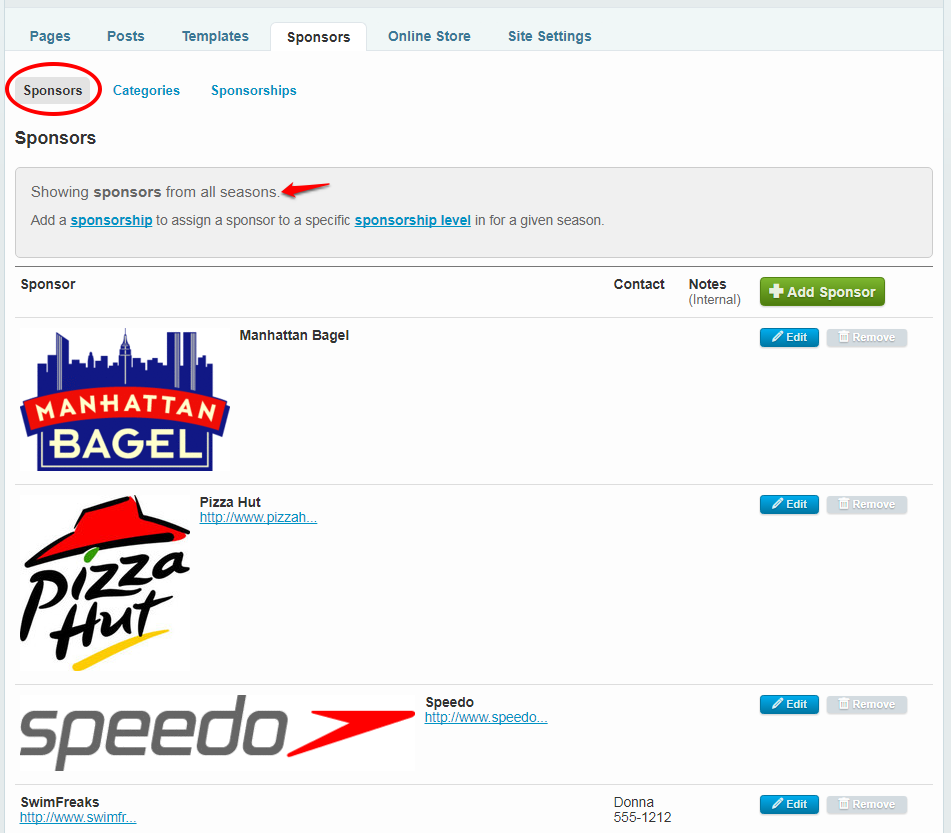 You can add new sponsors or edit existing sponsors from the Sponsors tab. This is where you can enter the business's name, contact information, and logo (image formats only -- jpg, png, and gif).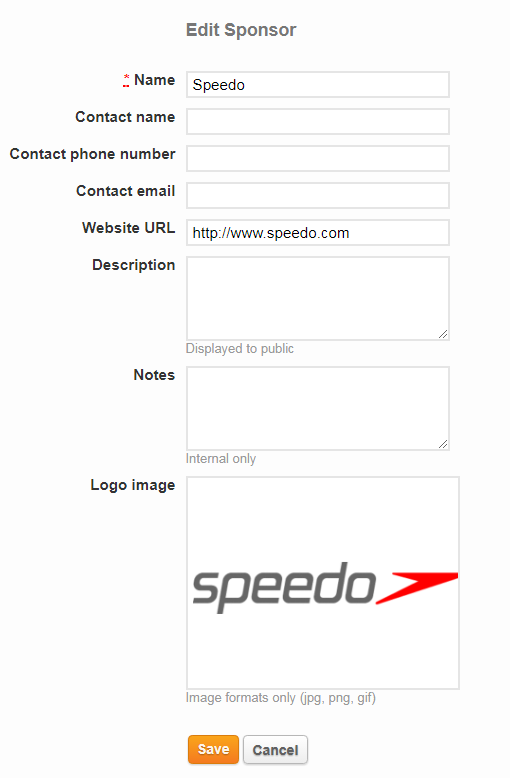 Categories
The Categories tab is where you define your sponsorship categories. Many teams use terms such as Gold, Silver, Bronze; or Tier 1, Tier 2, Tier 3, Tier 4; etc.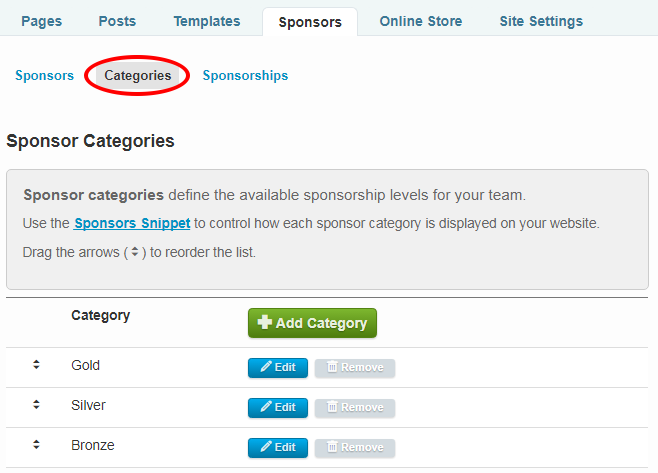 To create a new sponsorship category, click on "Add Category."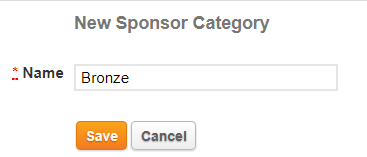 When you use the Sponsors Snippet, you'll have the ability to control how the sponsors are displayed on your website, based on their categories.
Sponsorships
Sponsorships are set up each season - this is where you define the sponsorship relationship with each business for the current season, and you'll assign a sponsorship category to each sponsor.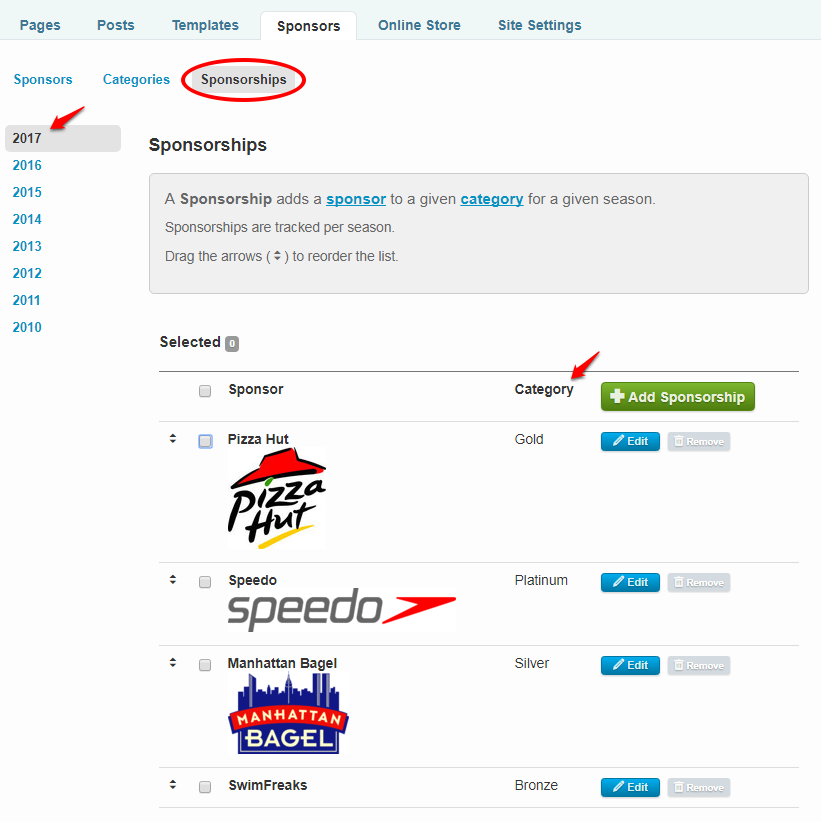 You can easily manage your Sponsorships from one season to the next—you can select one or more sponsorships from the list, then copy those sponsors to another season or remove them from the current season. And once you've copied a sponsorship to a new season, you can edit the category assignment by clicking on the blue "Edit" button.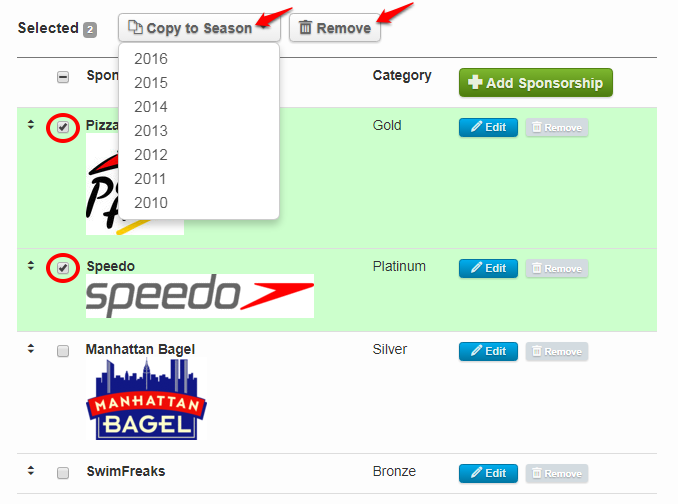 To add a new sponsorship, click on the green "Add new sponsorship" button. From there, you'll assign a sponsorship category, and then you'll choose from a list of existing sponsors or set up a new sponsor.

To add a new sponsor, you'll see a new dialogue box where you can add the sponsor's information (contact info, URL, etc.), add the logo (image formats only -- jpg, png, and gif), and click Save. 
Sponsor Snippet
Once you're ready to display your season's sponsors on your website, you'll use the Sponsor Snippet to control whether a logo is displayed and what size the logo will be for each category.
For more information, see our Help Center article about using Sponsor Snippets.