Select Volunteering from the menu to configure your volunteer sign-up section during Registration.

To show this section and allow volunteers to indicate season role preferences or to sign up for job shifts, click Enable this Section.
Enter a title and descriptive text, such as your volunteer commitment policy.
Choose a volunteering method
Your registration form can be configured to either collect preferences for the type of position desired or to enable direct sign-up for roles and jobs/shifts within the registration process.
From the two volunteering registration method options:
Select collect job/role preferences to allow families to choose their volunteer preferences for planning purposes or later assignments.

Select

enable job/role signup to allow families to sign up for jobs & shifts already set up for your season's event schedule.
»

Tip:

Each option will automatically show or hide relevant selections as needed. See the Defining Roles and Jobs & Shifts tutorials for set up instructions if you don't see any roles or events here.
Exempt Volunteers
You can use season-long Volunteer Exempt roles to pre-exempt certain people (e.g. President) from your sign-up requirements during registration. If any parent/volunteer in family/account signs up for, or is previously assigned to, a Role that is marked as exempt from volunteer requirements, the minimum volunteer commitment requirement will not apply, and they have the option to bypass the volunteering section during registration.
Collect job/role preferences
Select types of volunteer jobs (roles) that families can choose as their 1st, 2nd etc preferences for the season, even if they require training at a later date. Users will have a link to more info for each role seen during registration.
» Tip: When parents select a role preference during registration, they are not automatically assigned to these roles. The preferences will be listed under Roles > Assign Roles... for admins to manage and handle. See the Assigning Volunteers to Roles tutorial for more information.
Enter your minimum number of volunteer preferences (if required).
Enable Job/Role Signup
For each event in your season schedule that is set to enable job/role signup, volunteers can sign-up for volunteer shifts during the registration process.
Select any season-long positions you would like registrants to be assigned directly during registration.
» Tip: Direct signup is not allowed for Roles with administrative privileges.
Select meets and team functions from your current season schedule to enable direct sign-up for jobs & shifts defined within each meet.
» Tip: Only jobs and shifts within events set to Open or Pending for volunteer signup are available during registration.
During registration:
The number "needed" for each shift will update in real-time across all the registrations as shifts are claimed, so that users can see right away if another shift is taken.
Role and shift assignments selected during registration are locked in once the member clicks on the green "Next Step" button at the bottom of the form. They will then have 15 minutes to complete each subsequent step in the registration. The 15 minute countdown timer restarts after each step of the registration process. If registration forms are still open after 15 minutes of inactivity, the hold on those items will expire, so those items will become available to other people. See our article on Registration Locking for more details.
Minimum requirements
Volunteer commitments are measured in points and can be specified either as a minimum commitment level per family/account OR based on the number of atheltes in the family (Require points per athlete) with an optional cap (Maximum volunteer requirement per family/account)
Note: This is maximum is used when teams do not want larger families to be overwhelmed by a per athlete requirement. It IS NOT a way to restrict your families to only be able to sign up for X number of points/jobs. Teams must manage that restriction via communication to your parents.
Require points per athlete - For a tiered requirement (Ex. First athlete - 5, Second athlete - 3...), you can use the "Add Additional Athlete" link.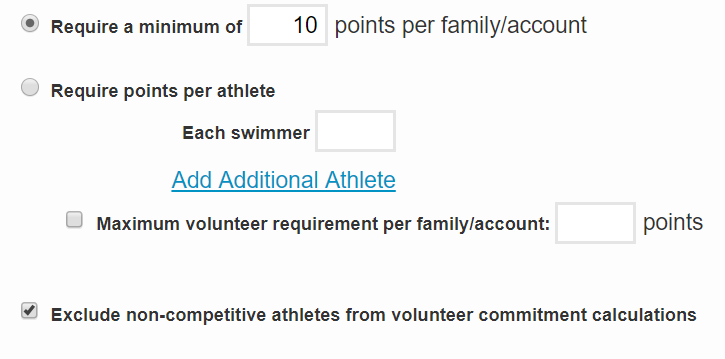 Exclude non-competitive athletes. If the box labeled "Exclude non-competitive athletes from volunteer commitment calculations" is checked, then any athlete registered via a non-competitive Athlete Roster Group will be excluded from the calculation. This exclusion applies to both per-athlete and per-registration calculation rules.
Point System
By default each shift is worth 1 point.

By varying the number of points awarded per shift you can acknowledge that not all jobs or shifts are equal and you can award more points for harder-to-fill jobs and fewer points for easier jobs.

While you can create very granular values with the point system, we encourage you to keep it simple

. For example, a good starting point is to award 1 point for all "easy" jobs and 2 points for all "regular" jobs and 3 points for "hard" jobs.
Click Save to save your changes and move on to the next section.