PREMIUM
This feature is available to our Premium customers.
Embedding a video from YouTube or Vimeo is a quick and easy way to add useful content to any page of your site, using the Text Area snippet.
Select a video to share, and follow these steps depending on which site you are using.
Get the Embed Code
On YouTube, click Share under the video, and then click Embed. Copy the text that starts with "<iframe" in the box to your clipboard.
On Vimeo, click Share on the right hand side of the video.
Another window will pop up. Copy the text from the Embed box to your clipboard.
Insert the Embed Code
On your SwimTopia website, select Edit Page Content from the Manage Website menu at the top of the page you would like to embed the video into.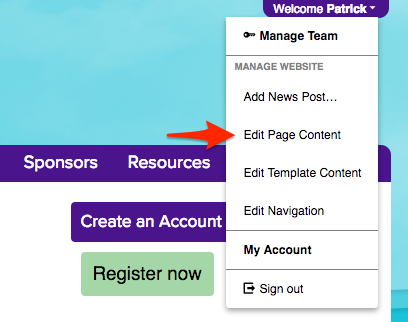 Click the +Add Snippet button and drag in a new Text Area snippet.
In the New Text Area box, click the Video Embed icon in the tool bar, and then paste the text you just copied into the Video Embed Code text area that pops up. Click Insert at the bottom.
Give your video a title, click the Create button, and you are done!
Video File Uploaded Elsewhere (Not YouTube or Vimeo)
You can also embed a video that's uploaded elsewhere, such as Dropbox. See: Embed Custom Video.