PREMIUM
This feature is available to our Premium customers.
We do not currently have an Instagram snippet available, however, you can still add your Instagram feed to your team website with a few simple steps.
---
Covered in this Article:
---
Confirm your Instagram account is public
In order for you to embed your Instagram feed onto another website you must be sure that your Instagram profile, or the post you wish to embed, is set to Public.
If you are over 16 years of age, your Instagram account is set to Public by default. On a mobile device, this setting can be controlled by clicking on your profile photo in the bottom left, then clicking in the top right, followed by clicking settings.
Select Account Privacy, and then toggle off the Private Account setting

On a desktop computer, this setting can be controlled by clicking on your profile photo in the left menu bar, and then the settings on the top left. Click on Privacy and Security and then be sure the private account box is unchecked
» Note: Once you have confirmed that your account is set to public, the remainder of the steps will need to be completed on a desktop computer.
---
Copy your Instagram embed code
To copy your embed code, navigate to the post or profile you'd like to embed and click
in the top right.

Click Embed, then click Copy Embed Code. If you cannot see Embed, the post or account is set to private. Please see Instagram Embed Settings.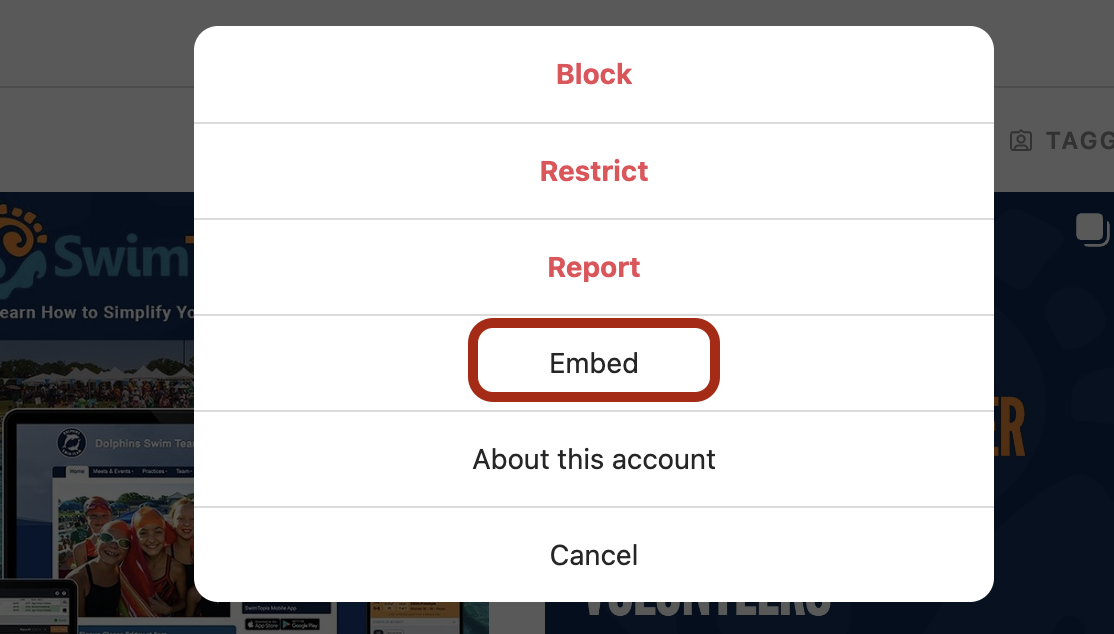 You will get a message that the Embed code has been copied.
---
Add the embed code to your team's website
Now you will want to return to your SwimTopia or Team Topia (non-swim) website. Instagram feeds can only be embedded into a page, not the sidebar, as it is too wide. To embed the code, hover over your name on the top right and click Edit Page Template. This will open up the page editor.
Next, click on Add Snippet and drag a Text Snippet to where you would like your Instagram Feed to display.

This will open the Text Editor window. You will want to open the HTML editor by clicking on the < > button.

Paste the embed code you copied from your Instagram page into the text box and click Create.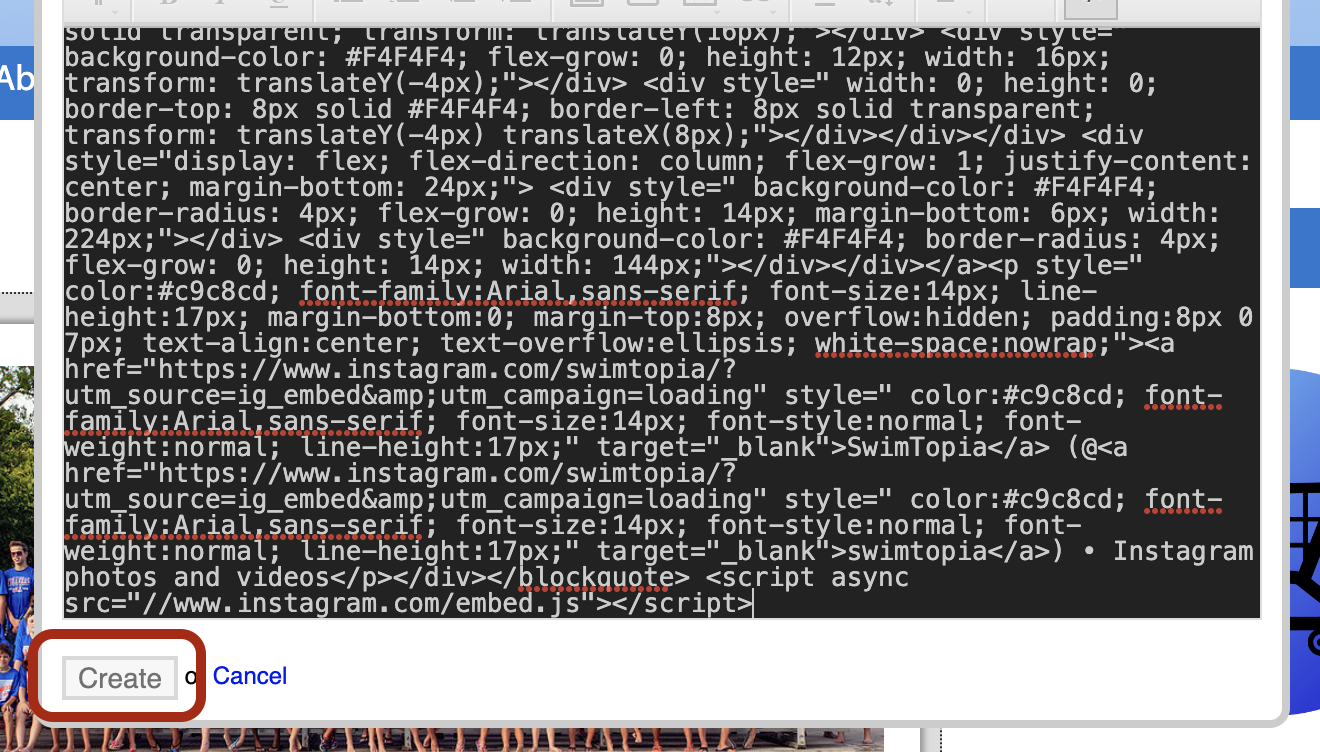 This will add the Instagram feed or post to your team site.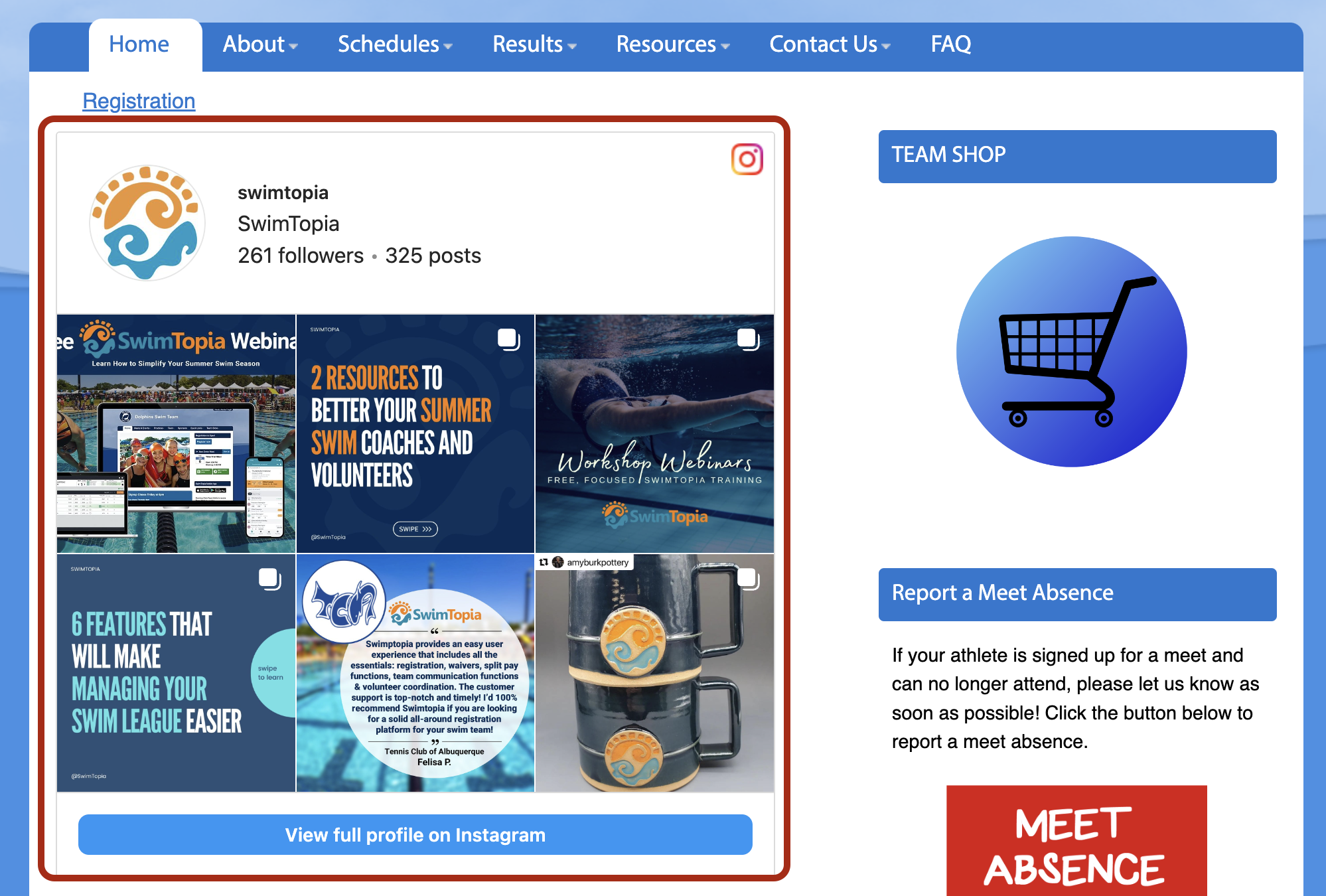 ---
Additional Feeds: Facebook and Twitter
We have a Facebook snippet that can be used as long as your team's Facebook page is created as a public group. We do not have a snippet option for Twitter, but we can offer a solution similar to Instagram to embed code obtained from this site into a Text Area snippet on your team site.
Facebook ➞ See our Facebook Snippet article for details.
Twitter ➞ See our Twitter Feed Widget article for details.
---