Members of your team, including board members, parents, swimmers and coaches, all have access to your website are all managed in the People tab of the Manage Team console.
Member Affiliations and Roster Groups
People are added to your site when they complete your team's registration form, are added manually by an administrator, or are imported from a previous Team Manager database import.
Depending on how they were added or the type of team (Rec/Summer vs. High School), members will be tagged with one or more types of affiliations, including:
Parents
Athletes (by age-group)
Administrators
Role assignments
You can add your own custom affiliations, such as pre-team training groups, in Manage Team > Settings > Athlete Roster Groups. See the Athlete Roster Groups tutorial for more info about setting up Roster Groups.
It may help you to think about Parents/Athletes like this: any "grown up" is a Parent, even if they have no kids. Likewise, any kid is an "Athlete." So, for example, if your coach is in college and has no children, they are still going to be a "parent" in SwimTopia.
Searching Members
Your members list will default to those affiliated with the current season set for your site. If you log in to the site and do not see your migrated members from a database import right away, they could be affiliated with a past season and you will need to use the Search to list them. Each member's season affiliations can be viewed in the member's profile by clicking on their name.
Select a season from the menu and click Search to limit your results list to only members affiliated with that season. Importing your Team Roster and Time History from a Team Manager history export will automatically add parents affiliated with past seasons to this section.
➞ See the Managing Seasons tutorial for more info on how to set your default or current season.
Enter any part of a member's name in the search box and/or select an affiliation type (see above) to limit your results list further.
Adding Members to your site
Add an Athlete
To manually add a new member with an athlete affiliation, click the Add Athlete button.
Enter the athlete's information, including the gender and birthday to assign an age-group affiliation.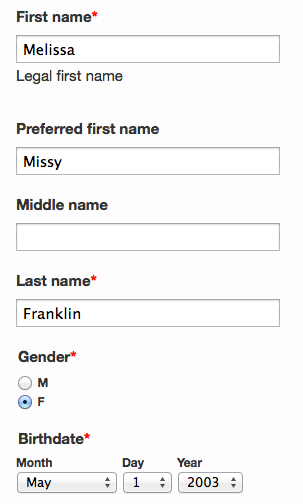 Enter other optional info such as an email or phone, and Athlete roster group. Click the Generate USS ID button to automatically insert a standard format registration number.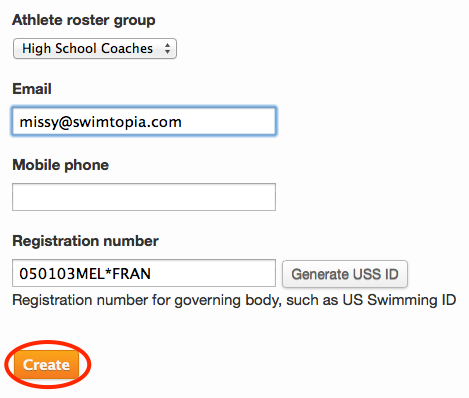 Click Create to add your new athlete.
Edit an Athlete
Click on any athlete's name to edit the information already entered, and to add a photo and additional settings as a diving certification and/or non-competitive swimmer option.
When the Does not compete in meets option is checked, the swimmer:
will be tagged as "non-competitive" in People search results
will NOT be included in the swim meet entries matrix
will NOT be available for swim meet sign-up by parents
will NOT be included in Team Manager roster exports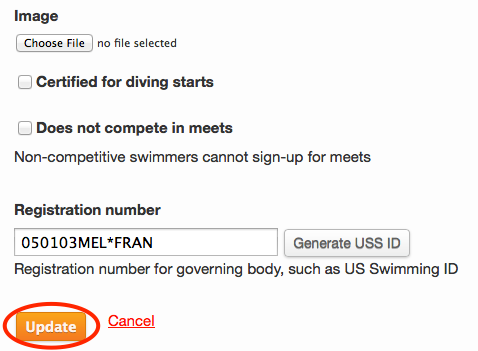 Click Update to save your changes.
Add Parent, Administrator or Coach
To manually add a new member with a parent affiliation, click the Add Parent button. Even if the person has no children associated with them (as in a coach or other admin-only person), add them as a parent first.
Enter the parent's information, including a valid email address, which is required to login to the team website. If the site warns you the email address is already taken, see the Help Center article: What does "email address has already been taken" mean?.
Connecting Parents to Children
SwimTopia connects parents to children automatically during registration. However you will need to do this yourself when you are adding Parents and Athletes manually.
To add Parents to an Athlete, view the Athlete's profile by clicking on their name.
Click the Edit Parents button and type in any part of the parents' names one by one. Select the correct parents from the list, and click Submit to associate that athlete with those parents.
The opposite connection (in this case Child to Parent) will be accomplished automatically, depending on who you start with.
Adding Children to Parents works exactly the same way. View the parent's profile, click Add Children and select the correct children from the list.
Editing, Deactivating, and Admins
To edit, deactivate or to grant/revoke admin privileges for members, view the member's profile by clicking on their name, and then select an option from the upper right menu.

To edit a member's profile, click the Edit button.

To grant sitewide administrative privileges for a user, click the Make Admin button. To remove admin privileges for current admins, click the Revoke Admin button. If you need to provide limited administrative privileges, use "Roles." See the Help Center articles in ROLES.
To remove a member's affiliation to your site's current season, click the Remove button. This will remove them from any roles, email lists, and reports run for that season only. Note: If this user is NOT affiliated with any other seasons, but you need to add them back to the roster, please contact SwimTopia support.
Adding a Season Affiliation
To add a member to a season not automatically assigned (such as adding a past user to the current season before registration), edit the member's profile, select a season from the seasons list, and click Save.
Athlete Photos
Edit an athlete's profile to add photos, which can be useful for tent parents getting to know their swimmers. ➞ See the Age-group Photo Roster tutorial for more info.
Logins and Passwords
Members can reset their own passwords anytime on the login screen of the website. Admins can also send a new password reset email by clicking the Password Reset button in that member's profile.

➞ For more info on how members can login to the site, see the Website Account and Login tutorial.
Unsubscribe
During registration, a parent can uncheck the "Send team-wide email to this address" option. This means they will not receive messages sent to "Members" but will receive "Parents" group messages as well as any other group messages (just not Members).

Admins will see this in a Person listing like so:

Admins can click "Resubscribe" to reverse that setting, which will remove the former and show the Unsubscribe button:

➞ See the Sending Email to Groups tip for all the ways you can email groups from SwimTopia.
Internal Notes
There's text field in a Person record for Internal Notes. These are visible to Admins only and appear below the affiliations list. To create an Internal Note, click the Edit button next to a person's name.