Meet Templates allow you to define a list of events and rules for different types of meets throughout the season (e.g. Dual Meets, Tri Meets, Divisionals, Champs, or Invitationals). Once you have defined the templates, you can simply apply them to the appropriate meets on your calendar each season.
---
Covered in this Article:
---
Meet Template Settings
Meet Templates are made up of configurations for the areas of Events, Entry Rules, Entry Fees, Eligibility/Participation Requirements, and Seeding & Scoring (Meet Maestro users only).
The blue line between Linking and Events separates what is configured in a Meet Template.

>>Note: Team Preferences are not part of the Meet Template. Preferences can be set up at the meet level, or site-wide under Settings. ➞ See our Help Center article for Team Meet Entry Preferences.
---
Creating a Meet Template From an Existing Meet
If you have meets that are set up the way you like, you can easily save the setup of each type of meet as a Meet Template. To do this go to Manage Team > Schedule > Select the Meet (Select the year on the left side if the meet is not in the current season)
Then go to the Meet Setup > Events, click on the Template menu and select Save As Template.

You will be taken into this new Meet Template where you can make modifications as needed.
---
Creating a Meet Template From Scratch
If you do not have meets setup to save as Meet Templates, you can create Meet Templates from scratch.
Option 1: We recommend creating a new meet by importing a Meet Events file, then you can save your Meet Template from there. Choose the Add Swim Meet menu and then Import Meet Event File.

Enter basic meet information since you are creating this in order to upload your events and save it as a meet template. Hide this meet from your public calendar. 
Go to the Meet Setup > Events, click on the Template menu then select Save As Template (this will create a Meet Template you can continue to configure).

>>Note: After completing the new meet template, you can go back to your Schedule and delete the "meet template" meet you created by clicking on the Remove button within the meet.
Option 2: Go to Schedule > Meet Templates > + Add Template
This option is not recommended, since you have to manually create each event, but it is an option in case you do not have a meet event file to upload.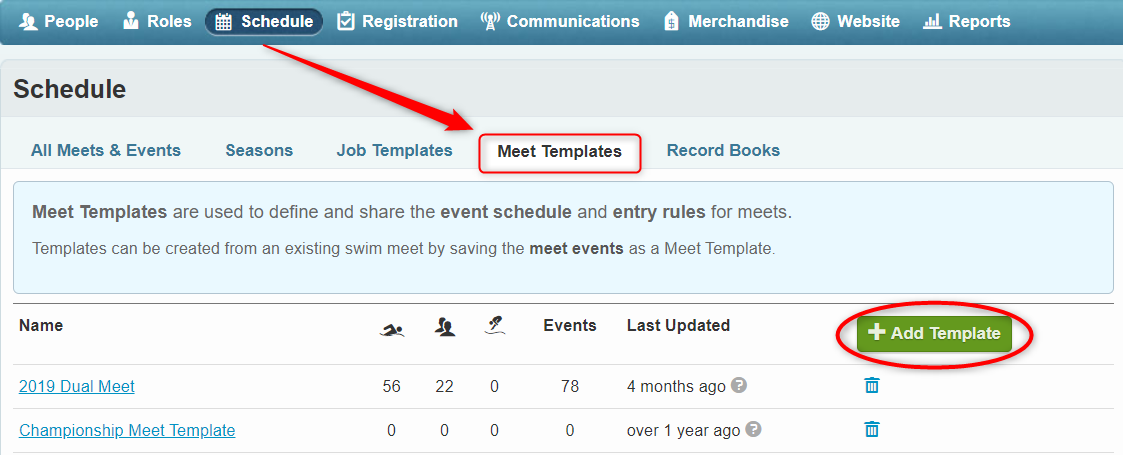 ---
Editing and Managing Meet Templates
Your current Meet Templates can be found at Manage Team > Schedule > Meet Templates.

To edit, click on the name of the template.  There, you'll find four tabs:  Events, Entry Rules, Entry Fees, Eligibility and Seeding & Scoring (only for Meet Maestro users).

Once you've created one Meet Template, you can Copy Template and make any modifications so the new template can be used with a different kind of meet, such as a Divisionals or Championship meet.
>>Note: For leagues that use SwimTopia league-wide, the league can define Meet Templates to share with their teams - these will automatically be populated in each teams' Meet Templates.  Some leagues may even lock their teams' shared Meet Templates such that the teams are unable to edit any of the settings.  You can make copies of the league's Meet Templates and then make changes to the copy. For more information ➞ See our Shared Meet Templates article.
Meet Events
Your meet events will be listed under the Events subtab.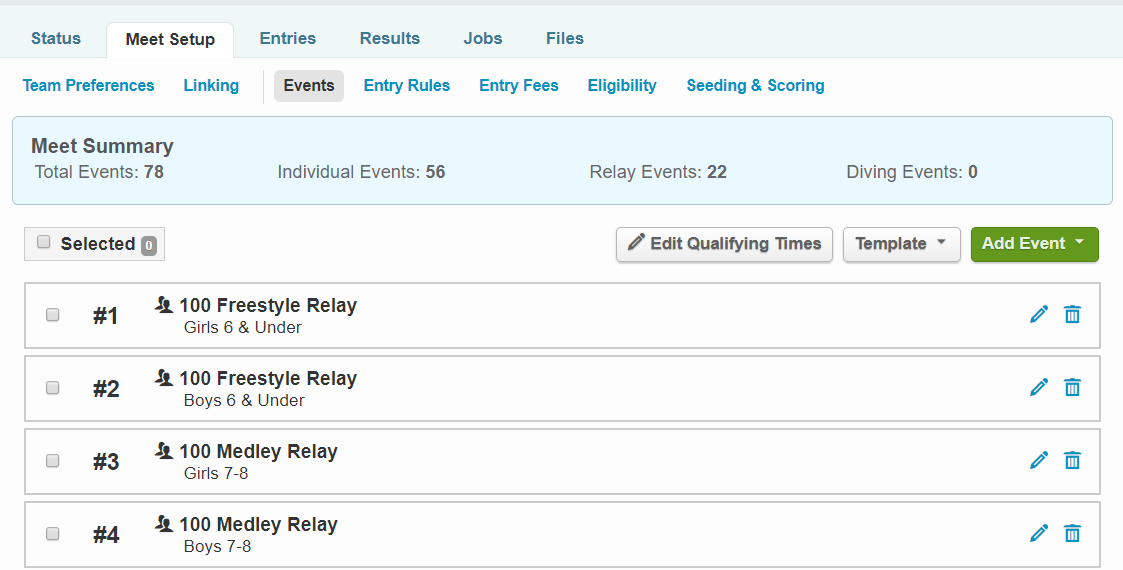 You can edit the events (pencil icon above) or add new events.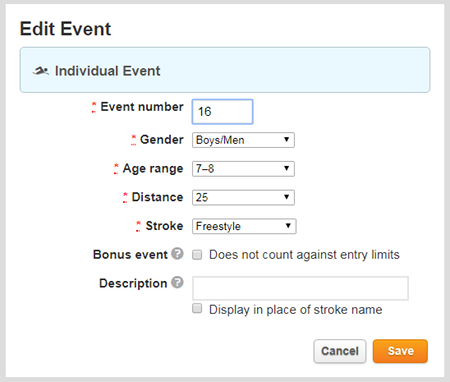 Individual and Relay Event Groups
Event Groups provide a way to reduce the time required to run a swim meet. With this feature you can combine multiple separate events of the same distance and stroke (e.g. 100 Individual Medley), but spanning multiple age-ranges and/or genders. When events are grouped in this way, all swimmers from all events in the group are seeded together and race against each other, yet placing and points are still awarded as though the events were raced separately.
Grouping events can help fill empty lanes, thus reducing the number of heats in the meet. When the events are seeded based on time, Event Groups also help to minimize the duration of each heat. The result—fewer, faster heats—can shave precious minutes from the meet timeline.
>>Note: Our "event grouping" feature is not the same as "combining heats" which usually occurs after the meet is seeded, when teams wish to reduce the number of heats in a meet by combining semi-full heats, and often only mixes ages and/or genders in the slowest heat. 
Usually, event groups are defined as part of the standard schedule of events, often by league rule. 
This Event Group feature is equivalent and compatible with the "Multi-Age Event" feature in HyTek Meet Manager.

An event group can be created from scratch via the Add Event menu as seen above. Existing events can be grouped by selecting each one and then clicking the Group button, provided they are the same stroke and distance.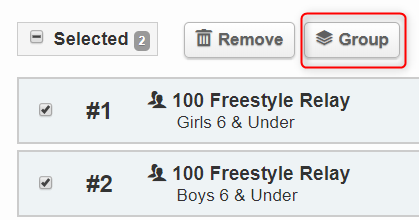 An existing event group can be split into separate events by clicking the pencil icon and then the Ungroup button.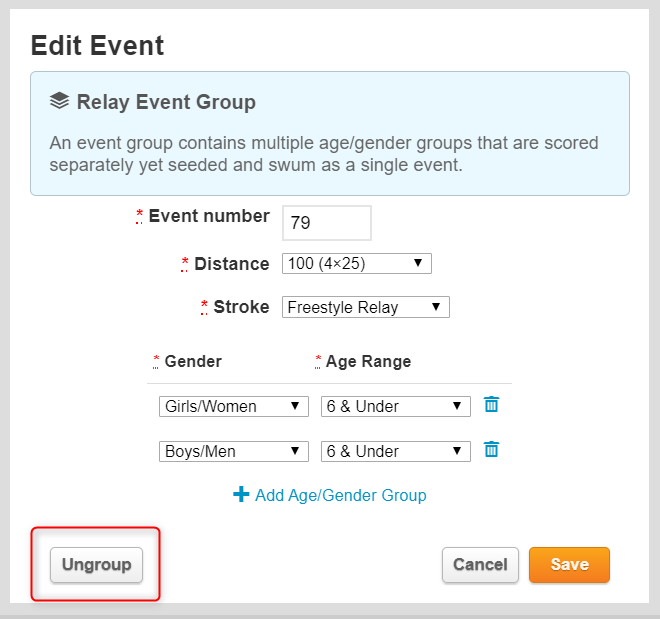 Meet Maestro can run and score meets where multiple age groups or genders swim the same event together. For example, some teams mix all their older girls or boys together to race, so swimmers of similar speeds swim next to each other, but they want the age groups broken out for place ribbons and scoring.
Meet Maestro smoothly handles this situation, allowing events to be swum as, for example, the 11-18 Girls 50 Free, but scored and placed for the 11-12s, the 13-14s, and the 15-18s.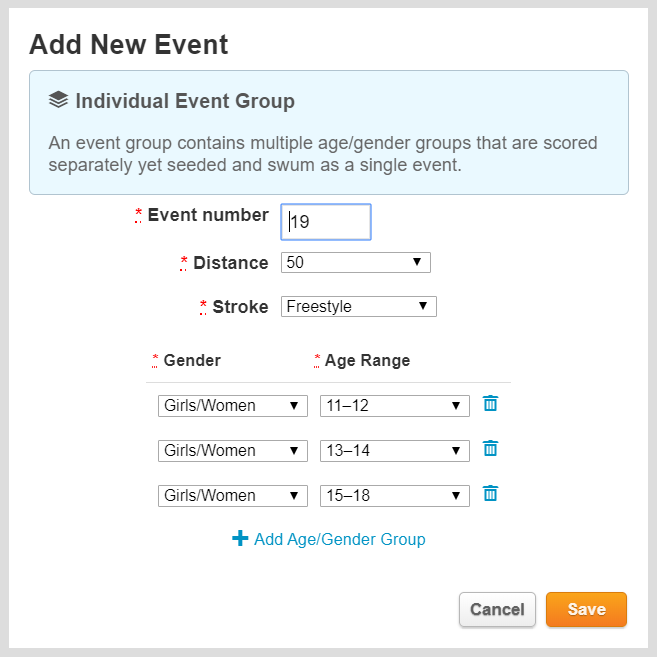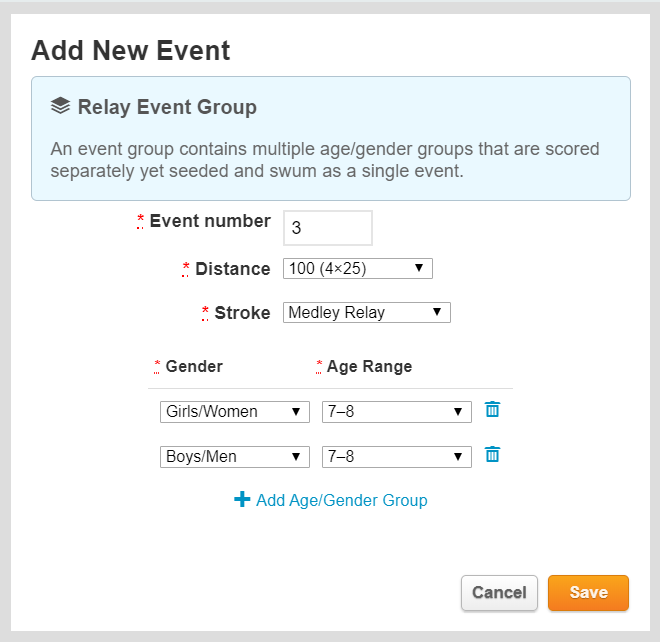 >>Note: The grouped event is an "event" that also needs a unique Event number. You can combine events with letter suffix, for example #12A and #12B into a new grouped event #12, but you cannot group events #12 and #13 into a new event group #12, because #12 is already taken. You must either renumber the existing event (we recommend adding an 'A' suffix), or you need to choose a new unique event number for the group. You will not be able to include letters when creating the grouped event.
Meet Entry Rules
Set the rules for your Meet Template under the Entry Rules subtab.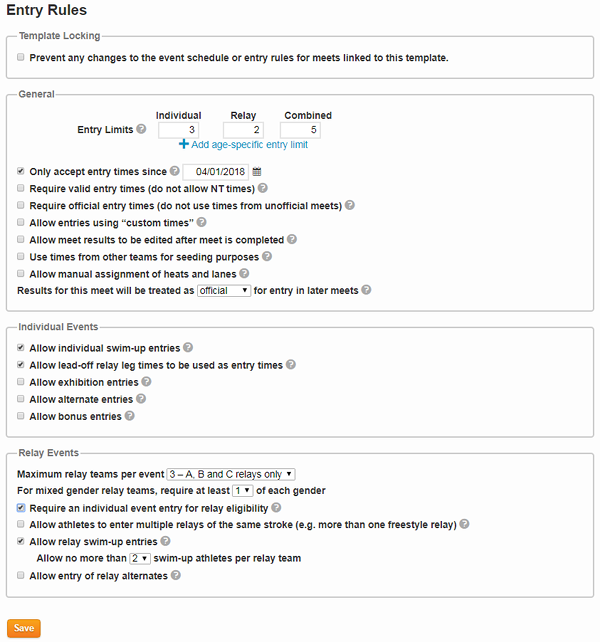 Meet Entry Fees
Meet entry fees are added as Host Fees and Athlete Fees.
>>Note: This setting will calculate meet entry fees but does not enable online payment or collection of entry fees at this time. Detailed fee reports can be found in Manage Team > Reports > Swim Meets > Meet Entry Fees.
>>Tip: You could create a meet entry fee as a Merchandise item to collect during registration and/or on the online store, OR create a Non-Meet Event to collect meet entry fees.
The meet host fees are the fees the meet host charges the team when they submit their entries.
The athlete fees are the fees the team charges the athletes.
By default, the meet host fees will be passed through to the athlete fees if unchanged, but the team has the option of overriding those charges, either to increase the fees to cover coaching and travel costs, or to discount or eliminate fees the team will cover, such as relay entry fees. Click Override next to the Athlete Surcharge, Individual Event Entry Fee or Relay Event Entry Fee to change what is charged to individual athletes by the team.
Because relays are subject to last-minute changes, athlete relay fees are often more accurately calculated based on actual results, so you can charge athletes for relays based on meet results instead of meet entries. 
Decide if a relay alternate should be charged the per-athlete surcharge
Eligibility/Participation Requirements
Participation Requirements are useful for tracking and enforcing rules that require a minimum level of participation. A common case would be a championship meet with a rule requiring athletes to have swum in a certain number of meets during the regular season to enter the championship meet.
Participation requirement rules can vary by age, and can require both a minimum number of meets since a given date, and a minimum number of swims per meet.
>>Note: For the purposes of participation requirements, either a valid time or a DQ or DNF (did not finish) is considered a "swim". Swims in "unofficial" meets are not counted.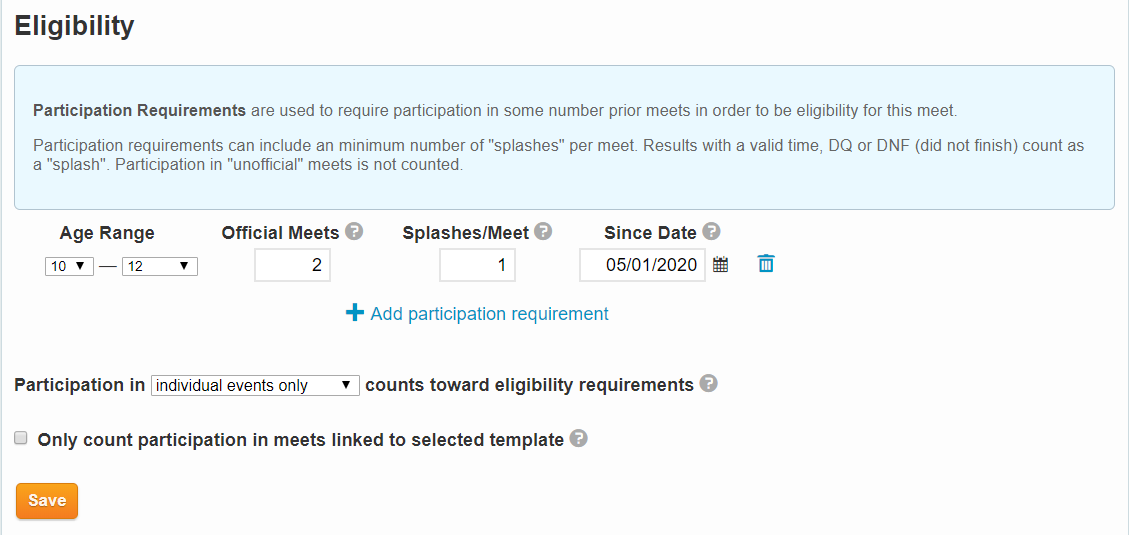 Seeding & Scoring Rules
Seeding and Scoring Rules are only necessary when using SwimTopia's meet management application, Meet Maestro. ➞ See our article on SwimTopia – Setting up Seeding & Scoring Rules for more details.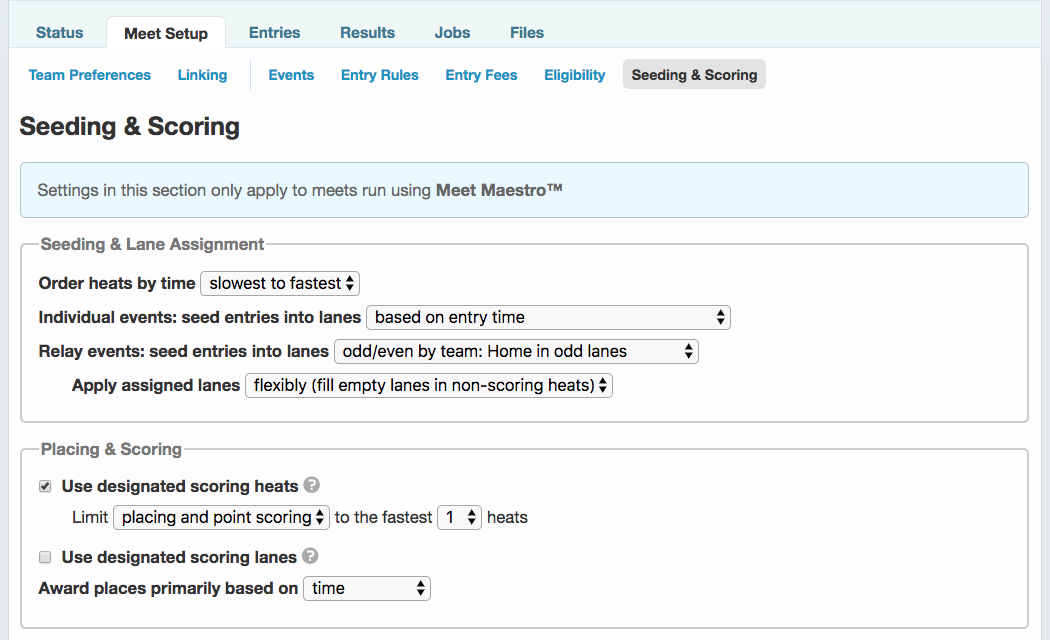 ---
Applying Meet Templates to Your Meets
Now that you've set up your Meet Templates, you're ready to apply a Meet Template to your meets. If you haven't set up any meets yet ➞ See our Help Center article about Creating Meets (Options).
Go to Manage Team > Schedule > Select a Meet > Meet Setup > Events 
From there you select Add Event > Apply Template and then select the applicable Meet Template from the list presented.

---
Editing Meet Setup That's Linked to a Template
While setting up a Meet Template, admins can decide whether to lock the template to prevent any changes from being made to any meets that are linked to this template:

Once a Meet Template has been applied to a meet, when you click on any of that meet's four template subtabs under Meet Setup, you'll see a message saying the meet is linked to a Meet Template (along with the name of the template).
If the Meet Template is not locked, you'll see a message similar to this one:

Click on the Unlink Template button to make edits to any of the four subtabs or to apply a new Meet Template.
If the Meet Template is locked, you won't be able to edit the any of the four subtabs, and you'll see a message like this one: 

>>Note: If your league used the Meet Schedule Import feature, check to see that the proper Meet Templates have been applied to each meet.  During the Meet Schedule Import, your league may have defined and locked your Meet Templates, meaning you won't be able to edit any of the four subtabs. 
---
How Meets are Affected by Template Changes
When you change any part of a Meet Template, any upcoming meet linked to it will update with the changes you have made. Past meets are NOT changed. If changes to the template would eliminate events with entries, the changes will NOT be applied to the meet. If your meet is not updating as you would expect, please contact your friendly Customer Happiness Team. 
---
Team Preferences (Meet Entry Preferences)
Now that we've talked about the Meet Template and its four subtabs under Meet Setup, you may be wondering what the other subtab, Team Preferences, refers to and how that works.
Under Meet Setup, we've divided out things that are considered "rules" and those that are considered "team preferences." Rules are things that the league typically governs in by-laws and meet guides. Team preferences are just that, settings that relate more to how your team likes to collect entries and attendance information, along with relay setup preferences.

You'll define your Team Preferences (or Meet Entry Preferences) under Manage Team > Settings > Meet Entry Preferences. And you can "Apply" those preferences to each meet, making any necessary modifications on a meet-by-meet basis.

For more information ➞ See our Help Center article about Team Meet Entry Preferences.
hcmanageschedulemeettemplates hcmanageschedulemeettemplatesedit hcmanagescheduleswimmeetmeetsetupentryrules hcmanagescheduleswimmeetmeetsetupentryfees hcmanagescheduleswimmeetmeetsetupeligibility hcmanagescheduleswimmeetmeetsetupseedingscoring hcmanagescheduleswimmeetmeetsetupevents hcmanagesettingsmeetentrypreferences