Meet Templates allow you to define a list of events and rules for different types of meets throughout the season (e.g. Dual Meets, Tri Meets, Divisionals, Champs, or Invitationals). You can define a Meet Template at the league level and share it with your teams, thus ensuring that all of their meets contain your league's swim events and entry rules.
Once you have defined the shared Meet Templates:
If all the teams in your league use SwimTopia, you can conduct the League Schedule Import, and all of your teams' meets will be pushed down to their own Schedules, with your shared Meet Template attached
If your team admins create any new meets (or have already created their meets), they'll see the shared Meet Template on their list of Meet Templates, and they can select the league's Meet Template for their new meets.
---
Covered in this Article:
---
Creating a Shared Meet Template
Meet Templates have five components:
Meet Events
Meet Entry Rules
Meet Entry Fees
Eligibility/Participation Requirements
Seeding & Scoring Rules (Meet Maestro users only)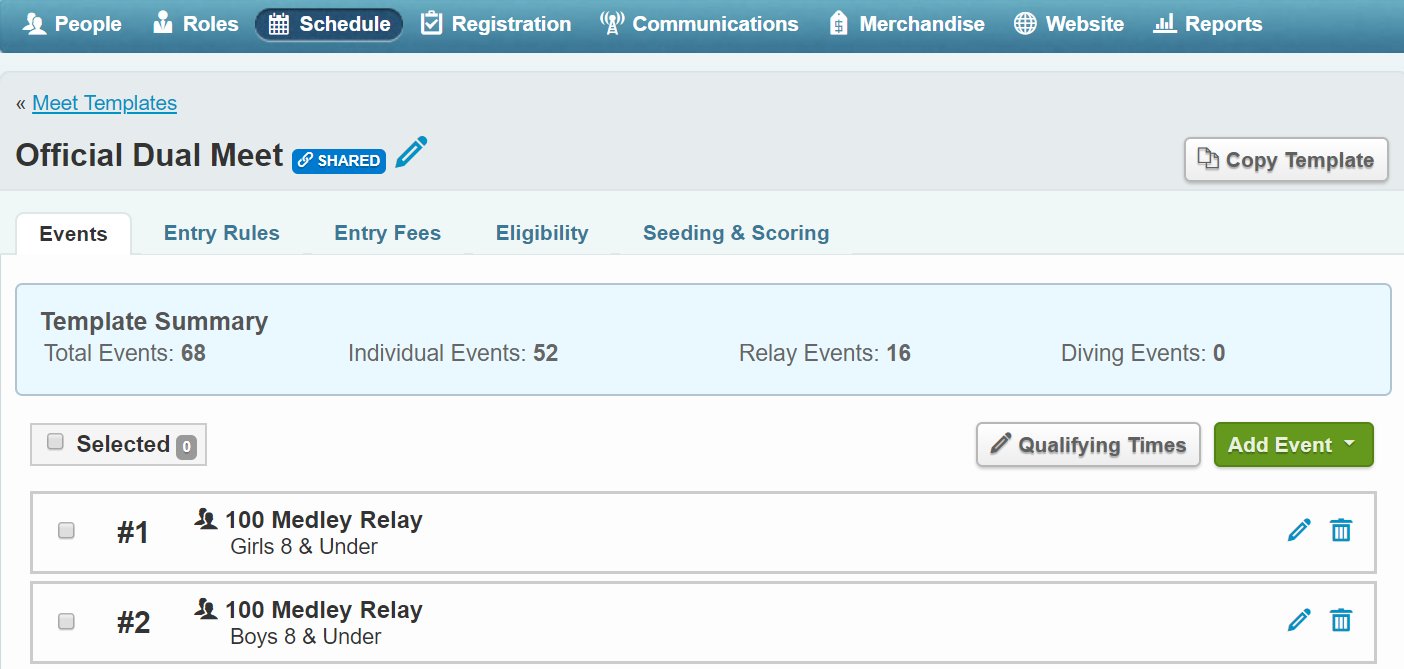 » Note: If one of your teams is already using a meet template, you can contact our Customer Happiness Team and ask them to copy that team's meet template to your league site.
➞ See our Meet Templates Help Center article for details on how to create and manage your meet templates.
When you create your Meet Template on your league site, you can share it with your teams by clicking the box next to "Shared with member organizations."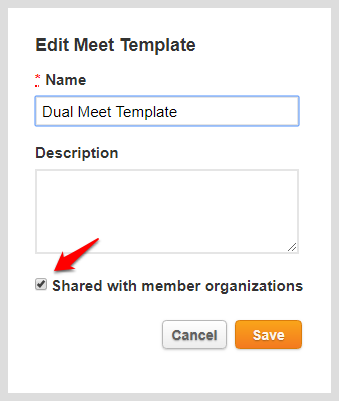 » Note: Shared meet templates are not editable by the team. If a team would like to make changes to a shared meet template they can make a copy and then make modifications to their local meet template.
---
Locking a Shared Meet Template
If you lock a Shared Meet Template, once that template is applied to a meet, the team will not be able "unlink" that template from the meet. The team can't make any changes to their settings, unlink the template, or choose a different template.
This gives leagues the ability to share "locked" templates (and apply them automatically when importing a meet schedule), in such a way that it guarantees the meet will not deviate from the league template.
If the league doesn't lock the template, it gives the team more flexibility to "unlink" the template and then make changes to their meets.
---
Applying a Shared Meet Template
You will need to communicate with your SwimTopia teams' admins to instruct them to apply the Shared Meet Templates to their meets on their local SwimTopia sites (unless they were automatically applied during a meet schedule import).
For more information about applying a Meet Template to a meet, ➞ See our Help Center article about Meet Templates.
---
Changes to a Shared Meet Template
With the exception of changes to a meet template that results in events being deleted from meets linked to that template, all changes to the Shared Meet Template propagate to the upcoming meets using that template. Changing an event enough can cause it to behave as if it were deleted, so it's not just removing events by hand that will cause this condition.
» Note: Changes to Shared Meet Templates will not propagate to any past meet.