Go to Manage Team > Settings > Team Information to set much of the main information for your team (some of this can also be found at Website > Site Settings).
One item of interest is the Preferred Swim Course setting which will impact the course your parents will see when looking at their athletes times.
Here you can upload your team's logo, set your time zone, team name and abbreviation for use on heat sheets and meet entries. Note: Your team abbreviation is necessary to match up your team's results when you import results files.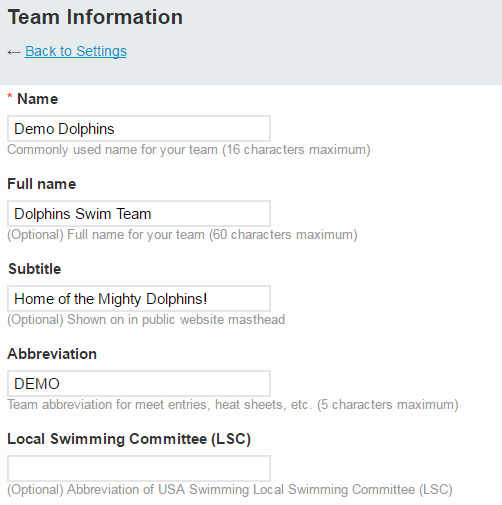 Select your preferred swim course length. The course length you select will be the default course for any new/blank swim meets you create, for all relevant reports, and for times history displayed under "My Account." If your team needs Long Course Meters support and you don't see that option, contact the Customer Happiness team.

Select whether you need to assign USS ID's to all new swimmers (you can generate them later - see the Data Maintenance Tools section below), and then verify and set your local time zone.

 Click Choose File to select a logo image from your local drive to display in the header next to your team name on your website. A PNG format image is best because they have transparency and jpg images do not—if your logo has a white box around it that's not part of the logo, you'll want to acquire a png version.
Click Update to upload your logo and save your changes. Click View Site from the top right admin menu to exit the Team Manager Console and go to your home page.