Athlete Age Groups are are used to group athletes by age range and gender.
Using Athlete Age Groups, you can: 
Customize the age ranges and genders for each age

group

Send group emails using the age group name as a mailing list
Note:  Instead of Athlete Age Groups, high/middle school teams will see a menu option for School Year Athlete Groups.
Managing Athlete Age Groups
We offer pre-defined
Athlete Age Groups
, but you may edit these age groups or add new ones. To manage your Athlete Age Groups, go to
Manage Team > Settings > Athlete Age Groups
.
Note:
Age Groups cannot overlap; a swimmer can only be in one Athlete Age Group at a time.
Very few teams need to modify the built-in age groups. Individual meet's event settings supercede these settings as well, so even if you have only 8 & Under age groups set up here, if you meet's events are set up with 6 & Under and 7-8 age groups, that's what will appear for that meet.
To edit an existing age group, click on that age group name or the "Edit" button next to the name.  To delete an age group, hover your mouse over the grey "Remove" button, and it should turn red; click on "Remove" to delete the age group.  To add a new age group, click on the green "Add Age Group" button near the top of the screen.  You may create boys, girls, or mixed age groups.  Note: Age groups with age ranges 15 and older will automatically be displayed as "Women" or "Men."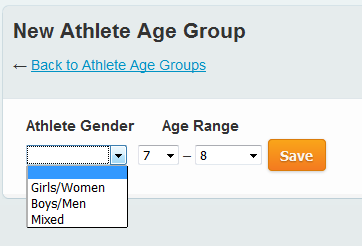 To create an age group that is "X & unders," select "0" as the low end of the age range.  To create an age group that is "Y & overs," select "& Over" at the high end of the age range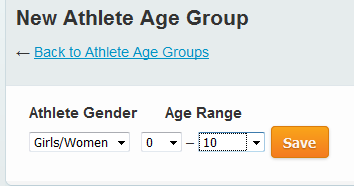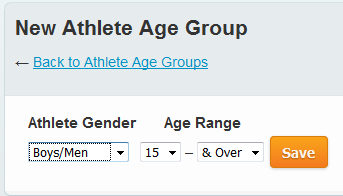 You may set registration limits by age group while setting up registration forms. The registration form is initialized with the team's age groups as a default, and the administrator can customize age range limits that are specific to that registration form.
Sending Email to Athlete Age Groups  
From Communications you can click on "Compose Message" and start typing the name of the gender or age group you want to email and you'll be offered a drop down list with matching selections (e.g. start typing "Bo" and you'll receive all the boy's age group options. Note: 15 + age groups are typically labeled "Men" or "Women").