Swim-Ups are when an athlete is capable of competing against older athletes. You can have both Individual Entry and Relay Entry Swim-Ups. Relays are more automated than Individual Entries.
Individual Entries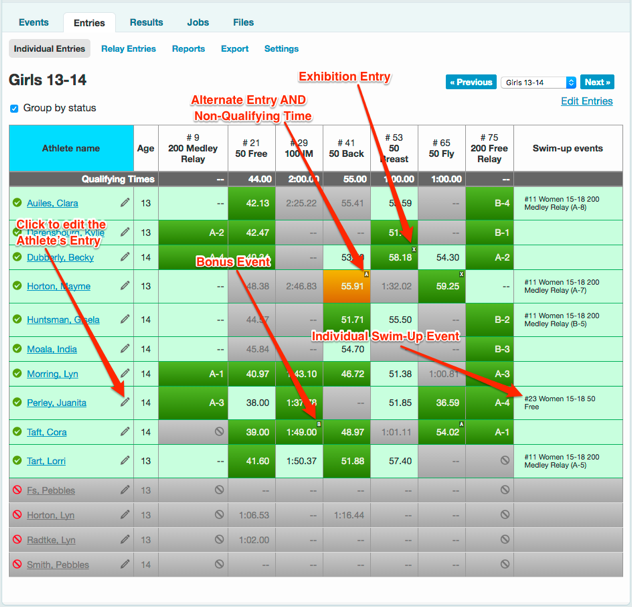 Color Indicators:
Light green indicates "Declared to be attending" but not necessarily entered in specific events
Dark green indicates the Athlete is entered into that event
Grey indicates not eligible—for reasons ranging from not attending or not qualified (when you see the red circle with the line through it) to being declared to be arriving late or leaving early (Cora Taft and Lorri Tart in the above example)
Orange indicates entered but not qualified
Other indicators are:
"X" for Exhibition Swim
"A" for Alternate
"B" for Bonus (doesn't count against entry limits)
Also indicated are Swim-Ups in the right-most column for both Individual and Relay events. The Relay shows which relay and which position in that relay. If the position is 5 or higher, that Athlete is an alternate.
---
To set an athlete's entry as a Swim-Up, you'll need to click the pencil next to the Athlete's name. You'll be presented with the entries for that Athlete.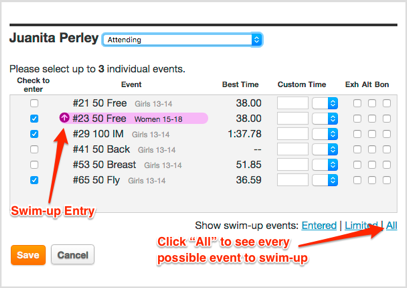 To see the events the athlete could swim-up in, click the "All" link.
Click the checkboxes for the Events you want to enter the Athlete in and any of the Exhibition, Alternate or Bonus events and click "Save".
>>See also: Exhibition Events & Athletes
>>To edit entries in bulk by age group, see our article on Meet Entries.
Relay Entries
Swim-ups in Relay Entries is more automated. On the Relay Entries tab, set your Settings (see also Automatic Relay Generation and Settings) and click Generate Relays or click "Add Relay Team" under each event. Click the "Edit" button next to a relay team to edit the athletes for that relay. Doing so will also lock that team so automatic relay generation won't change the entries for that team.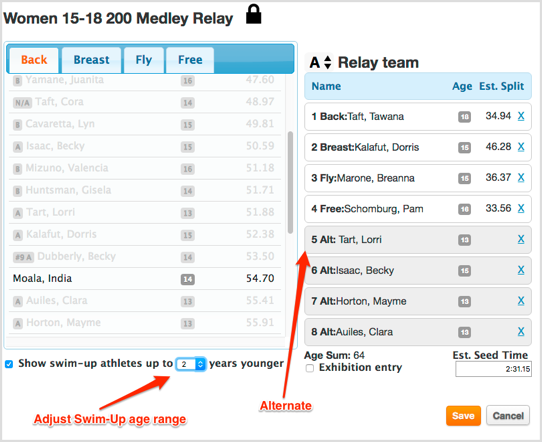 Hovering your mouse over a greyed-out athlete will indicate why that athlete is ineligible. Clicking the name of an athlete will add that athlete to the team in the stroke indicated at the top (in this case, "Back").
hcmanagescheduleswimmeetentriesindividual hcmanagescheduleswimmeetentriesrelays