Relay selection is completely configurable so you can generate all relays for an entire meet with the click of a button!
In each meet's Meet Setup > Team Preferences, you can:
Specify your preferred "Freestyle relay order strategy" to control the order in which the kids swim based on their relative times. Traditional order means fastest swims last, for example.
Control when/if swimmers should "swim-up" to fill out relay teams in older age-groups, and under which conditions.

>>Tip: These settings can can be configured site-wide under Settings > Meet Entry Preferences, so they are preset for all meets each season.
---
Additional relay settings are located under Meet Setup > Entry Rules

---
Once your settings are in place, click the Generate Relay Teams button to have SwimTopia automatically assign the fastest combination of swimmers for all the relay events in a meet.
SwimTopia automatically picks the fastest "A" relay from available athletes, then the fastest "B" relay from the remaining athletes and so on, based on your swimmers' times and your relay settings.
SwimTopia also scales times if a swimmer has a recent individual time in the same stroke but a different distance than the relay leg. SwimTopia will automatically scale the time up or down, to get an estimated time for the desired relay leg distance.
Relay teams can be edited to add/remove swimmers (and specify swim-up ages), change the relay order, rearrange swimmers within the relay, enter custom seed times, and to mark a relay as an exhibition entry if necessary.
Manually edited relay teams display the locked padlock icon indicating the relay team will not be replaced when you generate relay teams. If you want those teams to be replaced, simply delete the locked relay relay team.
>>Note: If you need more than 4 swimmers in a relay, you need to "allow entry of relay alternates", and manually add the additional swimmers after generating the relay teams. You can have up to 8 in SwimTopia, but Meet Maestro only supports 4 person relay teams at this time.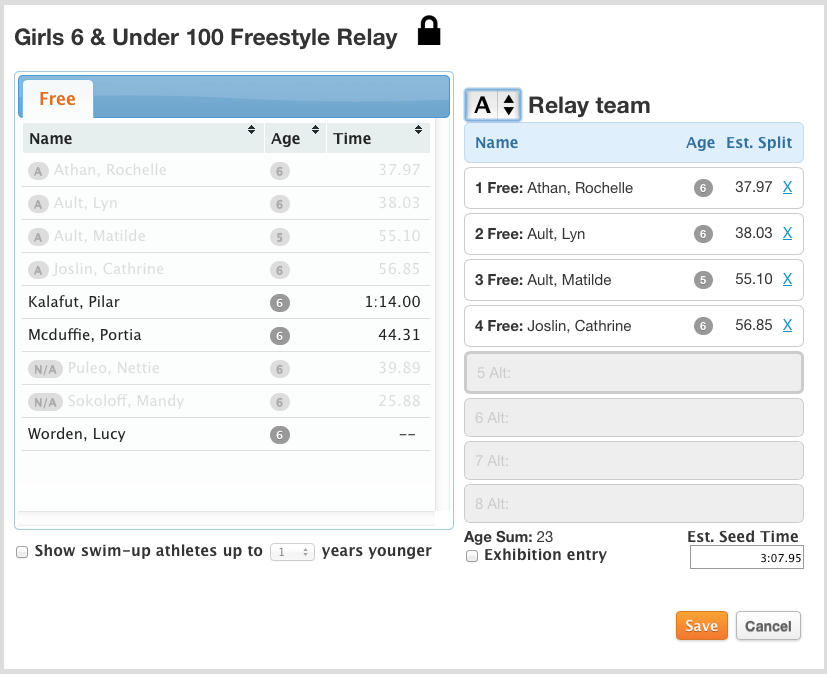 Available swimmers for any relay, based on your Team Preferences and Relay Entry Rules, are shown (if available) in the pane on the left. If they are not available to assign to the relay, they are dimmed. If you hover over the dimmed athlete, SwimTopia will display the reason the athlete isn't available in a tooltip.
Swimmers currently assigned to the relay are shown in the pane on the right.
➞ See this video for a quick demonstration on how relay generation and the relay editor work.
➞ For more information on Swim-ups, see our article on Swim-Ups for Individual and Relay Entries
hcmanagescheduleswimmeetentriesrelays