SwimTopia can automatically limit registrations to a maximum number that you set. These limits are per form, so that each form you have open in a season can set its own limits.
Many teams offer separate waitlist or board member registration forms with their own specific limits.
---
Covered in this Article:
---
Locating Registration Limit Settings
Registration limits are managed from within each registration form. Access these settings by going to your Registration tab within the Manage Team admin console, where you click on the title to access your form.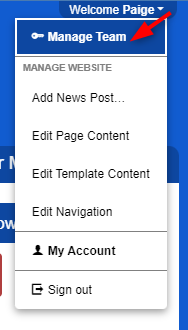 ---
Managing Your Registration Limits
Upon entering your form, click Edit Registration Limits.

➧

Registration limits on each form can be configured in one of two ways:
limit registrations counting all athletes in the current season or
limit registrations counting only those athletes registered using the current form.

With this flexibility, you can impose different limits in different situations, which makes it easier to use multiple registration forms for things like wait lists and clinics.
➞ Here are some example scenarios:
If you're using one registration form for returning members and one for new members, you'd set up both forms with identical registration limits, and you'd want all athletes in the current season to count towards the registration limits defined on both forms.
If you're setting up a registration form for a clinic or a waitlist, you'd want to set registration limits that are specific to those scenarios, and you would not want to tie those limits to other registration forms. Thus you would select only those athletes registered using the current form.
➧

Overall Registration Limit and Age-Group Limits
Next, enter an Overall registration limit for the whole team, and/or check the box to Limit registrations by age-group to enter age-specific group sizes.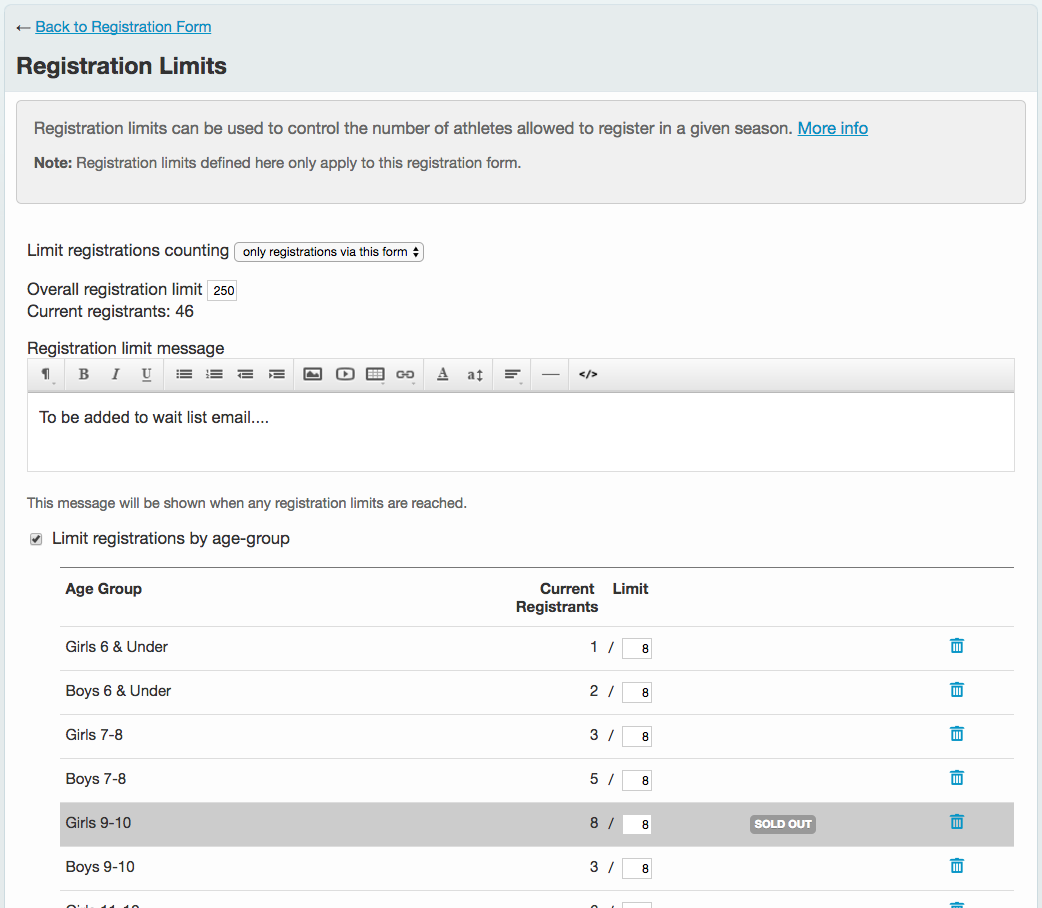 The registration form is initialized with the team's age groups as a default, which can be managed via Settings > Athlete Age Groups. (non-school sites)
The administrator can customize the age range limits that are specific to this registration form by adding or removing age range limits. For example, you may have a limit for all 10 & unders, rather than separate limits for 6&U, 7-8, and 9-10.
» Note: The age ranges for the rules you use can overlap — so you can have limits on 6 & unders and 10 & unders and both rules will apply to any 6 & under athletes.
To add a new age group limit that is specific to this registration form, click on "Add Age-Range Limit" at the bottom of the screen. To remove an age group limit for this form, hover your mouse over the grey "Remove" box on the right of that age group, and the box will switch to red.

» Note: The age groups on the registration form are independent of the team athlete age groups. Changing the form age groups does not change the age groups for the team.
Click Save to continue with the Main Registration section below.
---
What happens when groups fill up?
When you set either overall or age-group limits on your registration form's Registration Limits settings page as discussed above, your form will show different system messages as those limits are reached.
You can also set your own "custom message" to direct registrants to a separate "waiting list" registration form (typically a private form), which can have its own configuration and limit.
As age groups fill up, your custom message will be shown right below this example system sold-out message:
Please note: The following groups are filled. Registrations will NOT be accepted for Athletes in these groups.
Boys 7-8, Girls 9-10, and Boys 9-10



When a parent submits a form trying to register an athlete in a sold-out group, this example error message is displayed at the top:
There were problems with the following fields:
The Girls 13-14 group is sold out. (Athlete's name) cannot be registered at this time. 
The registration form is automatically closed (with the message displayed below) ONLY when the overall registration limit is reached, not when all age groups are sold out.
The registration limit for this season as been reached. Registration is now closed.

» Note: Pending and Approved registrations will count against the limit, so if you "Reject" the registration form, that will take them out of the count.
➞ See our article about Registration Waitlists - Create and Manage for more details on setting this form up and managing your waitlisted members.
---
Registration Timeouts
When you implement registration limits (either for the whole team or by age group), our registration form features a timeout feature to prevent overbooking.
Once parents add their athlete(s) to their registration form and click the green "Next Step" button at the bottom of the form, they have temporarily locked in their swimmer's spot and will have 31 minutes to complete each subsequent step in the registration to hold on to that spot.

➞ See our article about Registration Locking and Countdown Timer for more details.
---
hcmanageregistrationlimits