Select the Communications tab in the Team Management console to send an email to individuals or a mass email to groups.
Group emails can be sent to:
The entire member list (current and/or past)—typically parents
All parents
All athletes (due to the Children's Online Privacy Protection Act ("COPPA"), only High School teams can send Communications directly to athletes). Will go to the parents if there's no email address affiliated with the athlete.
Athlete Age Groups—actually goes to parents of the athletes
Athlete Roster Groups—also to parents
Members of a role (i.e., Timers, Concessions, and so on)

Note: All email sent from your website will be from the name and email address associated with your own login. Some teams opt to set up a generic team or role admin logins to send team-wide email messages.
Click 
Compose Message
 to start a new email. In the 
To 
field, start typing the name of any user or group and select the matching user or group to receive the email.
* Hint: When typing in a group name on an iOS device (iPhone, iPad) you may have try typing in the first few letters of the group or recipient name and then backspace a few letters to be able to select it.
In the Send To field, groups are labeled based on type, including (Age Group), (Role), (Roster Group), and (Group).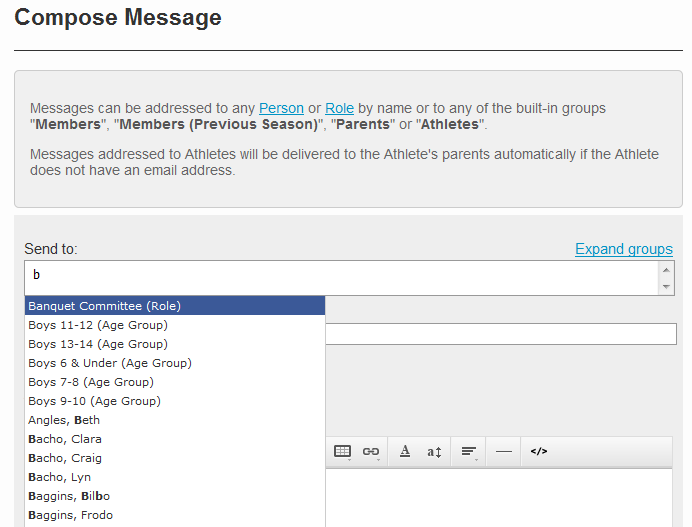 Group labels in the Send To field are now highlighted in green to differentiate from individual addresses, which are highlighted in blue.
Remember: green = group

Email all members of the team in the current season team by entering: Members. All users are automatically added to your Members group for the current season through registration, including Approved and Pending registrations and users manually added through the People tab. The Members group is intended for team-wide general information Communications. Parents who have requested to not receive email communications in Registration are not included in Members. These parents will show "Unsubscribed" when viewing their record in People.
Email members of the previous season by entering: Members - Previous Season. All last season's imported users and registrations are included in this group, unless they have opted out. This is an excellent way to invite members to register for a new season.
Email Parents only by entering: Parents. This group will include parents who have opted out or been unsubscribed.
Parents can unsubscribe from Members but not from Parents. In other words, using the Parents email group will send a message to every parent with an email address even if they have used the unsubscribe feature. So don't use this group for general announcements.
Email Athletes only by entering: Athletes. Generally only for High School teams.
Email Athlete Age Groups by typing the age or gender, then select from the drop-down list of choices.  Note: 15 + age groups are typically labeled "Men" or "Women." Typically goes to the parents of these athletes. 
Email Athlete Roster Groups by entering the name of the group. Also goes to the parents in most cases.
Email all members assigned to a role by typing in the name of that role, such as "Board," "Timers," "Ribbons," etc. Users are automatically included in these email groups when you assign them to a Role. ➞ See more information on Defining Roles and Assigning Volunteers to Roles.
Parents can only unsubscribe from the Members group. All other groups are delivered to the parents without regard to the unsubscribe option.
A particular Communication will not be sent to a single recipient more than once, even if you enter multiple groups in the recipient field and they are members of more than one group. For example if you send to multiple age groups and the parent has more than one child, they will only receive one message.
The Members group may be smaller than the Parents group. There's no need to send to both groups in a single message. If you want everyone to receive the message even if they've requested not to be communicated with, use Parents but use it sparingly.
Note: All messages sent to athletes that do not have an email address in their profile will go to that athlete's associated parents instead.
Click 
Expand groups
 to display each individual user, or if you need remove one or two from your list.  Type your message and include any attachments as necessary. 
Allow recipients to see each other and Send me a copy can significantly increase the time it takes to send these messages, so use with care. The "Allow recipients…" option divides the recipients into groups of approximately 50 and sends the messages out in batches.
Also publish as news post 
will create a news post along with the communication sent out that uses the subject as the title and the message as the content of the post. Any attachments will not be included on the news post.
Click Send to send and save your message in the Sent Messages tab.