PREMIUM
This feature is available to our Premium customers.
During registration, there are a few options for exempting parents from signing up for volunteer jobs.
Assigning exempt volunteers before registration
Any parent who is assigned to an exempt role before registration will have the option to bypass your form's Volunteering section. You can pre-assign your team's board members to exempt roles. If one parent is already assigned to an exempt role, all parents on the registration form are considered exempt during registration.
Exempt Roster Groups
Athletes enrolled in non-competitive roster groups will not be counted toward the total volunteer point requirement when the box labeled "Exclude non-competitive athletes from volunteer commitment calculations" is checked. This exclusion applies to both per-athlete and per family/account registrations.
Volunteer opt-out fees
You can add a "volunteer opt-out" acknowledgement to your registration form that will add an opt-out fee and automatically assign the exempt role at the same time.
Step 1. Create a new role (i.e. Volunteer Opt-Out) in Manage Team > Roles, and select the "Volunteer Exempt" option in the role's settings.

Step 2. Click "Add Acknowledgement Section" found at the bottom of your registration form (i.e. name it Volunteer Opt-Out) that explains your opt-out policy, and select your new exempt role for automatic assignment.
Click here for more info about adding a new Acknowledgement sections to your registration form.

Step 3. Select Include additional fee and enter a per-registration or per-athlete fee, and a description for the receipt.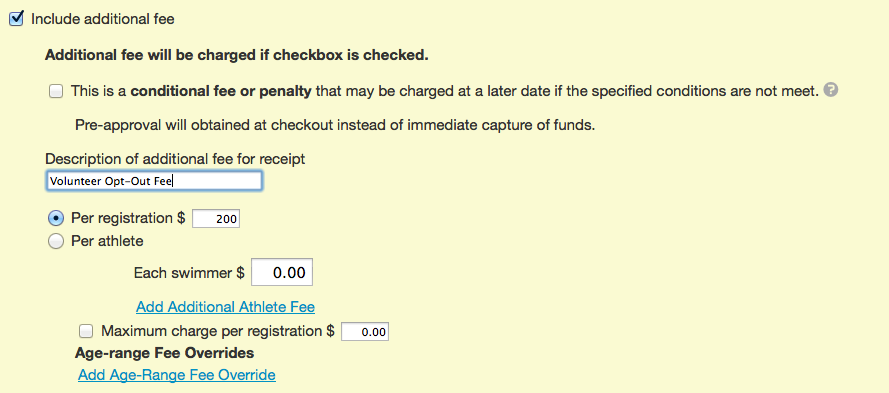 When this acknowledgement is clicked (agreed to), the fee will be added to the registration amount due, and all parents on the form will be assigned to the exempt role you created, and the following message will appear instead of jobs & shifts in the Volunteering section of your form.