There can be a lot of variation in how teams manage their meet entries, but this is the basic workflow for collecting meet entries, sending them to the meet, and then getting results back into SwimTopia.

1. Configuring Meet Signup
For each meet, you'll want to make sure the Meet entry online sign-up status is set to Open when you create or edit a meet in Manage Team > Schedule -- this will allow parents to login and declare their swimmer's meet attendance and choose meet events.

Some teams enable online signup for all meets before the season; some teams only turn on one meet at a time the week before a meet. To disable signup but still allow parents to see saved event entries, set the meet's Meet entry online sign-up status to Closed.
Open:
✓ Allow meet entry sign-up and view it (parent account login required)
Pending: 
×  Disable view and meet entry sign-up
Closed:
✓ Allow view meet entry sign-up (parent account login required)
×  Disable meet entry sign-up
After setting a time and date click the Automatically Open or Automatically Close to make the meet entry sign-up status open or close once the date has passed.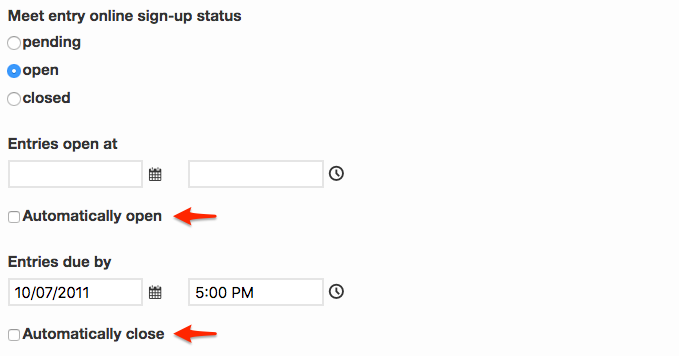 The meet entry settings in Manage Team > Schedule > Meet > Entries > Settings control which events each swimmer is eligible for if you allow athletes/parents to choose their events. If you prefer that the coach select events for each swimmer instead, you can turn off the Enable online individual event selection setting.
You also have control over which times are used for seeding events and relays.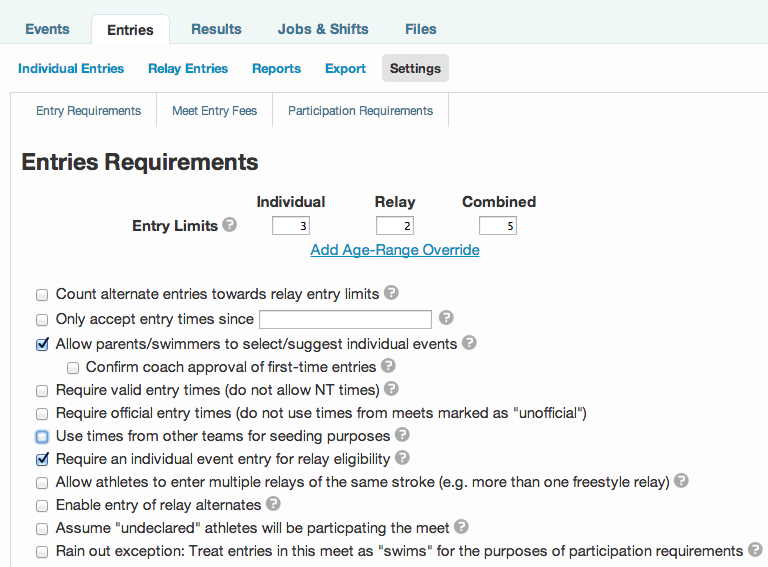 2. Meet Signup Process
When enabled using the settings above, logged in parents can declare meet attendance and choose events for each swimmer associated with their account by clicking the Swim Sign-up link in your website's Swim Meet schedule. 

3. Export Meet Entries
Once your meet entries are in, your coach can verify entries and create relay teams. Once these are all finalized, they can be exported and sent to the meet host for import into Meet Manager. It's not a bad idea to also export the Team Roster, especially if we imported your Team Manager information (see Importing Team Roster and Time History) and after registration there were some athlete de-duplication candidates (see Removing Duplicate Swimmers and Syncing Times). The athletes may have their "old" names lingering in HyTek—you may also want to export your whole roster for Team Manager is you are running TM in parallel with SwimTopia.
SwimTopia is compatible with Meet Manager version 2.0 and above. The current version of Meet Manager is 6.0.



4. Import Meet Results
After the meet, you can import a Meet Manager results file directly into that meet in your schedule. Times will automatically sync up with the swimmers in your roster.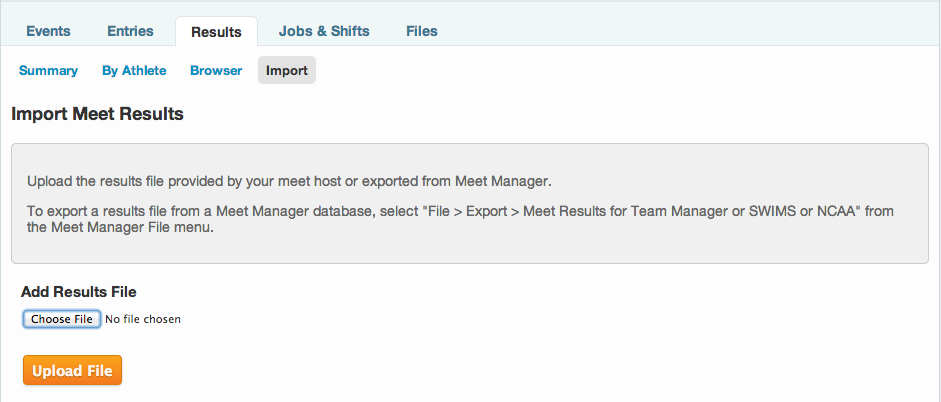 5. View Results
Logged in parents will then be able to see those times for each swimmer associated with their account on their My Account page.