---
Covered in this Article:
---
What are Conditional Fees and how does this work?
Registration form Acknowledgements can collect "conditional" fees. Conditional fees provide a way to collect pre-approved fees, penalties, or deposits at a later date if some condition is not met.
For example, you can charge a "Volunteer Penalty" as a conditional fee per swimmer or per family, to be applied during registration but only charged to the pre-approved credit card after the season is over.

You can apply multi-swimmer discounts and age-range overrides to conditional fees, and set a maximum fee, just like with other acknowledgement section fees.
During checkout, conditional fees are noted separately from all other itemized charges. Only the "Total Amount Due" will be charged at checkout.

The conditional fee will be saved with the registration and can be captured or released by an admin up to 8 months from the date of the approval.
» Note: After 8 months the approval to charge the conditional fee will be released and would have to be captured externally from the system.
Approval for the amount due at registration plus any conditional fees will be obtained at registration. The amount due at registration will be immediately charged against the pre-approved amount. The remaining pre-approved balance (the amount of the conditional fee) can be captured at a later time, or released.
After checkout, the payer will receive an email containing a link to modify their payment method if necessary (in case a card is lost, stolen or expired).
➞ See our Registration Form: Main Section article for details on setting up conditional fees in your registration form.
---
Capture Conditional Fees
➧

Who has access to capture a conditional fee?
Site Admin (red badge): designated using "Make Admin" in the profile
Role Assignment: with the permission to Read or Manage > Financials or "All administrative permissions" (the latter is the same as a Site Admin but designated with a crown in the Role badge instead of the red Admin badge)
➧

How do I capture a conditional fee?
» Note: This feature was built with the expectation that teams would be using our online payment processor to capture the fees, but if your team does not offer online payment, you can still capture or release these fees, but actual payment must be handled externally.
When conditional fees are collected in an acknowledgement section during registration, you have the option to either Capture or Release that fee at any time.

Click the View/Edit link for that registration form to view, capture or release pre-authorized fees.

Click the Capture button to enter an amount that is between $1 and the original authorized amount. You can also add a message to be included in the payment notification email.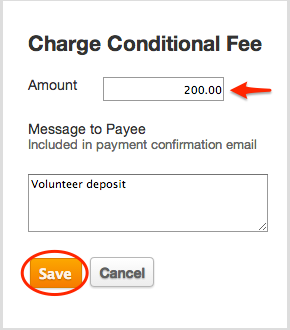 Click Save to process the credit card and collect the fee entered.
After the fee has been captured, it will be included in the order total, and will also appear as a separate payment with the date of capture in the registration detail.
---
Expired or Denied Transactions
If you attempt to capture a conditional fee but it is denied for any reason (insufficient funds, expired, lost, stolen) you should contact the payer to get a different form of payment.
---
Transaction Fees
Each payment transaction will be processed separately. The first (amount due) transaction will be processed immediately and assessed the standard processing fee of 3.4% + $0.30, while the second (conditional) transaction, if and when it is processed, will also be charged a processing fee of 3.4% plus an additional $0.30, because it represents a separate transaction.
For example, the fees for the sample transactions above would be as follows:
| | | | |
| --- | --- | --- | --- |
| Transaction: | Amount: | Process Fee: | Processed: |
| Registration (athletes, acknowledgements, merchandise) | $100 | $3.20 | Only when registration is submitted |
| Conditional fee | $200 | $6.10 | Only when the conditional fee is captured |
---
Release Conditional Fees
Click the Release button in the Registration form detail to immediately cancel the existing pre-approval. No email notification will be sent when a conditional fee is released.
» Note: Manually releasing pre-authorized fees is optional, as all conditional fees automatically expire 8 months from the date they are authorized. Because the pre-approval is not a "hold" on the card, it won't affect the parent's ability to use their credit card during this time. Instead, it is a pre-approval in the sense that the customer has authorized their card details to be stored temporarily for use in a future transaction.
---