From the Admin menu on your team website, click Manage Team and then Registration.

To start creating a form, click New Registration Form.
You will begin your form on the Main Registration section. You can toggle between sections to edit them by clicking a different section title.

After each section has been completed and saved, your form will appear in the Registration Forms list.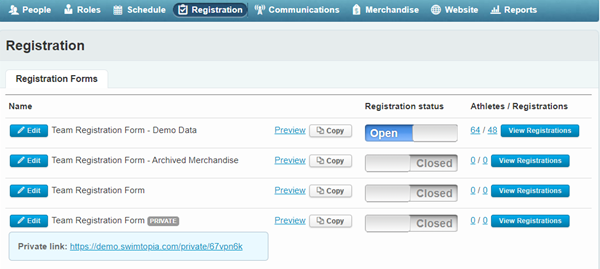 Click Edit to go back and complete more form sections, Copy to duplicate the form, or Preview to see how it will look to your users.
>>Tip: Use Preview to test your form's behavior without saving any test registration data or payments.
To Open:
Slide the Registration status bar to the right only when your form is finished and you are ready to open registration.
To Close:
Slide it back to the left to disable the form or close the registration period.
---
hcmanageregistration