---
Covered in this Article:
---
Locating the Registration Forms
Your team's Registration forms are managed from the Registration tab in the Manage Team "Admin" console.

---
Creating a New Registration Form
The first time you access this page, you will see an Example Registration Form. This form includes instructions and tips for each section to guide you through the process, providing a starting point for you to build from.

If you want to start from scratch, you can always choose to do so by selecting the New Registration Form button.
After your form is complete, you will return to the Registration Forms screen where you will see this form and any other you have created through each season in a list.
>>Tip: You can have multiple forms per season depending on how you need to manage your members. We suggest giving each form a specific recognizable name such as "2021 Registration Form", "Coach Registration Form", Non-Resident Registration Form" etc., so you can quickly desern which form to open or close. More on this in the next section you will continue to from this article.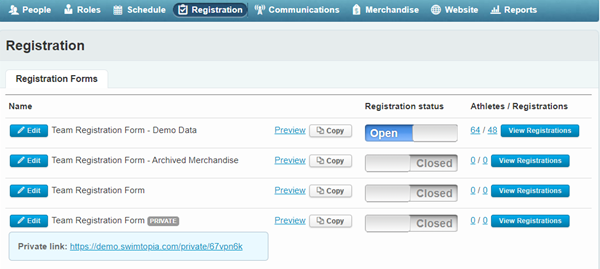 ---
Options Available on the Registration Form Screen
Click Edit to go back and complete more form sections, Copy to duplicate the form, or Preview to see how it will look to your users.
>>Tip: Use Preview to test your form's behavior without saving any test registration data or payments.
➧

To Open:
Slide the Registration status bar to the right only when your form is finished and you are ready to open registration.
>>Note: Private forms still have to be Open. Users will get an error if you do not have the form in an open state. The privacy setting within the form will keep anyone else from accessing the form.
➧

To Close:
Slide it back to the left to disable the form or close the registration period.
---
hcmanageregistration
---