As you are initially setting up your site, you may wish to manually add more administrators:
Add Parent
To manually add a new admin, click the New Parent button. (Even if the person has no children associated with them, they'll be listed as a "Parent," as we only have "Parents" and "Athletes").
Enter the admin's information, including a valid email address, which is required to login to the team website. If the site warns you the email address is already taken, contact support to have the parent records merged.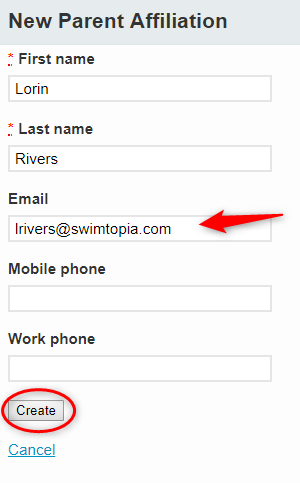 Each new user will receive an email with login instructions.
Granting Full Admin Privileges
To grant sitewide admin privileges for members, view the member's profile by going to Manage Team > People, and clicking on their name. Click the Make Admin button in the upper right corner.

Granting Partial Admin Privileges
Note: using "Make Admin" feature shown above will give full administrative rights to the user.  You can give partial admin rights to users who only need access to certain areas of the site through our Roles feature.  See the Help Center articles in our Roles section.
Admins That Were Migrated for Swim-Team.us teams
For Swim-Team.us teams, your admins were automatically migrated to your new site—we mapped their roles and their permissions along with the data import.  They will need a password so they can access your SwimTopia site:  go to Manage Team > People > and search for their name (or select "Administrators" in the drop-down box under "Type"—although if admins weren't previously assigned as a full admin, they won't be assigned in SwimTopia as an "admin" with the red admin badge). 

Click on their name, then click on "Password Reset." An email will automatically be sent to them with instructions on how to set their password.

People can also request their own password reset via the login pane—when they try to log in to the SwimTopia site, they can click on "Forgot your password?" and they'll receive an email prompting them to reset their password.
If you'd prefer to give them only partial admin rights, you can set up Roles with partial admin privileges.  See the Help Center articles in our Roles section.
We're here to help!
Now that you have some new admins, please let them know about our Help Center, which has some great articles about getting started with SwimTopia and lists all of our support options.