Roles are used for communication and to manage permissions. Any parent or swimmer on your team can be assigned to a role, so that you can group the people on your team, from assigning swim meet jobs to sending group emails. Roles are different from Jobs in a number of ways, primarily having to do with time span—does it take place over the whole season or level of responsibility. Jobs are something that must been done at a particular meet and at a particular time (a shift).
Roles can be used in several ways:
» Team role, such as Coach, President, Timer Coordinator, Tent Parent Coordinator, Computer Rep, Hospitality, etc., which is usually filled by only one or two people and are not reset at the end of each season. 
» Season role, such as Timer, Ribbons, Tent Parent, Concessions, Stroke/Turn Judge etc., which are related to working a shift at an event, is filled by many people, and is reset at the end of each season. This is not a replacement for a job & shift though.
» Committee Membership role, such as Timer, Ribbons, Tent Parent, Concessions, etc., when committee size is limited to ensure that volunteer effort is evenly divided. In this scenario, the more popular/easy jobs have small committees and only committee members can volunteer for that committees jobs.
» Job-Specific role, some jobs require training before a person can do them. One example of this is Stroke/Turn Judge. 
➞ See the Jobs and Shifts tutorial for more info. 
» Exempt role, such as President, Announcer, Volunteer Opt-Out, etc., usually filled by a person whose assignment to that Role allows them to meet all minimum volunteer requirements.
» Acknowledgements role, such as Photo Release or Rookie Parent, where agreeing to an Acknowledgement assigns a person to a role for identification and communication.
Here we will define season roles in order to allow parents to choose it as an volunteer preference during Registration. 
Select Manage Team from the Admin menu on your website.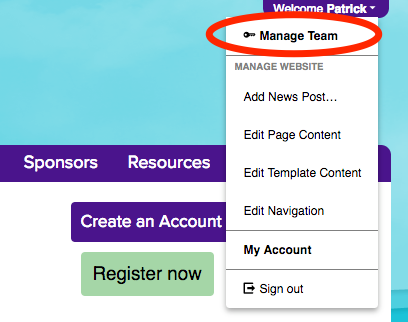 A new page with your Team Management options will open. Click Roles on the top menu bar to get a list of your defined roles.

To define a new role, click New Role.

Enter the name of the role, a description, and indicate whether this role's assignments are cleared every season.
Enter the total number of people usually needed in this role during the entire season, and how many points are given for members assigned to this Role.
» This is useful for teams that use points to determine volunteer commitment minimums by one person for the same job done over an entire season.
Members assigned to an volunteer exempt roles are allowed to skip the volunteer preference and job sign-up section during registration.
» A "Volunteer Opt-Out" role can be marked exempt to create a volunteer opt-out option in the Acknowledgements section of the registration form.
Administrative Permissions
You can now assign customized administrative permissions to each role, which can apply to separate admin sections of your site. Any users assigned to that role will inherit the administrative permissions defined in that role. 

With Some administrative permissions selected, a role can be granted Read or Manage permissions for a dozen categories such as Registrations, Meet Entries or Website.
With Read access, a user will be able to find and view data and run reports in that category, but will be unable to make any changes.
With Manage access, the user can add data, make edits and delete data.
If the access in a given category is None, that category of information won't show up at all.
For example, a board role such as Treasurer might need manage access to People, Registrations, Sponsorships and Merchandise, but read-only access to the Schedule, Roles, Communications and Website. 
Such a configuration would look like this: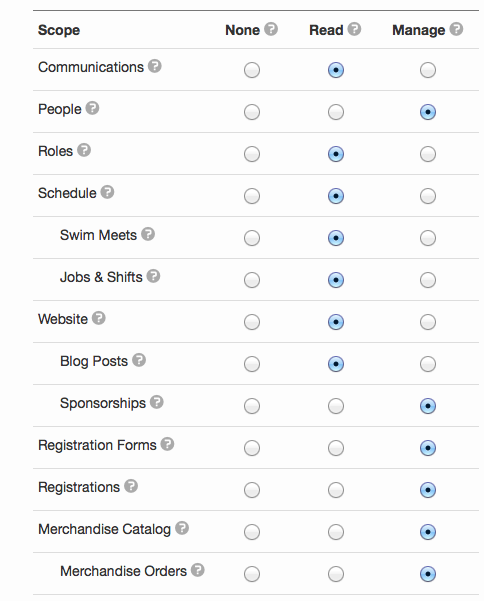 To save your changes, click Create, or Cancel to go back to All Roles.
Permissions Indicators
Keys and Crowns
Once you assign permissions to a role, and assign roles to a user, you want to be able to see at a glance which users have which permissions in the system. To provide that extra visibility we've added two new icons to our role tags to indicate which roles carry access permissions.
 A crown icon 

 indicates the role/user has full admin access. 
 A key icon 

 indicates the role/user has some permissions.
Hovering over the role tag will show a summary of categories in which the role/user has read or manage permissions.
When necessary, a read only access reminder is shown to the user:
hcˆroles  hcˆrolesˆnew_role  hcˆrolesˆassign_roles