SwimTopia offers a feature to integrate league waiver sections into your team's registration form. These waiver sections can include fees to be paid directly to your league, should your league require it. If your league has a SwimTopia site and has added shared waivers for its teams, here's how to integrate them into your registration form.

---
Covered in this Article:
---
Adding Shared League Forms to Your Registration
① Create a new registration form ➞ See Registration Form: Main Section
② At the very bottom of the "Main Registration" section on the first page of your form you'll see your league's waiver sections as greyed-out sections under "Shared Form Sections."
③ Select the section you'd like to include and click "Add to Form."

---
Display Order and Excluding Non-Competitive Athletes
Once added to your form, the section will appear yellow. You cannot edit the shared form section, but there are two more choices you can make:
Display Order – the shared form section will drop in at the bottom of your form, but if you'd like it to display higher for your team members as they register you can pick where you'd like it to display.
Exclude non-competitive athletes from fee calculations (if there are league fees associated with this section) – your league will have set it up to default one way or another. If they allow you to change this setting, you'll be able to check or uncheck the box
» Note: Some leagues may not allow their teams to change this non-competitive athlete setting or will have two forms...one with a fee and one without).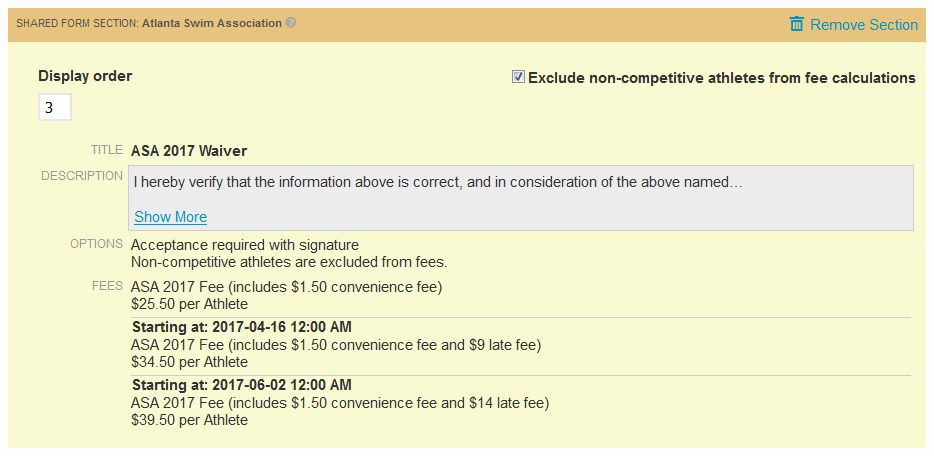 » Note: if the league changes a shared acknowledgment section and if your team has already added that section to your registration form, your form will show a warning saying that the Shared Form Section is out of date, prompting you to delete and re-add the section to your form. Leagues should notify their teams when they update forms, but it's best to periodically check just in case.

---
More about Non-Competitive Athletes
If you have a selection of (usually) young swimmers that don't compete in meets you can set up a group using "Athlete Roster Groups" and check the box "This group does not compete in swim meets" to make the group Non-Competitive. When parents select a 'non-competitive' athlete roster group for one or more of their swimmers during registration, the above settings will determine whether they'll be charged league registration fees at checkout.
➞ See our Athlete Roster Groups help center article to learn more.
---
League Fees
If your league has set up this section with league fees, ideally, your league will have created their own Stripe account in their SwimTopia league website. Any league fees collected through Stripe during your team's registration will automatically go to your league's Stripe account. If they do not set up a Stripe account, you will have to cut a check to them after registration ends.
Something to consider BEFORE you get started...
Forms of Payment: the league registration integration will go most smoothly if your team chooses to accept ONLY Stripe credit card transactions during registration. You are welcome to accept checks or membership numbers during registration, or any combination of those payment methods. However, suppose you accept forms of payment other than Stripe. In that case, you'll need to calculate the league fees from those registrations owed to your league through your SwimTopia "Registration Details" report and pay those to your league separately. If your league has set the shared waiver to only accept Stripe payments, any parents who choose check or member number will be required to pay the league fees with a credit card via Stripe.
➞ See our Stripe Account Setup article.
» Note: if you have set up a "Maximum charge per registration," the maximum only applies to the registration fees. Any fees charged in the acknowledgment section and league fees that are charged from the "shared form section" will not apply to the maximum charge per registration.
---
Checkout
At the end of the registration process, when they come to their confirmation screen, your team parents will see a line item for league fees:

» Note: during the registration process, just as your team parents don't see fee information as they add athletes to their registration form, they will not see the fees they are being charged for league waivers. We suggest including league fee information on your website and in your communication, wherever you discuss the team fees, so parents are prepared.
---
Reports
Details about what was paid to your league, and what is still owed (for any fees that were not paid through Stripe), can be found in the CSV Download of the "Registration Details / Data Export" report (found under Manage Team > Reports > Registration).
If your league has not set up a Stripe account, you'll use these reports to determine what you owe them for all league fees collected.
---
hcmanageregistrationnewregistrationform