If a league (or governing organization) has acknowledgements or waivers that members of its teams must complete upon registration, the league can set up that acknowledgement on its SwimTopia site as a Shared Acknowledgement Section, and it will be available to all of the league's teams who also use SwimTopia. These acknowledgement sections can even include league fees, which can then be paid directly to the league.
---
Covered in this Article:
---
Setting up a Shared Form Section
For any league or governing organization, there is a "Shared Form Sections" tab under "Registrations." Go to Manage League > Registrations.

To add a new shared section, click on the green "Add Form Section" button.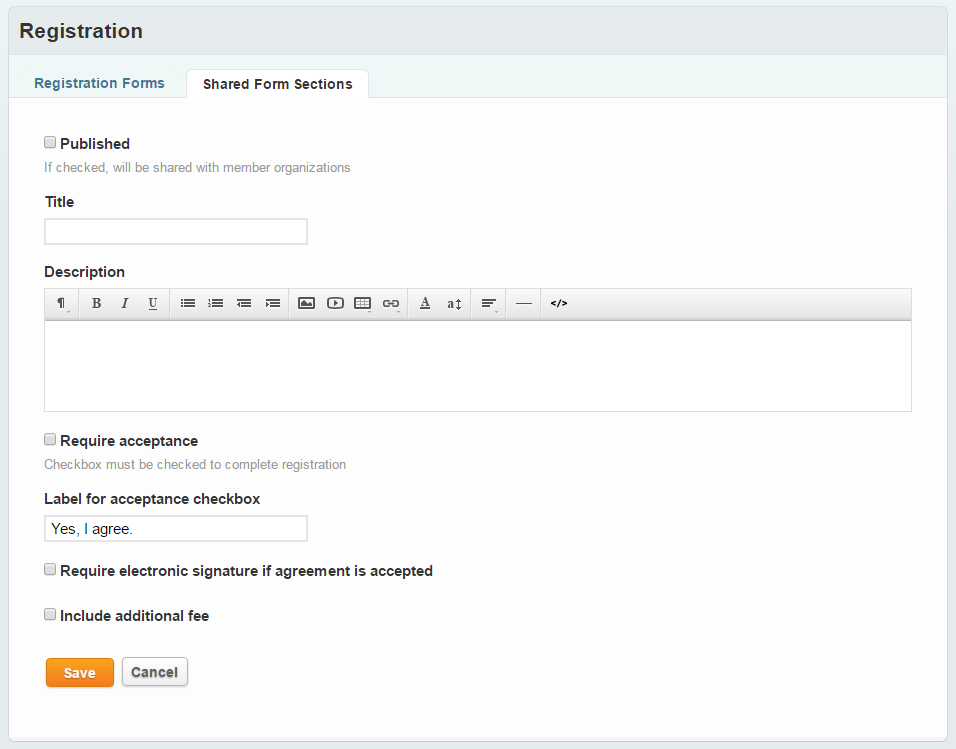 Publishing: If you check the "Published" box, the shared form section will automatically be made *available* to be added on all Registration Forms of all the League's member teams.
» Note: It is not automatically added to every team's registration forms (because teams use forms for lots of different things). Leagues should communicate to their teams about these shared forms and what is expected.
League Fees: The Shared Form can include additional fees, to be paid to the league.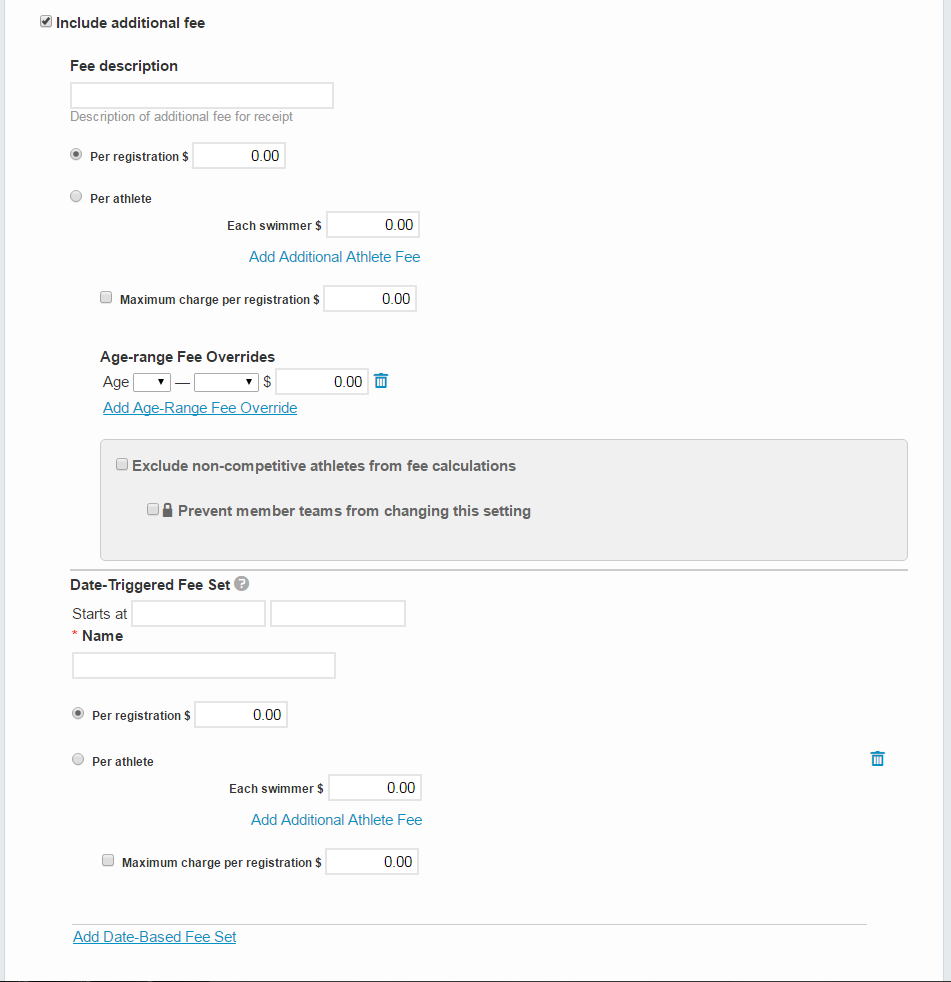 League fees can be set up in a variety of ways:
Per registration
Per athlete
By age range
With a date trigger
Date-Based Fees: Shared Form Sections can also have multiple date/time-triggered fee structures. The base fee structure applies up until the date/time of the first Date Based Fee Set. After that date, the fees for that Fee Set apply. You can have any number of these fees set; the current one always applies. (This is a way to automatically manage early discounts and late fees.)
Excluding Non-Competitive Athletes: The shared acknowledgement section fees can be set to exclude non-competitive athletes. We offer a separate check to "lock" the non-competitive swimmer fee setting. If it is locked, the teams in the league cannot change the setting of the league. If it is not locked, the setting on the league form is the default, but each team can override that setting.
---
Collecting League Fees
If fees are associated with the shared acknowledgement section, those fees will be earmarked for the league or governing organization. If the league has a working credit card processing account, and the parent checks out using credit card on the team registration (which means the team has enabled credit card payments too), then the portion of the league money associated with shared section will go straight to the league's payment processing account.
» Note: The league fee will incur the same payment processing transaction fee of 3.4% +30c. The payment processing fees will always be paid by the league (even if the team chooses that the team's payment processing fees are paid by the buyer).
To enable the league's credit card account, go to Manage League > Settings > Stripe Account ➞ See our Help Center article on Stripe Account Setup.
If the league doesn't have a payment processing account set up, or if the parent checks out with something other than credit card (check or membership number), then the team will collect all the funds. The team can then run a report which will show which fees have been paid to the league and which ones haven't, indicating any remaining balance due to the league.
---
---
» WePay/PayPal Support Ending December 31, 2022: Stripe will be SwimTopia's only supported online payment vendor starting January 1, 2023. Teams that have been using WePay (or PayPal for older customers), will need to set up a Stripe account for online payment.
---
---
---
Shared Form Sections on Team's Registration Forms
Once published, the Shared Form Sections will appear as available acknowledgement sections on a team's registration form.
» Note: As mentioned above, these are not automatically added to every team's registration forms (because teams use forms for lots of different things). Leagues should communicate to their teams about these shared forms and what is expected.
At the very bottom of the "Main Registration" section on the first page of the form, the league's waiver sections will appear as greyed-out sections under "Shared Form Sections."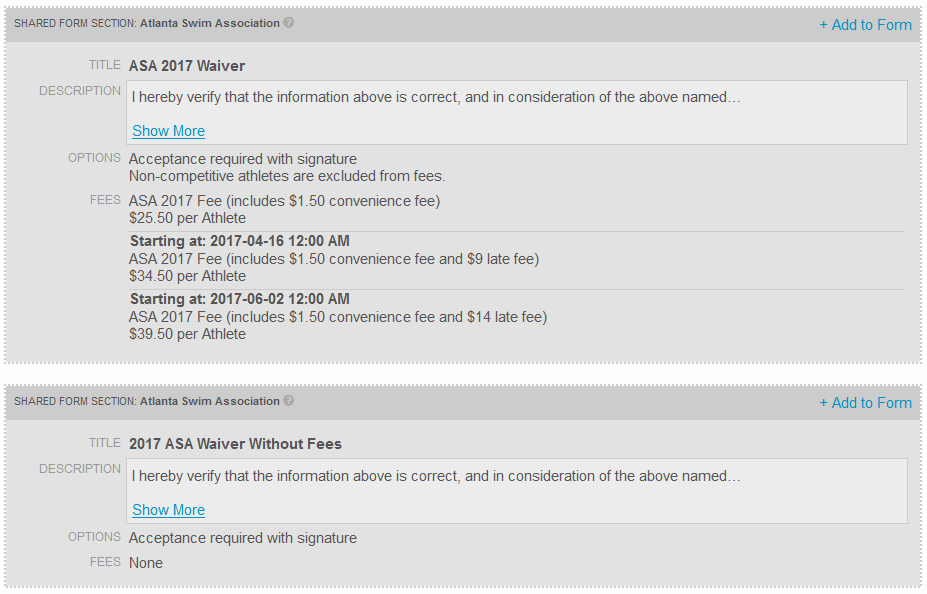 The team's administrator can then select all that apply. Once added to the team's registration form, the section will appear yellow. Teams cannot edit the shared form section, but there are two more choices they can make:
Display Order – the shared form section will drop in at the bottom of the registration form, but if they'd like it to display higher for their team members as they register, the display order can be changed.
Exclude non-competitive athletes from fee calculations - (if there are league fees associated with this section). Depending on how you set up your Shared Form Section, the box may be automatically pre-checked. If you allow your teams to change the designation, they can check or uncheck the box.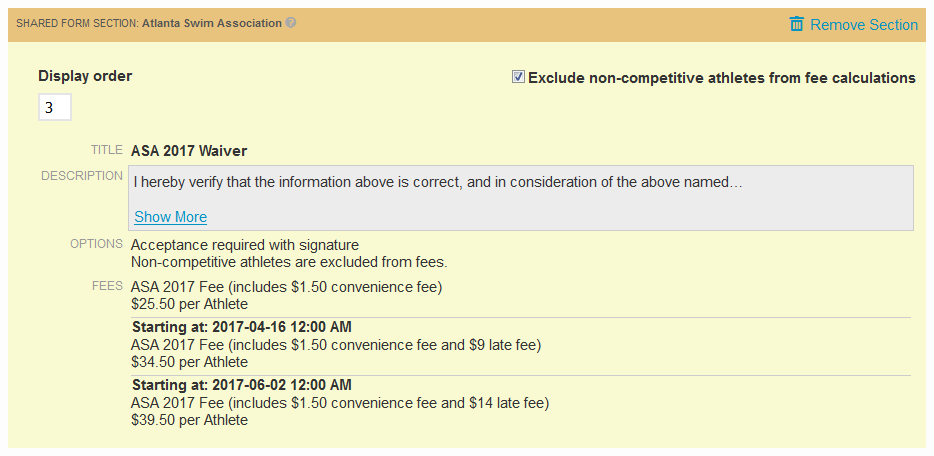 » Note: If the league changes a shared acknowledgement section, and if a team has already added that section to their registration form, their copy will show a warning saying that it is out date, prompting the user to delete and re-add the section to their form. We highly suggest sending a communication to your teams to inform them of this, especially if updated after teams have opened registration.

For more information on how your teams will utilize the Shared Form Sections ➞ See our Help Center article about Adding League Waivers and Fees to Your Team's Registration Form.
---
Reports
From your league site, you can run an Acknowledgement Report for each of your teams.
Go to Manage League > Reports > Registration > Select the Acknowledgement Summary (League)

Once in the report, select the team whose acknowledgement summaries you'd like to view, then click on "Generate Report." This will provide a printable summary of the acknowledgement forms for each swimmer. This report includes the league-shared acknowledgements as well as acknowledgements that the team created for their registration form.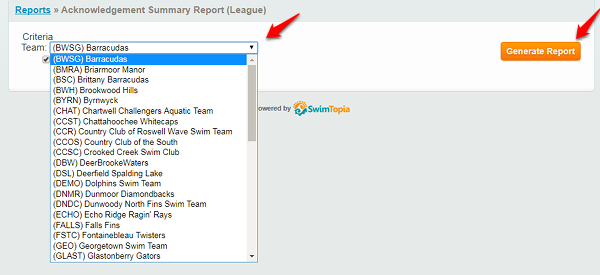 League Fee Reporting at Team Level
If your shared acknowledgements included league fees, the reports for the amount collected and paid to the league are managed at the team level. Your teams' admins will run a Registration Detail CSV report: They'll go to Manage Team > Reports > Registration and run their "Registration Details/Data Export" report, then click on "Download Registration Data (csv)."
---