The USA Swimming Status report contains the USA Swimming membership status of all SwimTopia users (athletes and non-athletes).
» Note: This report will not display on your SwimTopia site until your team is connected to USA Swimming. ➞ See Connecting Your USA Swimming Club to SwimTopia for a quick tutorial on how to enable this connection.
---
Covered in this Article:
---
Accessing the USA Swimming Member Status Report
This report can be found under the Reports tab in the Manage Team admin console ("Member Information" section).
» Note: Team administrators granted the "Site Admin" permission in their profile or assigned to a Role with "All administrative permissions" or at a minimum, "Read:People" permission can generate a full report or filter the report as needed. See ➞ Role-Based Permissions for more details.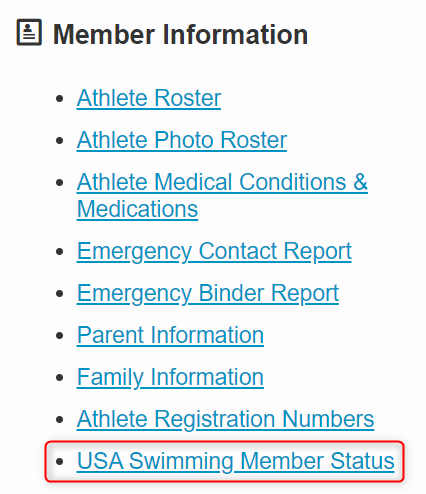 ---
Report Filters
The report has a variety of filter options:
Member Status:

Any / Connected, in good standing / Connected, not in good standing / Not connected to membership

Affiliation Type:

Everyone, Athletes, Parents, Administrators

Competition Category:

Male, Female

Minimum Age:

Enter a minimum or leave blank

Maximum Age:

Enter a maximum or leave blank

Roster Group:

Values are based on your team's SwimTopia site setup

Role:

Values are based on your team's SwimTopia site setup

Display Counts by Status:

Totals for each status will display at the top of the report

Display Member Number: USA Swimming ID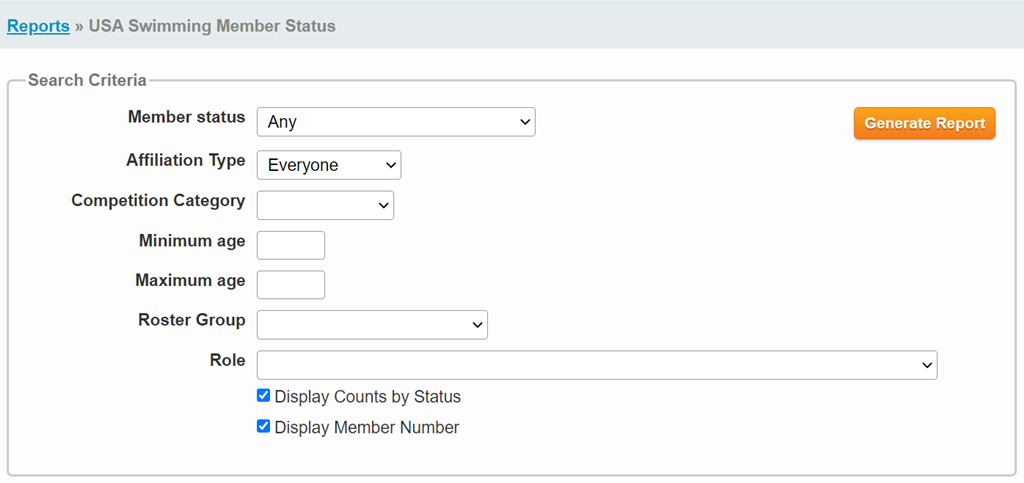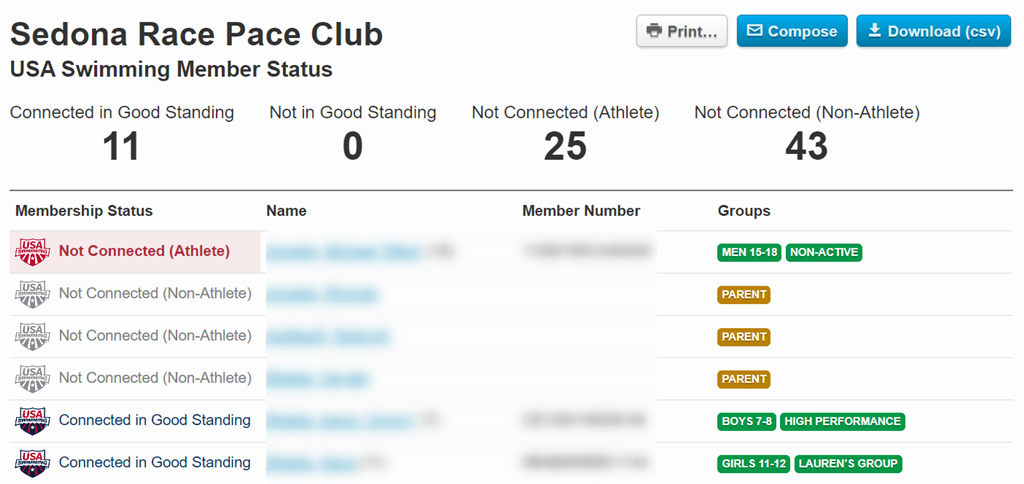 ---
Print, Download, Compose Email
The report can also be printed, downloaded to CSV, or saved as a PDF (using the Print option).
Also, you can compose an email to the users who are displayed when you generate the report (e.g., communicate with any member not in good standing or not connected to USA Swimming).

---
People Page – USA Swimming Status Filter
The USA Swimming Status is also a filter that can be used on the People page as seen below:

---
Other Reports - Include USA Swimming Status
We also provide the option to "Include USA Swimming status" on the Meet Entries Matrix, Meet Entries by Event, and Meet Entries by Athlete reports found under the Reports section.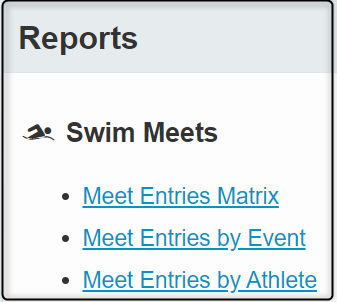 ---
Got Questions?
➞ Check out our ▶️ Training Video - SWIMS 3.0 Integration Overview
SwimTopia integrates with SWIMS 3.0, syncing USA Swimming membership information and status with each member's SwimTopia account information. ➞ See the Overview: SwimTopia and USA Swimming Teams (SWIMS 3.0) Help Center article for more details.
A USA Swimming members' account profile information is managed within SWIMS and must be updated from the USA Swimming member login and cannot be edited within the SwimTopia account. This includes: First Name, Preferred First Name, Middle Name, Last Name, Competition Category, Birthdate, USA Swimming Email, and Mobile Phone.
» Note: Updates to the profile in the USA Swimming account will sync back to the user's SwimTopia account. A separate version of the physical address and SwimTopia email (if present) are stored in the SwimTopia profile and can be edited within SwimTopia, but this will not update the USA Swimming account.
If your members have questions about the status of their account(s), or how to create or update a USA Swimming account that is not covered in the USA Swimming Membership Status Help Center article, we suggest they discuss this with the team administrator or contact USA Swimming directly.
» Tip: USA Swimming has provided a resource page dedicated to helping Coaches and Team Leaders navigate the new SWIMS application and guide their members through Online Member Registration. This can be found here: SWIMS 3.0 Resource Guide for Coaches and Team Leaders
---