PREMIUM
This feature is available to our Premium customers.
SwimTopia Snippets allow you to add many different kinds of content to your website. For more information about using Snippets, see our article, Working with Snippets to Create and Edit Page Content, or view our short video about Working with Snippets.
Records Snippet
Manage how your team records are displayed on the site using this snippet.

➞ For more information on setting up your team records, see our Help Center article on Creating and Managing Records.

Enter a heading for your Records display in the Title text box.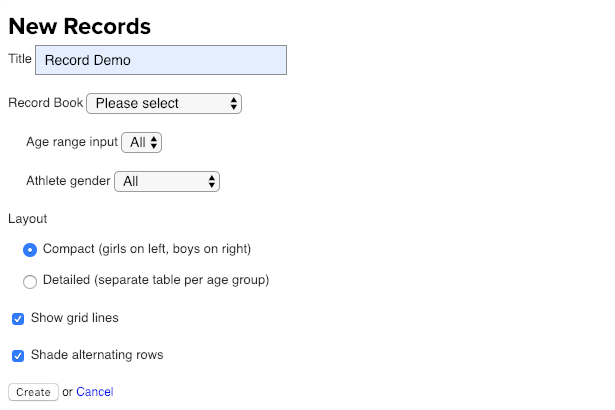 Record Book
Select which record book to display. When a new record book is selected, the option to choose age range input and gender will default to "All."
Age range input -

Allows you to filter by age range;

can be set to a default or custom input.
Athlete gender -

Allows you to filter the display by gender.

Options include: girls/women, boys/men, and mixed.
Layout Option
Compact (dual gender) will display records in a grid format with girls/women on the left and boys/men on the right, and matches events that both genders share so they can be displayed side by side.
Detailed (one gender) will display records in a single row list format, with age and gender separating and grouping the records.

Note: the Detailed layout option will not be displayed if only one gender is selected above.
Show Grid Lines
Adds lines between records per event and makes a line border around age groups.
Shade Alternating Rows
Uses your team's color scheme to create a background for records with multiple events, adding a lighter version of the primary color to the background of each alternating row.
Example of detailed view with just grid lines, the header uses the site colors: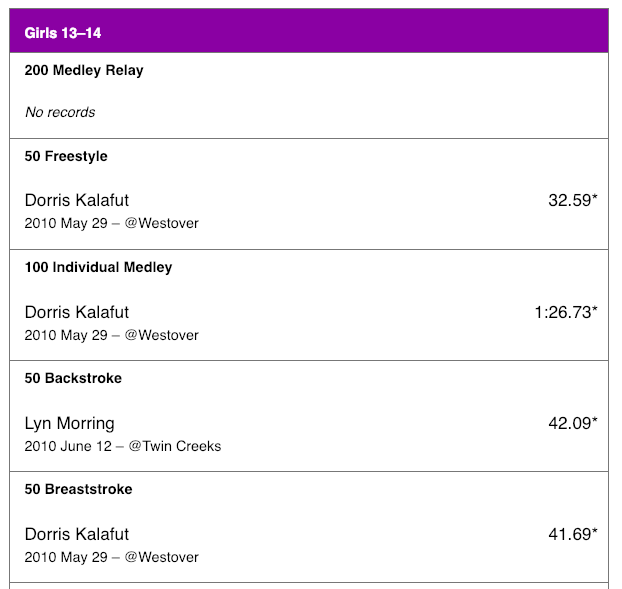 Example of compact view with grid lines and shade on alternating rows, shading uses site colors: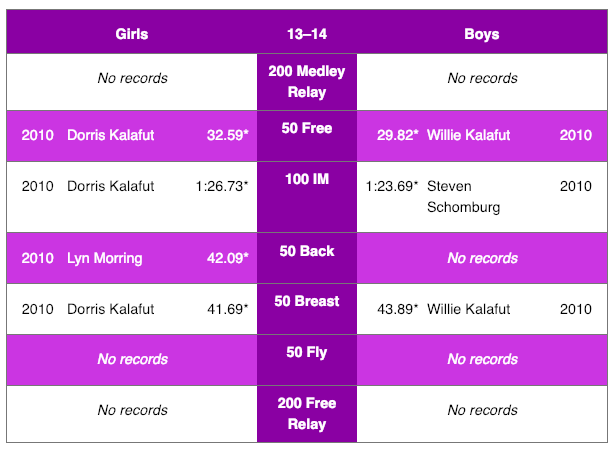 Click Create/Update to save or Cancel to exit.
Manage all of your record books in the Manage Team > Schedule > Record Books. For more information, see our Help Center articles about Creating a Record Book and Managing a Record Book.