PREMIUM
This feature is available to our Premium customers.
Covered in this Article:
---
Creating & Managing Your Records Books
Manage all of your record books in the Manage Team > Schedule > Record Books.
For more information on setting up and managing your team records, See ➞ Creating a Record Book and Managing a Record Book.
---
Adding Records to Your Website
➧

Records Snippet
Manage how your team records are displayed on your team website using the Records snippet.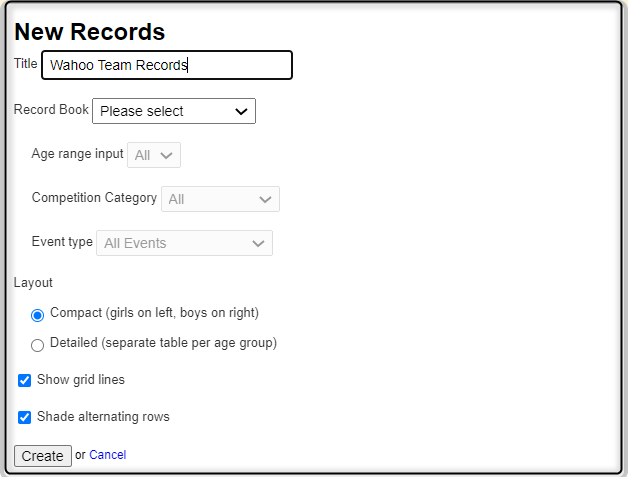 ➧

Title
Enter a heading for your Records display in the Title text box.
➧

Record Book Selection
Select which record book to display. When a new record book is selected, the option to choose age range input and competition category will default to "All."
Age range input -

Allows you to filter by age range;

can be set to a default or custom input.
Athlete competition category -

Allows you to filter the display by competition category.

Options include: girls/women, boys/men, and mixed.
➧

Layout Option
Compact (dual competition category) will display records in a grid format with girls/women on the left and boys/men on the right, and matches events that both competition categories share so they can be displayed side by side.
Detailed (one competition category) will display records in a single row list format, with age and competition categories separating and grouping the records.
» Note: the Detailed layout option will not be displayed if only one competition category is selected above.
➧

Show Grid Lines
Adds lines between records per event and makes a line border around age groups.
➧

Shade Alternating Rows
Uses your team's color scheme to create a background for records with multiple events, adding a lighter version of the primary color to the background of each alternating row.
Click Create/Update to save or Cancel to exit.
---
Example Record Views
➧

Detailed view with just grid lines, the header uses the site colors: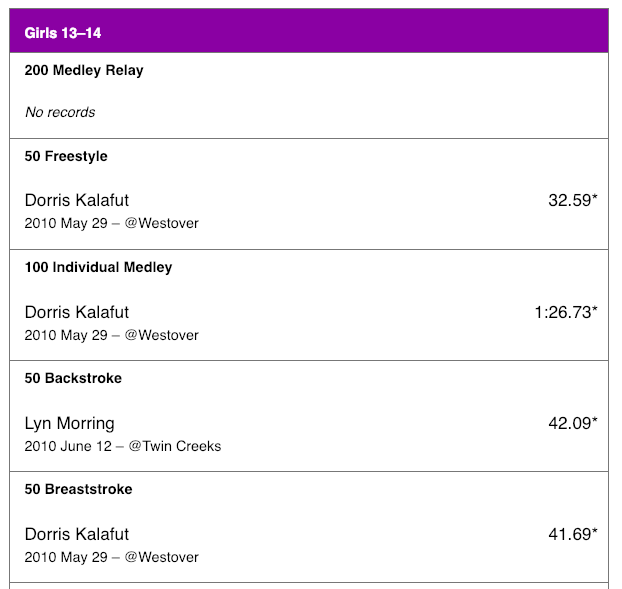 ➧
Compact view with grid lines and shade on alternating rows, shading uses site colors: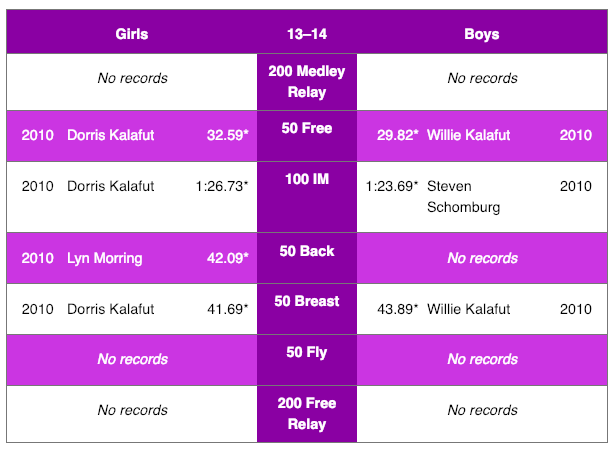 ---
SwimTopia Snippets allow you to add many different kinds of content to your website. For more information about using Snippets, See ➞ our article, Working with Snippets to Create and Edit Page Content, or view our short video about Working with Snippets.