PREMIUM
This feature is available to our Premium customers.
Snippets allow you to add many different kinds of content to your website. In this article, we focus on adding images.
For more information about using Snippets in general ➞ See our Working with Snippets to Create and Edit Page Content article, or view our short video about Working with Snippets.
---
Covered in this Article:
---
Accessing the Image Snippet
If logged into a designated Site Admin account or an account with the appropriate permissions, you will hover over the navigation menu (top right) and select Edit Page Content if you want the image in the body of your page, or Edit Template Content if you want the image in the right sidebar down your page.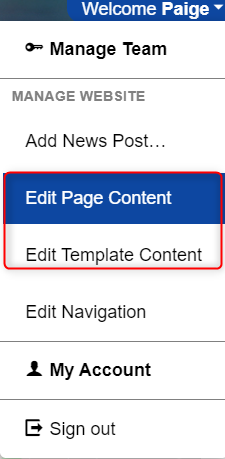 Next, you will see the +Add Snippet button. Click on this button and the snippet menu will display to the right of the page as seen below.

Drag the Image option where you want it displayed on the page. The Text Area input box will display as a popup on the screen.

---
Image Format
Recommended image formats are jpg, png, and gif.
---
Image Sizing
Images should display at the best size, but large images could be slow to load. It's best to resize them per our recommendations below before uploading, for an ideal result based on the requirements of the image processing library utilized:
➧

Pages with Sidebars
The ideal sizes for images for pages with sidebars should be no wider than 600 pixels for page content areas (the best is 580px), and images for the sidebar should be no wider than 280 pixels.
➧

Full-Width Pages
Full-width page images can be as wide as 900 pixels (the best is 880px).
---
Adding Images
A Title and Alternative text is not required.
To add an image to a page, enter the title of the image and click Choose File to select a photo from your local drive.
Click Create to upload your image or Cancel to go back.
» Note: To add images to text areas using the html editor ➞ See Adding Images to Text Areas.
---
Other Photo Management Options Available
If you are looking for other options to manage your photos or images, here are a few more:
➧

Embed a Google Photo Album as a slideshow
➞ See our Embedding a Google Photo Album as a Slideshow article.
➧

Add photos in Text Area Snippets.
➞ See our Adding Images to Text Areas article.
➧

Link to a photo share site.
➞ See our Link to Photo-Sharing Website article.
---