SwimTopia Snippets allow you to add many different kinds of content to your website. For more information about using Snippets, see our article, Working with Snippets to Create and Edit Page Content, or view our short video about Working with Snippets.
Facebook Snippet
You can embed your team's Facebook Page on your website by adding this snippet.
To embed your Facebook Page, enter your team's Facebook Page address, and select which options to show.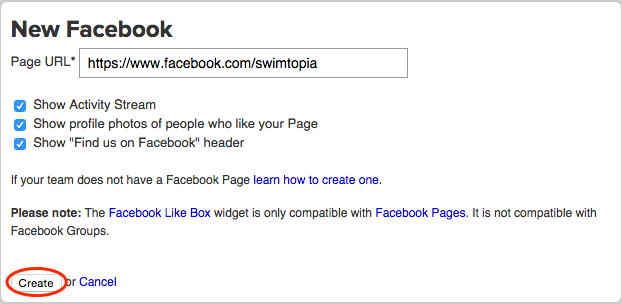 Please note: The Facebook snippet embeds the new Page Plugin provided by Facebook. This plugin works with public Pages but is not compatible with private Facebook groups. If you find your Facebook feed is not appearing as expected, please make sure your are trying to connect to a Facebook Page and that the page is public.
Click Create to save or Cancel to go back.
This is Facebook's guidance: Facebook Tips: What's the Difference between a Facebook Page and Group?
See this tutorial for instructions on adding your Twitter feed to a Text Snippet.