PREMIUM
This feature is available to our Premium customers.
SwimTopia Snippets allow you to add many different kinds of content to your website like your Facebook page.
---
Covered in this Article:
---
Embed your Facebook Page
You can embed your team's Facebook Page on your website by adding this snippet.
To embed your Facebook Page, enter your team's Facebook Page address, and select which options to show.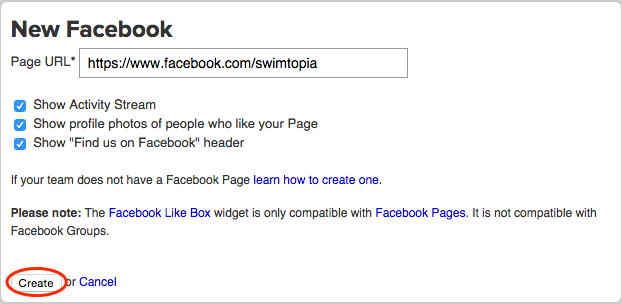 Click Create to save or Cancel to go back.
---
Problem with your Facebook feed displaying?
The Facebook snippet embeds the new Page Plugin provided by Facebook. This plugin works with public Pages but is not compatible with private Facebook groups. If you find your Facebook feed is not appearing as expected, please make sure you are trying to connect to a Facebook Page and that the page is public.
➧

URL Test
You can test the URL on this page: https://developers.facebook.com/docs/plugins/page-plugin -- if it doesn't work there, it won't work in our snippet.
➧

Privacy Restrictions
Facebook Pages with privacy restrictions cannot be embedded.
Check to see if:
Your page is unpublished.

You have Age Restriction activated. Above 13+ will cause the page plugin to not work.

You have Country Restrictions activated.
Any of the above will cause the page plugin not to display. You can find these settings in the General tab in your page settings. (ref. Stack Overflow)
➧

Difference between a Page and a Group
➞ Facebook Tips: What's the Difference between a Facebook Page and Group?
---
Alternative Option: Text Area Snippet
If your team's Facebook page is a private group, or you cannot resolve privacy issues keeping your page from displaying, you can add a link to your page in Text Area snippet as seen below. Not as pretty, but gets the job done.
---
Additional Feeds: Instagram and Twitter
We do not have snippet options for these other social media feeds, but we can offer a solution to embed code obtained from these sites into a Text Area snippet on your team site.
Instagram ➞ See our Instagram Feed article for details.
Twitter ➞ See our Twitter Feed Widget article for details.
---
For more information about using Snippets, ➞ See our article, Working with Snippets to Create and Edit Page Content, or view our short video about Working with Snippets.