With League Scoring enabled, leagues can track meet scores and post standings within divisions.
---
Covered in this Article:
---
Requirements For Using League Scoring
Once your league has met the above requirements, follow the steps below to enter and manage scores for each meet.
---
Entering Scores
After a meet is complete, an administrator from each team will enter the meet scores on their SwimTopia site. Note: Uploaded results don't automatically update the meet's scores; scores must be entered manually, allowing team administrators to confirm the results.
Teams will see a "Scored?" column on the far right side of their Manage Team > Schedule page; a checkmark indicates a score has been entered: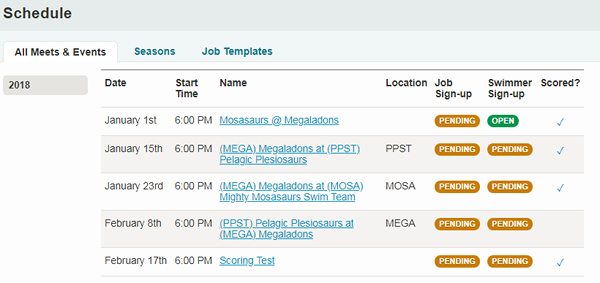 To enter a meet's score, go to Manage Team > Schedule > [meet name] > Results > Scores:

Click "Edit" next to each Competitor, then enter the score: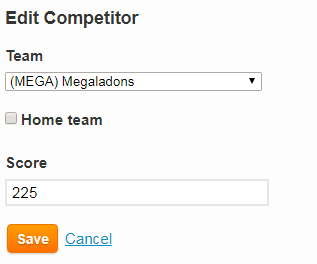 Once entered, the scores will be displayed for both competitors:

Note: teams can request to enable score tracking even if their league isn't tracking scoring. Teams can contact us at help@swimtopia.com to enable scoring.
---
Score Roll-up to League Site
The meet scores will automatically roll up to the league site. If the scores input by all the teams in the meet agree with each other, then the consensus score automatically updates the official league score. If there is a discrepancy, the league can set the correct score.
League administrators can check on meet scoring by going to Manage League > Schedule. In the "Scored?" column, a checkmark indicates that all competitors have submitted matching scores. A warning triangle indicates a discrepancy in the scores.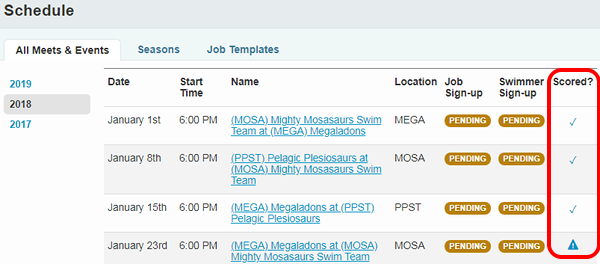 Click on the Scores icon to open the Scores tab for that meet.
---
Managing a Score Discrepancy
League administrators can set the official meet score to settle a score discrepancy.
Click on the discrepancy alert icon on the Schedule page to open the Scores tab. Once on the Scores tab, you'll see an indicator for the mismatch:

To correct the error:
Click the "Edit" button for the team with the score error

Enter the correct score in the score field

Click "Save"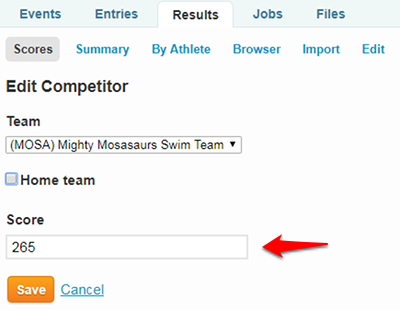 The score displayed in the Score column is now the official score for that meet:

---
League Standings
If you're using the League Standings Snippet on your league site, the win-loss record in the snippet will automatically be updated for meets that have official scores. For more details, see our Help Center article about the League Standings Snippet.