The League Standings Snippet allows you to display your teams' standings within a division based on each team's win-loss record for a designated season.
Requirements For Using the League Standings Snippet
Setting up the Snippet
To add the League Standings snippet to a page on your site, go to that page and use the "Edit Page Content" command (or "Edit Template Content" to add the snippet to a sidebar). Use the "Add Snippet" button to open the snippet palette, and drag the League Standings snippet to the area where you'd like it to appear. For more information, see our Help Center article about Working with Snippets to Create and Edit Page Content.
When you create this snippet, you'll define the title, select a division, and select a season.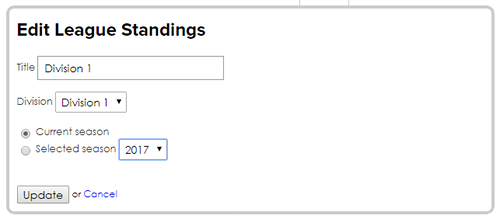 To display the standings for all of your divisions, add a new League Standings Snippet for each division: