The League Standings Snippet allows you to display your teams' standings within a division based on each team's win-loss record for a designated season.
Requirements For Using the League Standings Snippet
Setting up the Snippet
To add the League Standings snippet to a page on your site, go to that page and use the "Edit Page Content" command (or "Edit Template Content" to add the snippet to a sidebar). Use the "Add Snippet" button to open the snippet palette, and drag the League Standings snippet to the area where you'd like it to appear. For more information, see our Help Center article about Working with Snippets to Create and Edit Page Content.
When you create this snippet, you'll define the title, select a division, and select a season.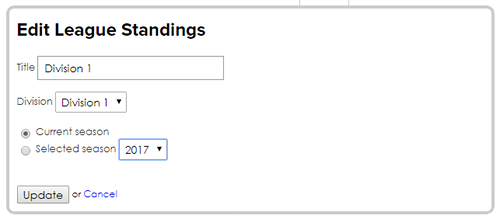 To display the standings for all of your divisions, add a new League Standings Snippet for each division: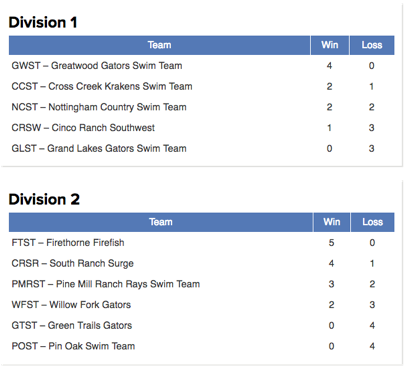 Excluding Meets from Standings
For meets with more than 2 competitors, the winner of the meet will show a total number of wins that matches the number of competing teams. For example, the winner of a tri meet will show 2 wins.
For league-wide meets and large invitational meets, you may wish to exclude those meets from the standings (otherwise the winner of the meet would show a huge number of wins, since the system would count a win against every team that participates in the meet).
This setting is only available to linked meets that were part of a league schedule import, and you can edit a setting within the meet once the meet schedule import is complete.
Go to Manage League > Schedule and click on the meet name. Click to "Edit" the meet details, then check the box to Exclude results from standings: