Some teams don't use Meet Maestro™ or other meet management software to run their meets and therefore cannot import their results. Or a team might not use a system for a Time Trials meet, but still want to track times. In these cases, results can be manually entered and edited.
➞ See Meet Results: Transfer/Upload Process if you are looking to manually upload your results file.
---
Covered in this Article:
---
Accessing Your Results
To edit or enter results for a meet, visit Manage Team > Schedule > Select Meet Name > Results.
If your meet has no results yet, SwimTopia will display the Import view instead of Summary.

Click the right-most sub-tab, Edit. There's a warning at the top of the page describing the limitations and risks involved with editing results.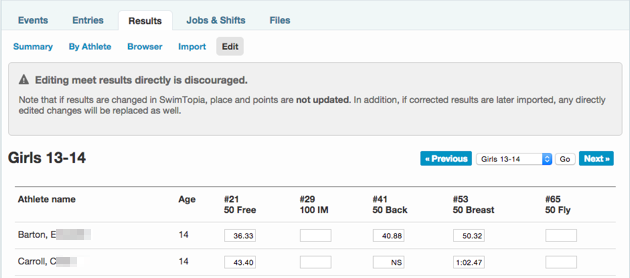 >>Note: If you do not see an "Edit" tab, first check to see if your Meet Setup > Entry Rules has "Allow meet results to be edited after meet is completed" checked. If linked to a locked league template, your league would need to update the template to allow results editing. If checking these settings does display the "Edit" tab, your league may be configured to not allow results editing. Contact your league to discuss.
---
Entering or Editing Results
To enter or change results, simply choose the age group you want to edit, then locate the athlete, then the event. Click inside the text box and enter the time.
The field is "smart" and will convert the numbers you type into the correct format. In other words, if you type the number "3633" into a field, SwimTopia changes it to "36.33". If you type "10247" SwimTopia makes it "1:02.47". DQ and NS are other acceptable values.
When you are finished, don't forget to click the Save Results button down at the bottom of the page.
>>Note: If a results file is uploaded that includes diving results, these results are not viewable or editable in SwimTopia. For more on our current diving support ➞ See SwimTopia Diving Support
---
Editing Results in Past Season Meets
To edit results of meets in past seasons, set the "current season" to the season the meet occurred, so you can find the applicable athlete's in their age group list. You can change your current season under Schedule > Seasons.
---
hcmanagescheduleswimmeetresultsimport hcmanagescheduleswimmeetresultsedit