The last two sections to configure are Confirmation and Email Confirmation/Replies, which configure messages received after registration and checkout are complete.

Select Confirmation from the menu and enter the title and body of your closing message, which is displayed after a successful registration.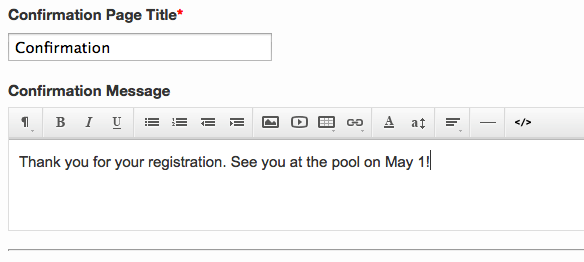 Next, enter the email subject and body of your message.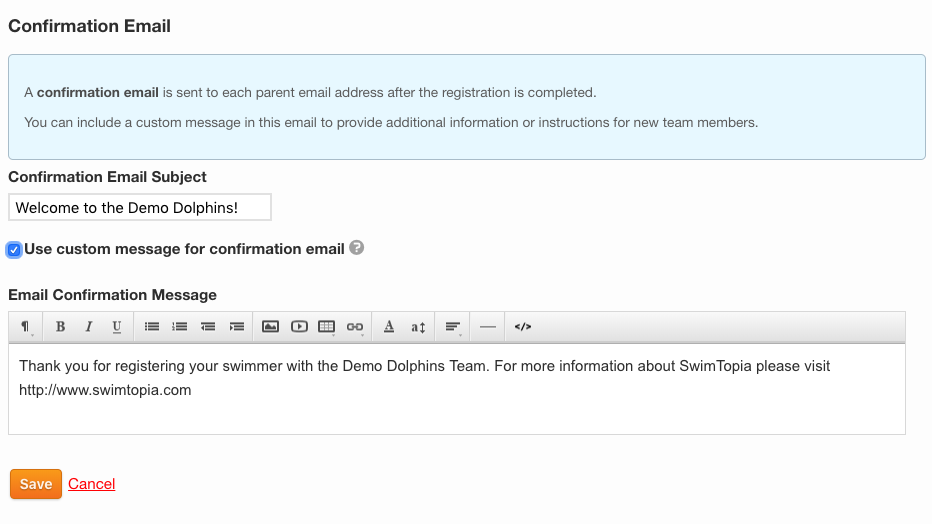 » Note: The same confirmation message as above can be used in the confirmation email unless you check Use custom message for confirmation email.
Click Save to save your changes and to preview or activate your registration form.
---
USA Swimming Teams - Membership Summary Configuration
An additional USA Swimming Membership section will display at the top of the screen for club teams who have connected their SwimTopia site with their USA Swimming account by selecting SwimTopia as their team management vendor.
➞ See the Connecting USA Swimming and SwimTopia Help Center article for more information if you have not completed this step.
Team Admin will need to check "Include USA Swimming membership summary in the confirmation page and email" when setting up a registration form.
A USA Swimming membership section will be shown in the confirmation page to parents and registration confirmation email when a registration is completed. It includes a summary of the USA Swimming membership status for each person included on the club registration form.
➧

Registration Form – Confirmation Tab (Manage Team View)

➧

Registration Form - Confirmation Screen (Member/Parent View)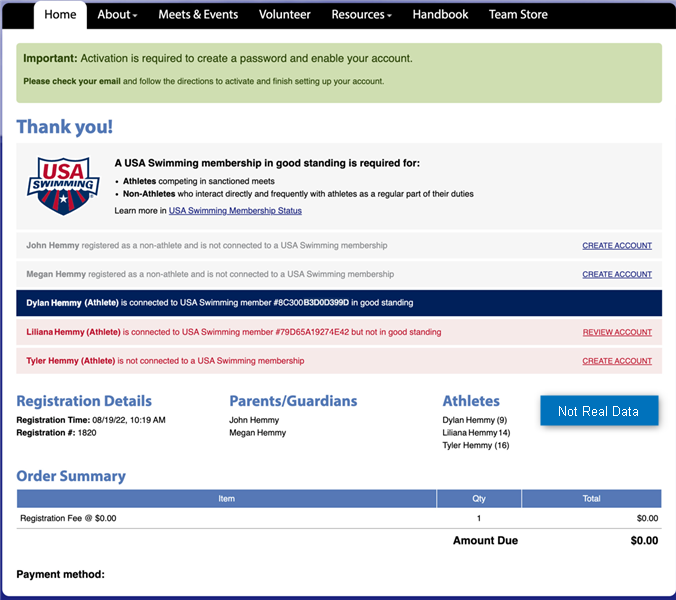 What if Members are Not Connected or Not In Good Standing?
When your team connects your USA Swimming account to your SwimTopia team management site as mentioned above, the integration generates a specific registration link for your team. Members can create USA Swimming accounts as needed or review and update accounts not in good standing.
» Note: If the member sees a message that they're "not connected to a USA Swimming membership," but they think they are a USA Swimming member, they should contact their team admin, who can match the accounts (likely a difference in name spelling or athlete birthdate). ➞ See the USA Swimming Account Management Help Center article for more information.