Our free mobile app shows a personalized view of your family's meet entries, volunteer signups and swim history. And now SwimTopia's mobile app has some great features to help keep parents better informed on meet days, like our new live Event/Heat bar! And if your team is using Meet Maestro™, SwimTopia's new meet management solution, you'll have live meet results and more.
The SwimTopia mobile app is available to SwimTopia users and can be found in the Apple App Store and Google Play Store.
SwimTopia Mobile App Features
Get an instant overview of the season, plus meet details and your swimmers' full time history. SwimTopia's mobile app features are available to all members of teams with a SwimTopia website. SwimTopia mobile app features include:
Personalized calendar view of upcoming meets and events
Personalized Meet Overview for your family (including swim events and volunteer jobs)
Your swimmers' best times
Your swimmers' time history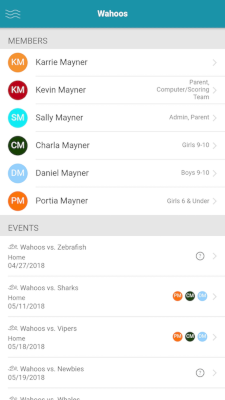 SwimTopia Live Features
Event/Heat Board in Your Pocket
Your team can access SwimTopia Live features in the mobile app when your team admins perform a few simple steps. SwimTopia Live features include:
Live Event/Heat bar on the mobile app for all your team members
   > Requires a team volunteer to broadcast the current event/heat from app
Live Event/Heat bar on the mobile app for the visiting team (if they also use SwimTopia) 
   > Simply share a subscriber code with the visiting team
Plus more features coming soon!
   > Some future features may require a subscription
 Like having an Event/Heat board in your pocket, SwimTopia Live is really handy if you can't see the pool from your volunteer position or you want to time your arrival at the pool.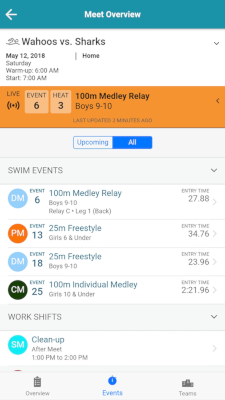 For more team admin instructions on getting started with SwimTopia Live, see our Help Center article about Enabling SwimTopia Live
Meet Maestro In-App Features
Live Results Updates and More
When used with Meet Maestro, the app displays additional information that's updated live throughout the meet:
Heat sheets
Heat/lane assignments and estimated start times for each of your swimmers' events on your family's Meet Overview screen
Estimated start times for all events
> Requires a team volunteer to broadcast the current event/heat from the app
Live results for all swimmers 
Team scores 
 Some features may require a subscription in the future.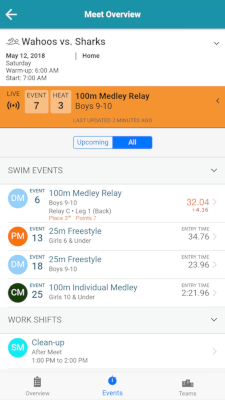 Note: We have plans to enhance the features so that our app will be more 'interactive' in the future.
For now, if you'd like to sign up for meets (meet entries or jobs), the best way to use SwimTopia on your phone is by accessing your team's website through the browser on your phone.