With all the great features that SwimTopia's mobile app has to offer, you'll want to help get the word out to all of your families. We've provided some tools below for you to communicate to your parents about SwimTopia Mobile.
---
Covered in this Article:
---
▶️ Training Video - SwimTopia's Mobile App (2.5min)
A quick overview to learn more about how SwimTopia's mobile app makes it easier than ever for parents to stay in the loop before, during and after each meet.
➞ direct link to our SwimTopia Mobile App Demo video.
---
Snippet for Your Website
To help make sure your team knows about SwimTopia Mobile we suggest you add a Text Snippet on your Home page template. To easily create the snippet ➞ go to our template website and copy the snippet on the top right of the page into a text snippet on your page. All links should transfer with a simple copy and paste.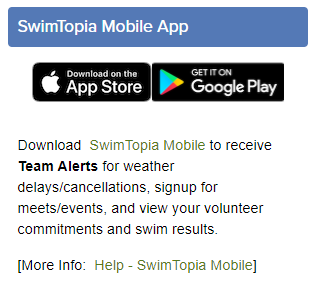 ---
Flyer to Post or Distribute
Download the flyer (link below) to print and distribute to your families if your team is using Meet Maestro. Pass them out and/or post them at your kick-off party, swim meets, and other team events. Click on the image below to download a PDF.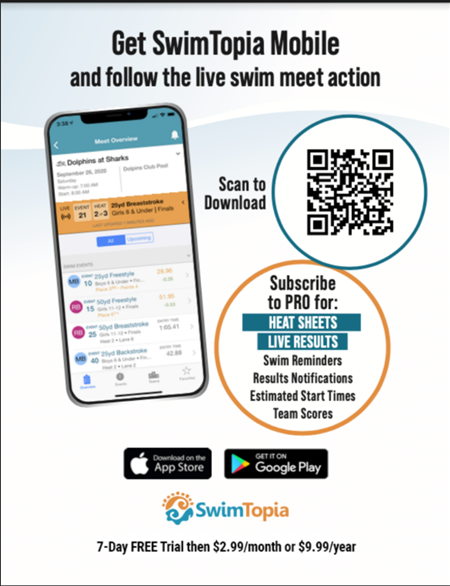 ---
Sample Letter for Your Parents
We offer a sample email message that you can send to your parents/members. It provides a concise list of the app's benefits, including detailed instructions for downloading the app to start receiving push notifications. Feel free to edit the message to fit your team's needs (you'll know best whether your team is planning to use the live Event/Heat updater, Meet Maestro, etc.):
---
Hello [Team Name] Parents,
We encourage you to download SwimTopia's mobile app. With this app, we'll be able to communicate with you through push notifications—which is helpful when we need to get information out quickly, such as rain delays or weather alerts.
To receive push alerts on your phone:
Download the SwimTopia Mobile App on the App Store or Google Play
Log in with your SwimTopia login (you must have an activated login on the team site to log into your account on the app)
Be sure to check your app's notification settings -- ensure that it's set to pop up on your screen (Android users: you may need to receive your first notification before you can edit this setting)
» Note: if you don't download the app, you'll still receive the alerts via email.
→ If your team is running the Live Event/Heat Updater during meets, include the following paragraph:
Another great benefit of having the SwimTopia app is that we'll be broadcasting the current event and heat during meets. You can see a live event/heat bar on your phone throughout the meet. No more missed swims!
Other features of the free mobile app include:
Access to Meet and Job Signup pages from the app
Your athlete's Best Times and Time History
Calendar view of upcoming meets and events
Meet Overview for your family (including swim events and volunteer jobs)
Public Meet Search/Guest Mode (other family/friends can follow along without having an account)
Post-meet Results for your family's athletes (upgrade to Pro to see live results)
» Option A: If your team is using Meet Maestro, use the following section. If your team is not yet using Meet Maestro, skip to Option B:
You'll see prompts to upgrade to a 7-day free trial of the Pro version, which offers great meet-day features:
Heat Sheets

Heat/Lane Assignments and Estimated Start Times for your athletes' events on your family's Meet Overview screen

Estimated start times for all events that update as the meet progresses

Upcoming Swim Reminders for favorited athletes
Results notification alerts for your favorited athletes

Live Results for all swimmers

Team Scores (when utilized)
» Note: If you don't upgrade, you can't see the heat sheets in the app, "favorite" other athletes outside of your family, receive upcoming swim reminder notices (so you don't miss the event) and real-time results. You'll see the results load when the meet is over and the data has been imported to our site.
» Option B: If your team is not currently using Meet Maestro, use the following paragraph:
You'll see prompts to upgrade to a free trial of the Pro version, but our team won't be using these features. At this time Pro features are only beneficial when the meet is being run with SwimTopia's meet management software, Meet Maestro. Our team is not currently using Meet Maestro to run meets. If we start to use the Pro features in the future, we'll let you know.
Download the SwimTopia mobile app now to receive push alerts and other great benefits! Free on the App Store or Google Play.
For more details: SwimTopia Mobile App Overview.
Sincerely,
Your name
---