If you have never had a trial version of a Pro subscription, you can see a "Try Pro for Free" button in a Past Meet's Meet Overview page. Click that button and follow the prompts to subscribe.
If you HAVE had a trial version of a Pro subscription or have cancelled your Pro subscription, you will manage your renewal through your app store's subscription tool.
>>Important Note: If you need to cancel your subscription, you must also do this through your app store subscription tool, not within the app itself. Deleting the app DOES NOT cancel your subscription. Just like unplugging your TV from your cable box does not cancel your cable service ➞ See our Help Center article on How to Cancel a Pro Subscription
Also, the free trial is a one time offer, so if you try it and then cancel (even if before the 7 days), you cannot get a second trial period, sorry.
For iOS
Launch the Settings app.
Tap iTunes & App Store.
Tap on your Apple ID.
Tap View Apple ID when the pop up window appears.
Enter your Apple ID password or fingerprint ID when prompted.
Tap Subscriptions.renew
Tap the Subscription you want to renew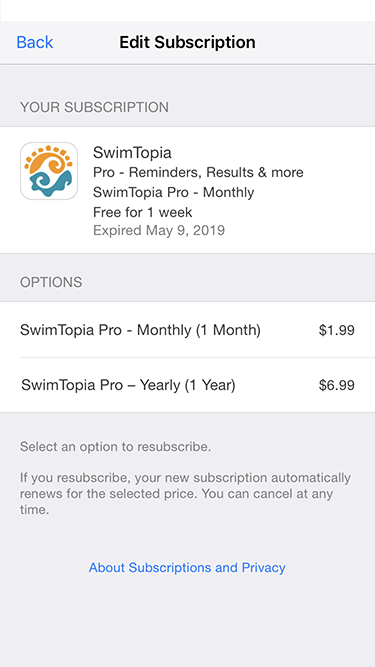 For Android
Go to Google Play Store
Tap the three bars on the left (hamburger menu)
Tap Subscriptions
Tap the Subscription you want to renew