The purpose of this article is to provide direction to expedite the resolution of any question or issue you are having with your Stripe account.
If you still have questions after reviewing this article ➞ See our Stripe Support Process below.
---
Covered in this Article:
Stripe Payment Processor Info & Support
Stripe Account Setup Topics
Money Management/Banking Topics
Account Management Topics
---
Stripe Support Process
➧ Step 1: ➞ See if the topics provided in this FAQ article answer your questions, or visit the Stripe Support Center for an extensive repository of searchable topics (your SwimTopia team site uses Stripe Express Connect). It is very possible your question can be answered in one of these sources.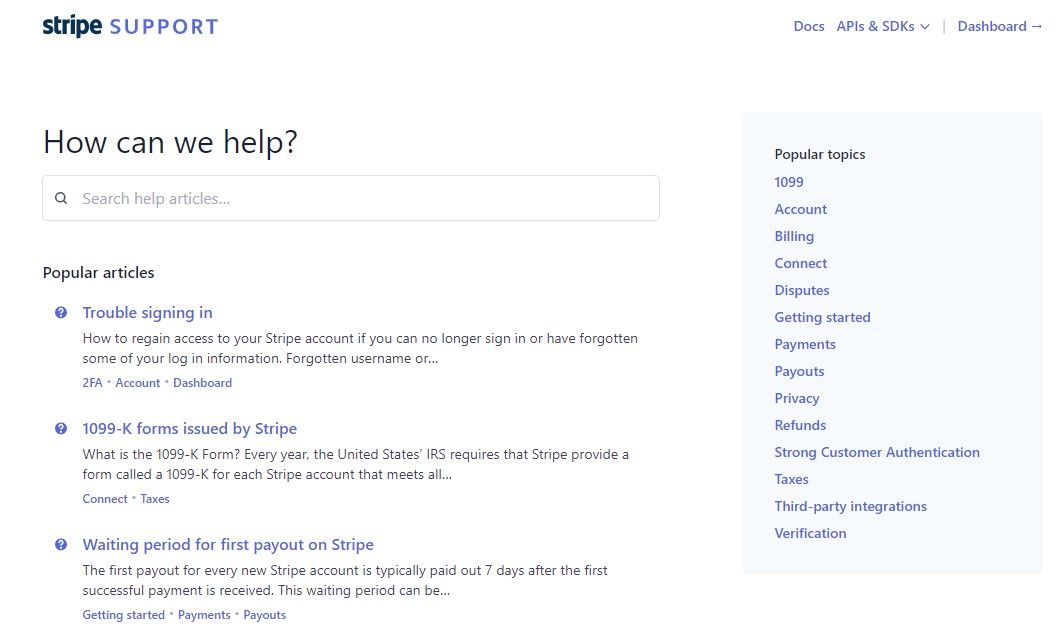 ➧ Step 2: Can't find the answer online? Contact our SwimTopia Customer Happiness Team. (Available M-F 9am-6pm CST)
➧ Step 3: If we cannot answer your question, we will contact Stripe Support on your behalf, and will escalate if we do not receive a response within 24 business hours. If we determine the question requires that you contact Stripe Support directly, we will instruct you on how to best reach out to them.
» Tip: Please check the status of your account at the start of each season in case Stripe needs any information from you, to avoid last-minute panic prior to opening registration. You can do this from your Settings > Stripe Account page on your team site.
---
How does Stripe work and is it secure?
Stripe is one of the largest payment processors in the world. As a secure (Level 1 PCI compliant) payment provider, Stripe enables easy online payments, eliminating the need to track a paper trail of check payments.
Stripe accepts all major credit cards (Visa, MasterCard, Discover, and American Express), and Google Pay can be used to checkout (No Apple Pay at this time).
With no setup costs or monthly fees, Stripe is the preferred (and only supported) payment processing partner of SwimTopia. It is essentially a banking relationship, so you can feel safe knowing that like any bank, Stripe is required by law to be secure.
SwimTopia teams set up an account with Stripe, and funds are deposited directly into their accounts. To maximize security, all credit card information is transmitted directly to Stripe and is never stored in or transmitted through SwimTopia's computer systems.
Stripe makes checkout simple and easy. Parents and team members do not need to create an account with Stripe; they securely input their credit card details using a simple form. After successful processing, your users will automatically return to your team's registration confirmation page.
» Note: You are agreeing to the Stripe Services Agreement - United States when you use Stripe's services.
---
Benefits to Using Stripe for Payment Processing
There are many benefits to using SwimTopia's Stripe integration to manage your online payments.
➞ See our Benefits to Stripe Payment Processing article.
---
What are the fees associated with Stripe?
➧

Setup or Monthly Cost
There are no set-up costs and no monthly costs for payment processing.
➧

Credit Card Processing Fee
3.4% + 30c per transaction applies to each transaction.
The processing fee is based on our partnership agreement with Stripe as a Connect Express account, providing a third-party integration to our customer base.
It is specific to our integration with Stripe to cover the cost to create and maintain all of the integration points to provide seamless setup, payment processing, reporting, and refunds directly from your SwimTopia site.
It is the same for profit and non-profit 501c3 organizations.
If you have multiple registration forms (lessons, clinics, etc.), and sell merchandise, sponsorships, coach donations, and meet entry fees through your registration and/or online store, then each purchase will include the processing fee.
» Note: If your league requires a "league fee" and collects this fee through the use of a shared form on your registration form, this fee is automatically transferred to the league's Stripe account. If you do not set up an online payment account and/or allow for other forms of payment, such as check or member account (only available to our Premium customers), then you will need to remit the portion of league fees not collected online to your league directly. The Registration Details report can help determine what amount your team owes the league and what needs to be paid separately ➞ See Adding League Waivers and Fees to Your Team's Registration Form.
➧

Processing Fee Payor Preference:
Stripe's processing fees can be paid by the seller (you) or the buyer (your members) during registration. The default is set to the seller but is configurable from the Registration form > Payment tab. (The "Buyer Pays" option is NOT available from the Online Store.)
» Tip: We suggest increasing your registration fee to cover the processing fee and avoid confusion. If the buyer is paying the processing fee, an amount necessary to cover the fee is added to the total amount of the order for the buyer to pay. This new total is what the processing fee is then calculated against. As a result, your buyers are actually paying a higher net processing fee rate, because the processing fee is, in effect, paid on the processing fee. See the example below. In this case, the team sets a registration fee of $100 and the total amount charged is $103.83.
| | |
| --- | --- |
| Total Amount Charged to Card | $ 103.83 |
| Less 3.4% | $ (3.53) |
| Less $0.30 | $ (0.30) |
| Amount Captured by Team | $ 100.00 |
Example from Registration > Payment tab

» Note: There are states with laws that prohibit merchants from charging consumers with surcharges on credit card transactions. Click to see which legal jurisdictions are included. We suggest you consider increasing your registration fees slightly to cover the transaction cost and keep the "Fees paid by:" set to "Seller". If you choose to pass the fee to the buyer, we suggest being transparent about this charge in the payment screen description box.
---
Is a Stripe Card Reader supported for on-site sales?
Our specific integration with Stripe does not include support for point-of-sales transactions at this time. Feel free to submit a request to add your vote for this feature, so we can track the need across our customer base for future consideration.
---
What documentation is required?
Before you begin, we suggest gathering up the following information to ensure a quick setup:
Website - Will be pre-populated to your team site, but change if your team's Stripe account will be managed by your HOA, Country Club, PTO/Booster Club etc.

Mobile# - used to send a verification code for access to your account
Email - used for account updates
Legal Business Name - can be different from your team name if your team's Stripe account will be managed by your HOA, Country Club, PTO/Booster Club etc.
Employer Identification Number (EIN) - Federal Tax Identification Number used to identify a registered business or nonprofit.

➞

See the What is an EIN (Employer ID Number) and why should I have one? section below for more details.
Business Address/Phone# - a valid address is required, but a home address can be used if you do not have a business address.
Personal Address/Birthdate/SSN - Stripe requires this information to confirm who is authorized to act on behalf of the business/team. This prevents unauthorized people from creating an account on behalf of your business.
Bank Account - required during setup to establish your weekly deposits
Authorized ID (License, Passport, ID Card...) - upload an image or document
---
How do I create a Stripe account?
Creating a Stripe account is done via your SwimTopia Settings > Stripe Account page.
➞ See our Quick Start Guide to Enabling Stripe article.
---
Can we use an existing Stripe Account?
Our integration is based on what Stripe calls "Connect Express" which is their solution geared to Marketplaces, see: https://stripe.com/connect/marketplaces
Due to the requirements of this particular integration, SwimTopia is limited to integrating with "connected" accounts created through our integration. We are unable to connect to any other Stripe accounts except those created through our platform.
In some cases, we need to split payments between multiple parties in a transaction. The primary example of this is swim leagues that collect their per-athlete league fees directly during registration. In those cases, part of the money would be routed to a swim league's Stripe account, with the remainder going toward the team's Stripe account. A Standard Stripe integration does not support these split payment transactions.
➞ See the Stripe Account Setup article to learn how to connect to or unlink from an existing account.
---
Why does Stripe require my SSN & Birthdate?
Stripe is a payment services provider and as such, is obligated by federal law to collect certain information from users to verify their identities in accordance with Section 326 of the Patriot Act, which requires Stripe to confirm the identity of those withdrawing funds from the system as an online payment processor.
Stripe also requires this information to confirm that you're authorized to act on behalf of the business. This prevents unauthorized people from creating an account on behalf of your business.
When you open a Stripe account on behalf of your organization (team), Stripe will ask for your SSN and date of birth in addition to the business name and EIN (Employer ID Number). Banking regulations also require a valid physical address (not a PO Box, for example).
» Note: If you use your SSN for business tax purposes, this can be used instead, but this is highly discouraged since that will put all liability for your team on your shoulders.
For more information ➞ See Stripe's Why is my EIN/SSN/ITIN Required? article.
Some other documentation of the relevant regulations:
Note: Stripe does need to verify this information to make sure that the information on the account matches the documents being sent or uploaded by the user. This occurs after you have set up your account. If you are going thru a home closing process, be aware that it will show up as "activity" on your account.
---
What is an EIN (Employer ID Number) and why should I have one?
An Employer Identification Number (EIN) is a Federal Tax Identification Number used to identify a registered business or nonprofit.
If your team hasn't formed a legal entity, such as an LLC or Corporation, there are many reasons you should. If your team has no legal entity established, all legal and tax liabilities will fall on the shoulders of the individuals in charge of the organization.
If you're an incorporated/registered business, your EIN is on tax returns and any other correspondence you may have with the IRS.
If you are associated with a country club or HOA, it is likely you will need to use the club or HOA EIN.
➧

How do I obtain an EIN?
Obtaining an EIN is free, should take less than 15 minutes to obtain. Go to the IRS site and fill out the online application. The EIN is automatically generated upon completion.
When applying for an EIN with the IRS you have to tell them what kind of entity you have formed (e.g. Partnership, Corporation, LLC, etc.).
For more information ➞ See Stripe's Why is my EIN/SSN/ITIN Required? article. and https://www.finimpact.com/ein-lookup.
» Note: While technically a personal SSN can be used for business tax purposes, instead of an EIN, this would incur personal tax liability and is not recommended. Obtaining an EIN is fast and free. SwimTopia is not able to provide any legal or tax advice. We recommend that you speak to your tax advisor with any questions or concerns about tax reporting, but if your team is unable to provide an EIN and does not want to use a personal SSN, you will not be able to use online payment.
---
Stripe says we need an IRS letter 147C or IRS SS-4, why?
Stripe is needing to verify the tax information that you'd submitted, and a copy of one of those letters will help confirm the tax information. Here is more information about those letters, including how to request a 147C from the IRS: Using IRS documentation as reference when entering business name and tax ID number (TIN) for US-based businesses.

The IRS sends one of the above letters after applying for an EIN to know what the EIN is. If you don't have that letter, the article says "You can request a Letter 147C by calling the IRS Business & Specialty Tax Line toll free at 1-800-829-4933."

If you have an EIN number, the Stripe support team says you can see instructions for updating your EIN number here: https://support.stripe.com/questions/update-tax-id-information-from-the-dashboard

If you don't have an EIN, it's really fast and easy to set one up -- see more details here: https://help.swimtopia.com/hc/en-us/articles/4413550968219#h_0f347340-4ffe-40f3-8e0a-8b7ec959797f
---
How will using Stripe affect my taxes?
Using Stripe does not necessarily affect your taxes. Stripe helps you organize your payments and under certain circumstances will issue a 1099-K form (as required by the IRS).
A 1099-K will be issued if your team collects at least $600 in the calendar year. When that occurs, Stripe will send a 1099-K form by January 31 of the following year. Stripe will not report the funds you collected as earned income. The 1099-K form is simply intended to track the movement of funds.
For more information ➞ See Stripe's Why did I receive a 1099 form? article.
---
What if Stripe is rejecting what I'm uploading?
Stripe's Know Your Customer (KYC) policy is for the safety and security of its account holders. They are required to implement these (KYC) requirements by federal law.
To open a bank account, your team must have formed as a legal entity, such as an LLC or registered non-profit.
Stripe may request documents and perform other types of verification to confirm the existence of your team's legal entity. If your team has not formed as a legal entity, you won't be able to open an account. In most states, forming a legal entity is a relatively straightforward process. In addition, many commercial services, such as ZenBusiness, are available to help with the business formation.
​The question boils down to...How is Your Swim Team organized as a legal entity?
Have you filed to form a company or non-profit association? Are you part of a larger organization or under an HOA, PTO/Booster Club, or Country Club?
Stripe, like any payment services provider, is accustomed to working with businesses and may not understand how teams are organized, but this does not change what is required to open an account. Additionally, they are required by law to verify the legitimacy and identity of businesses and individuals before opening new accounts.
Often if your team is legally organized, you can find the documentation to that effect on your Secretary of State website. Depending on when you opened a team checking account (mainly if it was after 2008 or so) you likely would have been required to provide similar documentation. If you did, your bank may have copies of the information provided when your account was opened.
Here is more info on the KYC rules if interested: https://fin.plaid.com/articles/kyc-basics/
---
Our team is managed by an HOA/Club but our team is not authorized to integrate Stripe with the HOA/Club bank account, what can we do?
If your team does not have a bank account, and your parent HOA/Club does not want to allow your team to integrate with its bank account, opening a separate bank account for the team and using that to integrate with Stripe is generally a good option.
» Note: if you are creating a Stripe account on behalf of the HOA/Club, then someone authorized by the HOA/Club should set up the Stripe account. (This must be done from your SwimTopia Stripe Account page, so they would have to be given access or someone with an account would have to do this with them).
---
My Stripe Account says "PENDING REVIEW," what does this mean?
After submitting your Stripe information, you will be brought back to your Stripe Account page on your team site where you will see your Stripe account is in a PENDING REVIEW state.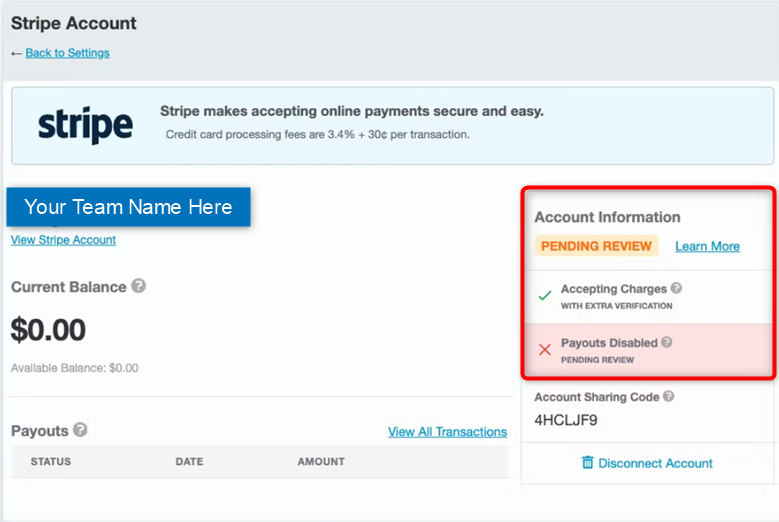 Both Stripe and SwimTopia / Team Topia (non-swim) have processes in place to combat fraud. These processes provide protection against fraud to all parties, including your team and members. During this account verification time, the team can accept charges, but will not be able to receive payouts.
➧

Stripe Fraud Protection
As mentioned in Step 7, Stripe requires a hold on the first transaction for 7-14 days due to their fraud protection policy, and then payouts typically take 2-3 days to process.
➧

SwimTopia / Team Topia Fraud Protection
Although charges can be accepted into the team's Stripe account while the account is pending review, members who are completing registration or online store purchase will be required to complete a 3D Secure (3DS) verification directly with the issuing bank before the transaction will be approved. This extra step will only occur until a team's site is verified as legitimate.
The cardholder will usually receive a code via text, phone, or email, but the specific interface is determined by the issuing bank.
Example of a 3DS Authentication: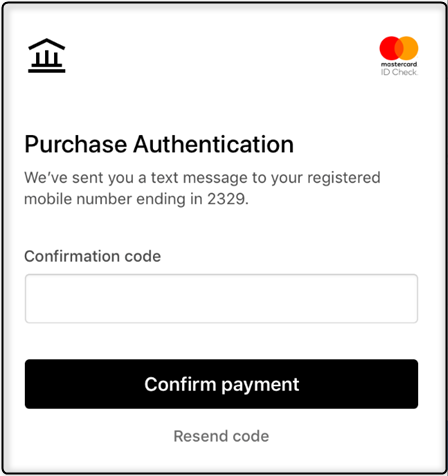 You can check your Settings > Stripe Account page periodically for status. When you see a checkmark next to Accepting Charges and Payouts Enabled your account is in good standing to accept payments and receive payouts/deposits into your account.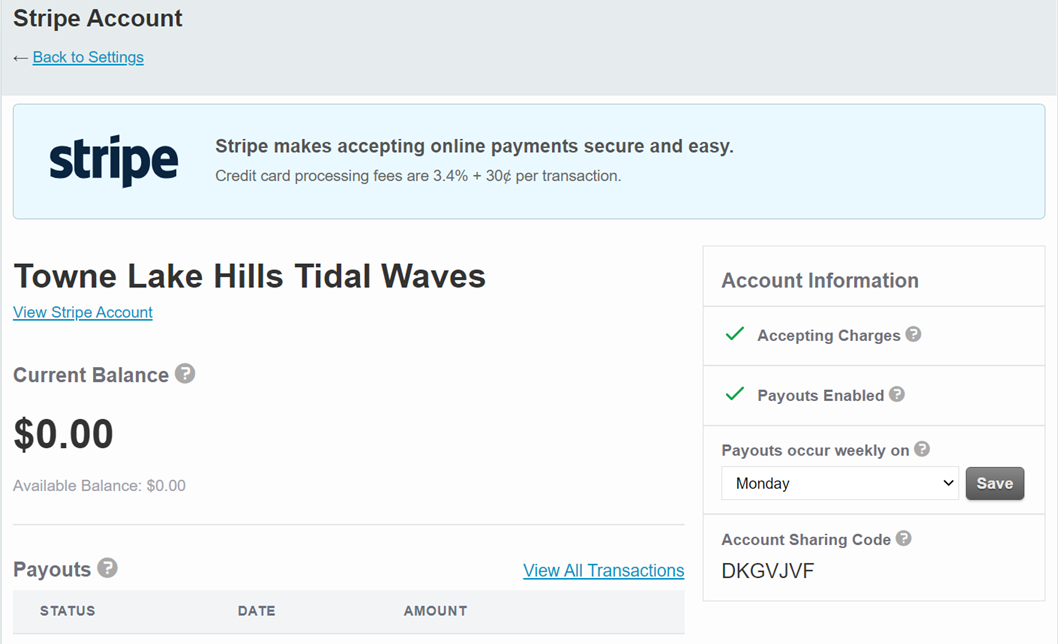 ➞ What if there is an issue with your account status after this verification timeframe?
If Stripe requires more information from your team, you will see there is an issue with your account on your Settings > Stripe Account page.
Click on the View your account to learn more link for more details.
---
Does Stripe work with all banks?
SUPPORTED BANK ACCOUNT TYPES (From Stripe Support Site)
You can use a traditional bank account with a financial institution (for example, checking) or other types of accounts (for example, savings) or a virtual bank account (such as N26, Revolut, Wise, and so on) as your Stripe payout account. While Stripe supports non-standard bank accounts, you may see higher payout failures for these accounts.
************************************
Our (SwimTopia's) account with Stripe does not contain any bank restrictions. Stripe accepts all major credit cards (Visa, MasterCard, Discover, and American Express), and the credit card processing goes through the credit card network. A bank either accepts these credit cards or they don't, so confirm with your bank if you are having any issues.
If you have confirmed with your bank, and still receive an error when attempting to connect to your bank, submit a support ticket with this error to the SwimTopia Customer Happiness team and we will work with Stripe to resolve the issue.
---
Where do I find Stripe Reports?
You will find information on your Stripe transactions, balance, and deposits/payouts in multiple places...
On the Reports tab under Financial > Payments
On the Stripe Account Overview screen under Settings
On the Stripe Account Settings Dashboard via the "View Stripe Account" link (on the Stripe Account Overview)
» Tip: You likely find the reports under the Payments section of your Reports tab most useful. We are unable to manipulate the data displayed on the Stripe Account Settings Dashboard.
➞ See Payment History Report
---
Where is my Payout & how often can I receive one?
Payouts occur on a weekly basis (this is not configurable). You can determine the day of the week, and change this at any time from your Settings > Stripe Account page, where you can also see what your current balance is and what is available for the next payout.
If you click into your Stripe Account Dashboard from your SwimTopia site, the date of the payout should show on your account probably within 24-48 hours.
➧

Your First Stripe Payout
The first payout for every new Stripe account is typically paid out 7 business days after the first successful payment is received and then payouts typically take 2-3 business days to process based on the day of the week you have set to receive the payout (M-F).
This waiting period can be up to 14 business days for businesses in certain industries (this does not appear to be the case for our customers but is possible).
This is Stripe's fraud protection policy and allows Stripe to mitigate some of the risks inherent in providing credit services. Keep this in mind if you feel you should have received your first payout already.
➧

Payment Receipt Timeframe
We don't know how long it's going to take for a payment to travel from the payor's bank into the SwimTopia Stripe account that is then pushed into your team's Stripe account. The payor's bank can be different timing for everyone and you have to consider business days/hours.
➞ See Stripe Account Access & Management article for more details on managing your account.
➧

Debit Card Used at Setup
Debit cards have a $3,000 limit on automatic payouts, so we HIGHLY suggest avoiding this option since that is a very easy number to hit quickly during registration. Your money will get stuck until you change to a bank account if you reach the limit.
If you set your Stripe account up with a debit card and you have not received a payout past the initial 14-day fraud protection timeframe, check to see if your balance is over $3,000. If it is, then to receive a payout, you will need to update your Stripe account to deposit into a bank account. See ➞ Stripe Account Access & Management.
---
How do I issue a refund?
You can process full and partial refunds for purchases made through our Stripe payment processor right from your team site!
There are no additional fees charged to refund payment, but processing fees on the original payment will not be refunded on any payment. (Issue a partial refund if you want to keep the fee.)
➞ See Stripe Refunds
---
Can a refund be canceled?
Sorry, there is nothing we can do to reverse this refund per Stripe's restrictions mentioned in our Stripe Refunds article here. We also cannot charge the card again to make up the difference because we don't keep the card on file for future transactions.
The easiest option would be for the family to pay the refund overage by check to the team. If you want to ensure this is paid online, you could create a merchandise item that you add to your online store to recoup what is owed, but an additional processing fee would be charged, and we suggest removing it from the store as soon as the family has paid to avoid confusion.
---
How do I update our bank account or credit card for payouts?
➞ See Stripe Account Access & Management article for more details on managing your account.
---
Stripe is requesting my Username/Pw to link to my bank...is this secure?
This method of requesting the bank account username and password is a very common method in use today to confirm access to a bank account. Stripe is using a service called Plaid to verify and link bank accounts. Plaid is very widely used by a range of financial applications to securely verify bank account information.
A backup method of entering a routing number and account number is available during setup (look for small print), but this requires inputting the amounts of 2 micro-deposits to verify the account, which can take several days to complete.
---
Payouts are disabled - Bank account verification required ("Account Restricted" on Stripe dashboard)
If you see Payouts Disabled on your Stripe Account screen (under Settings), click on the link provided to learn more. This will require your account verification code to log into your Stripe dashboard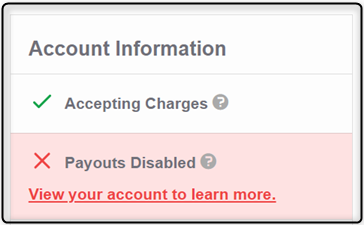 In this situation, you will see that your account is Restricted, and a message that your payouts are disabled until the required documentation is provided to Stripe. You can see the specific document needed by rolling over the warning. See how to update

➞ Why is Stripe requesting this information?
If Stripe cannot automatically verify the bank account information provided for a Stripe account, they may be required to request bank account verification in order to confirm that the legal owner name and account number of the bank account are the same as the one we have identified on your Stripe account. (Stripe Support Reference)
If you are a sole proprietor, partnership, or single member LLC, your bank account needs to be registered under your business DBA or representative name of your Stripe account.
If you are an LLC, corporation, or non-profit, Stripe requires that the bank account be in the company's legal business name or DBA.
Most commonly, this requirement can be satisfied by submitting one of the following documents.
A bank account statement

A voided check
➞ How do I provide this information to Stripe?
You will need to submit one of the documents above to our Customer Happiness Team. We will provide this information to Stripe on your behalf and follow up once we see your account has been cleared of the restriction.
---
Why is there an error when a member is checking out?
If the total is less than $0.50, then the cause of the error is that Stripe does not allow an amount less than $0.50 to be processed.
---
What should I do if a payment fails?
If you receive notification that a payment made to your Stripe account has failed, or you cannot accept payment on a conditional fee from within your SwimTopia registrations, this means Stripe was unable to fully process the transaction. This can happen for a variety of reasons but is usually due to an issue with the payor's card information.
---
My credit card was frozen due to fraud, is it possible that occurred via a Stripe transaction?
It is extremely unlikely that your card information was disclosed either via SwimTopia or via our payment partner Stripe.
SwimTopia's systems and network never come in contact with payment details for any transaction. We have never had access to card numbers, therefore cannot disclose it to anyone.
Our payment provider, Stripe, does come in contact with payment details. However, Stripe is a PCI Level 1 certified payment provider (the most stringent level available in the payments industry). They go to extreme measures to protect the payment details.
Stripe tokenizes (encrypts) payment information so it is not accessible to anyone (even Stripe employees), once saved to their system.
We know anytime fraud occurs it raises suspicions. We take security very seriously, as do our payment processing partners. If we had any reason to believe that payment information was compromised we would let our customers know that as soon as possible.
---
Does Stripe send payment receipts?
Stripe does not send payment receipts so the parent will only receive the registration confirmation email that includes the breakdown they saw on the payment screen.
When There's a League Fee Will Parents Receive Two Receipts?
These transactions are processed as one payment and the money is distributed into the team and league Stripe accounts separately. The payor will only receive the registration confirmation from their team.
---
How do I find out who the current account owner is?
For the security of your account, SwimTopia does not store your login credentials. If unsure of who the last account owner was, reach out to SwimTopia Customer Happiness and we will see what information we can provide to assist through our Stripe Dashboard.
---
Can more than one person have access to the account?
Yes. You can add "Team members" from within your Stripe Account.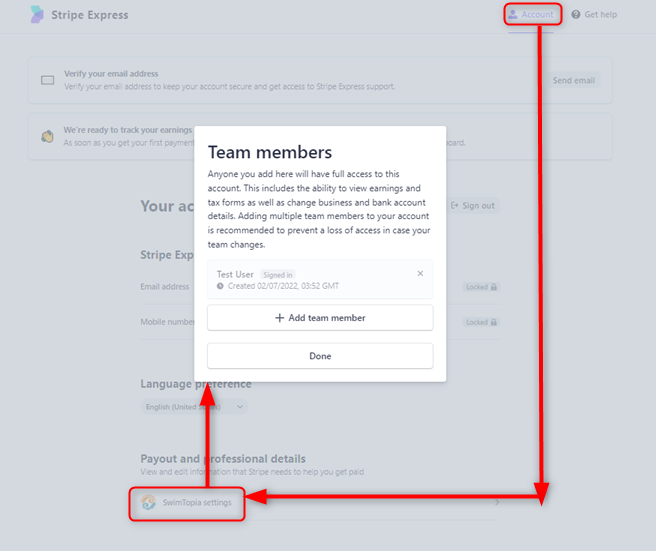 ➞ See Stripe Account Access & Management
---
Can more than one account be active at once?
A single Stripe account can be shared across SwimTopia teams, but one team cannot use multiple Stripe accounts. This is likely only pertinent to school teams broken out by Men/Women.
A request has already been submitted to our dev team for future consideration, but feel free to let us know if your team could use this, so we know the level of need. Submit a request to SwimTopia Customer Happiness.
---
How do I update my email or mobile# since they are showing as "locked"?
➞ See Stripe Account Access & Management article for more details on managing your account.
---
How do I transfer ownership of my Stripe account?
When your Stripe Account Representative has changed, you'll need to update your Stripe account with the contact information for the new Account Representative. Access to the account will require a verification code to be sent to the current Account Representative, so this needs to be part of their transition.
➞ See Stripe Account Access & Management article for more details on managing your account.
---
Stripe is saying I need to provide an EIN#, how do I do that?
This may come up if you have changed your business' tax information, such as having moved from an LLC to a Corporation entity type, or for some other reason, but can be done within your Stripe Account dashboard. Here are Stripe's instructions:
https://support.stripe.com/questions/update-tax-id-information-from-the-dashboard
---
How do I connect or disconnect from existing or shared account?
➧

Connect Existing Account
This feature is useful if two or more SwimTopia teams need to share the same Stripe account, and would be used in lieu of creating a new account. (A team can only have 1 Stripe Account connected to their SwimTopia account at a time.)
➧

Disconnect Account - From an Existing or Shared Stripe Account
After a Stripe Account has been created, or a Sharing Code has been entered and the accounts have been connected, you will see an option to Disconnect Account in case the link needs to be removed.
➞ See this section of our Stripe Account Access & Management article for more details.
---
hcmanagesettingsstripeaccount