There are many Post-Meet Reports you can run after your meet is complete. These reports provide many filtering and sorting options.
---
Covered in this Article:
---
Accessing Reports
As with the pre-meet reports (discussed in our Meet Maestro Settings - Pre-Meet Reports article), all post-meet reports are found under the Meet Maestro Settings (gear icon).

>>Note: Post-meet reports are in the right-hand column.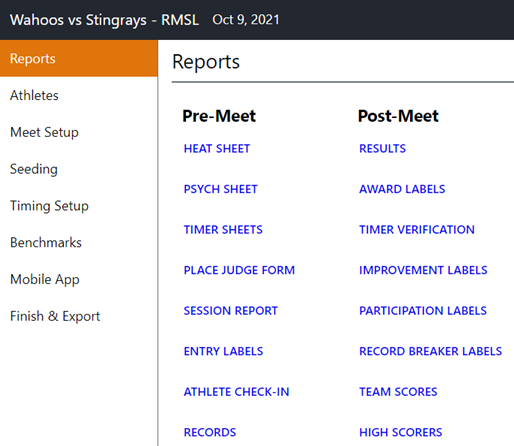 ---
Report Design Options
Each report will provide filter and display options, and can be downloaded and/or printed.
➧

Filter & Display Menu
We know manipulating report data is a common need across all teams, and wanted this report generation experience to be easy and clear. The filter and display menu is generated on the right margin when activated by clicking on OPTIONS in the header. This allows the report data to more fully display in the browser window and frees up space to more clearly display the team name, date and report title in the header.
In addition to filter choices, there are awarded places, display, benchmark/records and layout options for paper size and margins (more details on this below).
➧

Design Options Overview

Collapsed View

» Note: Just as clicking on OPTIONS at the top will activate the report design menu, clicking on it again will deactivate this from displaying in the right margin.
Expanded View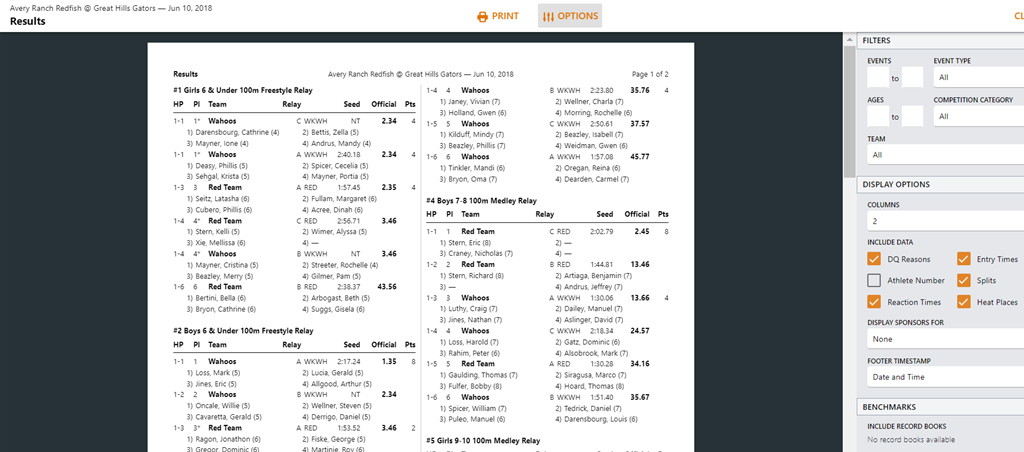 » Note: Once you have expanded a menu option, you will see this expanded as you move between reports. The system assumes you may be interested in that setting for other reports or when you return to the one where you expanded it.
➧

Design Options Details
➞FILTERS
Filter options allow you to choose a specific session or show all together; only show certain events and type of event; select a certain age range and/or competition category; and only show a specific team if desired.
Example from Heat Sheet Report: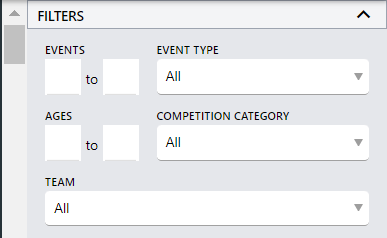 ➞DISPLAY OPTIONS
In the display options you can:
Display 1,2,3 Columns
Display DQ Reasons, Athlete Numbers (ex. USA Swimming IDs - long names are truncated to show full#), Reaction Times (Results), Heat Places (Results), Entry Times and Splits
Sort by Event or Athlete (Multiple Reports); Overall Type or Heat Place (Award Labels)
Include NT (Multiple Reports)
Include Exhibition/Non-Placing Only (Participation Labels)
Select to display your sponsor banner at the bottom (if you have created one within the SwimTopia team management system ➞ See our Sponsorships article for more on this topic)

PREMIUM

Include a Footer Timestamp by Date and Time or just Date.
Example from Results Report: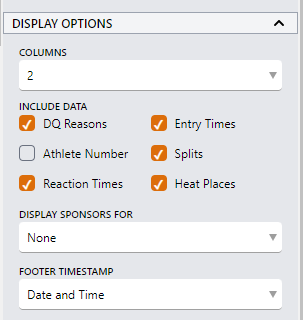 ➞BENCHMARKS
This section provides options for displaying Pool and Team Records along with Time Standard Sets (if these benchmarks have been created at the league or team level within a SwimTopia team management site). These can be configured to display in Heat Sheets, Psych Sheets and Records Pre-Meet Reports, and Results Post-Meet Reports.
➞ See our Creating a Record Book and Time Standards & Qualifying Times Overview article for more on these topics.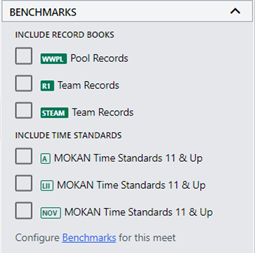 ➞LAYOUT (Results & Team Scores Reports)
Paper Size: Users can print to different paper sizes, including A4 (most popular non-US paper size).
» Note: We can add other paper sizes upon request. Submit your specific request on our Help Center.
Paper Margins: Users also have control over the page margins to allow modifications based on their specific printer options. The default is set at 0.4" which works for most printers, but optimal printing for a specific printer could dictate the need to make modifications to these settings.
» Note: Paper size and page margins are stored in the browser/desktop app so users only need to set this up once. Best printing results occur with Chrome. (versions 89+ - March 2021 - Only fully supported browser)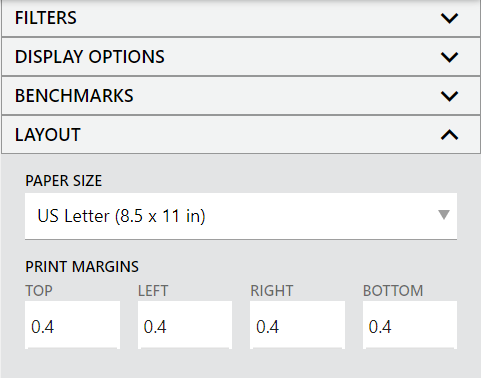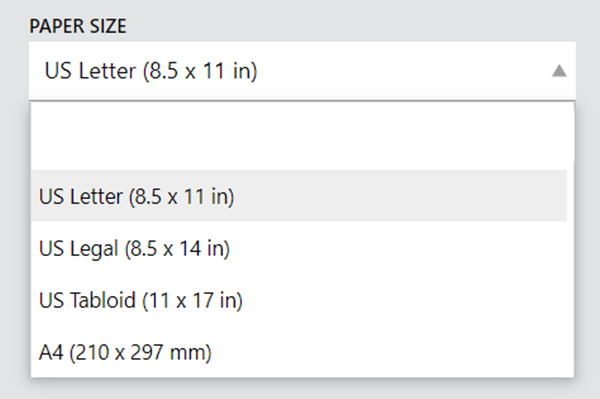 Margin Adjustments:
» Tip: We suggest leaving the default margin settings unless necessary, to avoid configuration issues that could cause paper waste. If your printer requires some adjustments, test print a few pages to ensure you have them set appropriately.
Example - For a perfect printout, an Epson XP-7100 requires 0.2" margin per side. To make this work, you would adjust the Meet Maestro setting from the default 0.4" to 0.2" for each margin (or mm equivalent for non-US). In the 'More settings' in Chrome's print menu set 'Margins' to 'Custom'. Then mouse over the preview to set the top margin to 0.2" and the left, right, and bottom margins to 0" (Meet Maestro will add the left, right, bottom margins.)
Possible Configuration Issues - If you see any of the following issues when printing, you'll need to re-adjust your margins to resolve the issue:
****************************************************
① Clipping
Issue: Some of the content is clipped when viewing the browser print preview OR only on a printed page.
Solution Options:
Set margins in Meet Maestro to 0.4" for all sides (or mm equivalent for non-US)
Set browser settings: Margins: 'Default' and Scale: 'Default'
Perform advanced margin tuning
****************************************************
② Overflowing Pages
Issue: The bottom of pages are overflowing to the next. Usually detectable in the browser print preview.
Solution: Adjust Meet Maestro top & bottom margins to match the browser print menu settings (Default typically means 0.4" per side or mm equivalent for non-US)
****************************************************
③ Extra whitespace at bottom of page
Issue: There is a bunch of whitespace below the footer in the browser print preview or on a printed page BUT not seen in Meet Maestro's display.
Solution: This indicates that the left/right margins in Meet Maestro are smaller than the browser settings. This causes the browser to shrink the content to fit the width. Fix this by setting the Meet Maestro left/right margins to be greater than or equal to the browser left/right margins (default is 0.4" or mm equivalent for non-US).
---
Available Reports
---
---
➧

RESULTS

➞ Benchmarks: Time Standards Display
Time Standards Sets will be available to select if they have been created at the league or team level within a SwimTopia team management site ➞ See our Time Standards & Qualifying Times Overview article for more on this topic.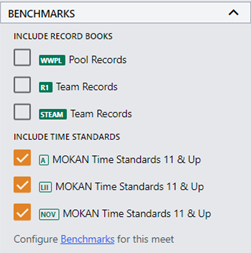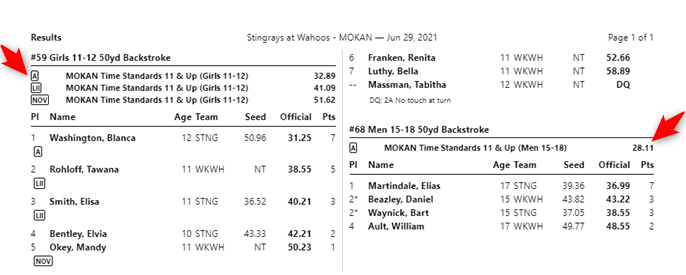 As mentioned in the Meet Maestro Settings – Finish & Export article, results (including scores) will automatically be uploaded to:
Each team's Results tab of the corresponding meet on their SwimTopia site.
The Athlete Performance reports (Reports tab within SwimTopia).
The per-family "My Account" swimmer time history pages within SwimTopia.
➞ See the section at the end of this article to learn how to display reports on your calendar for your members to see.
---
➧

AWARD LABELS

» Note: If Heat Place is selected in the AWARD TYPE filter, a SORT BY filter menu displays with choices to filter by Athlete or Event.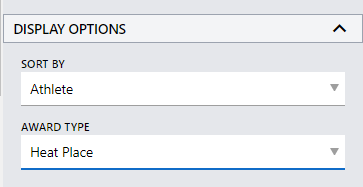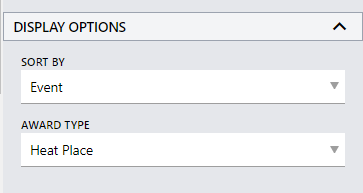 ---
➧

TIMER VERIFICATION
Some teams require an extra verification step to certify results. This report can be printed to give to someone to verify the data entry was correct. Comparing the timer sheet against what was entered for the heat.

---
➧

IMPROVEMENT LABELS

---
➧

PARTICIPATION LABELS

---
➧

RECORD BREAKER LABELS
These print out in label format. Results are not included until after the event is complete.

---
➧

TEAM SCORES

---
➧

HIGH SCORERS

---
Label Tips
CTS Dolphin users: Label reports are now available in the Desktop app. The first page of labels is generated as a preview and full PDF can be opened for printing.
Labels: Avery 8160 for inkjet, or Avery 5160 for laser printers (can be another brand)
Label Size: 1" X 2 5/8"
Sheet Size: 8 1/2" X 11"
Labels per Sheet: 30
---
Printing Tips
1. Best printing results occur with Chrome. (versions 89+ - March 2021 - Only fully supported browser for Meet Maestro. All major browsers are supported for the team management side of SwimTopia.)
2. Ensure your zoom level is 100%. Do NOT check "Fit to Page."
3. Be sure your report has finished loading before printing or saving as a PDF. Depending on computer and connection speeds, the first pages may be loaded, but the rest of the report may not finish for a few more seconds. A full version of the report will download in the web or desktop application, so you can review prior to printing
4. For larger reports, like the Timer Sheets, it can be helpful to print smaller ranges.
5. If you modified the margins and are seeing issues likely attributed to this ➞ See the LAYOUT section above.
6. If you are having printing issues, download the PDF and then open in a PDF viewer and print from there. ➞ See Saving Reports in PDF Format below.
---
Display Reports on your SwimTopia Site (if applicable)
Teams typically share reports like Heat Sheets, Psych Sheets, and Results on their SwimTopia sites so team parents can easily find and download them.
A meet result report in .PDF format can be attached to the meet or uploaded to the site for parents/athletes to access.
This file will appear alongside the corresponding meet in your website's meet schedule.
PDFs are not imported and do on affect the results.
These results are formatted for view/download only.
In Meet Maestro, save the Results report in PDF format (see instructions below)
Go to Schedule > Select Meet Name > Files, click the New Attachment button and select the .PDF report above from your local drive for your selected meet.

Saving Reports in .PDF Format
For both SwimTopia and Meet Maestro reports you can save reports in PDF format through your computer's print function:
Click "Print"

For "Destination," click "Change"

Select "Save as PDF"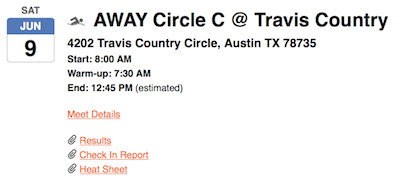 ---