We've worked hard to create a user-friendly interface to help you run your meets more efficiently. Here is an overview of this area to help you find the information or features you need.
---
Covered in this Article:
---
Event Status Bar
The left sidebar in Meet Maestro provides an at-a-glance summary of the event status in the meet. Each colored cell represents a single event (for example "Boys 11-12 50yd Backstroke"). The dark blue lines between cells are a visual indicator of a change in the stroke or event type (e.g. there is a dark blue bar between relays and freestyle events, then there is another blue bar between the freestyle and backstroke events, etc.).

Green cells indicate events that are "scored" (all data used for scoring has been entered).

Yellow cells indicate events with partially complete data (be sure to click the cursor away from the time entry boxes when you've finished entering each heat or lane so the event status cell turns green when all times for an event have been entered).

Blue cells indicate events have not yet started.

White cells indicate an "unseeded" event with no entries.

Gray striped cells indicate a scheduled break.

» Note: if you see a combo green/yellow cell, then you would be running a virtual meet ➞ See Meet Maestro - Virtual Meets for more information.
» Tip: Hovering your mouse over an Event Status Bar cell will reveal more details about the corresponding event, including the event name, status, and the number of heats and entries.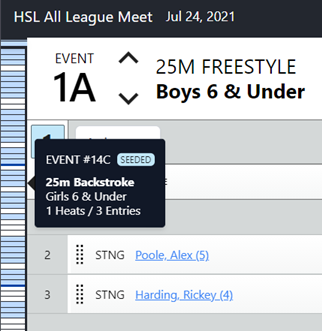 You can click on any of the cells to go directly to that event.
The event number is shown prominently in the upper left corner of the screen. You can use the up/down arrows to the left of the event number to progress forward or backward through the events.
➧

Keyboard shortcuts:
"Command" (Mac) or "Control" (PC) plus the up/down arrow keys.
---
Mobile App Settings Info Bar
You can click anywhere on the info bar at the bottom of your meet's run interface for a quick link to the Mobile App settings.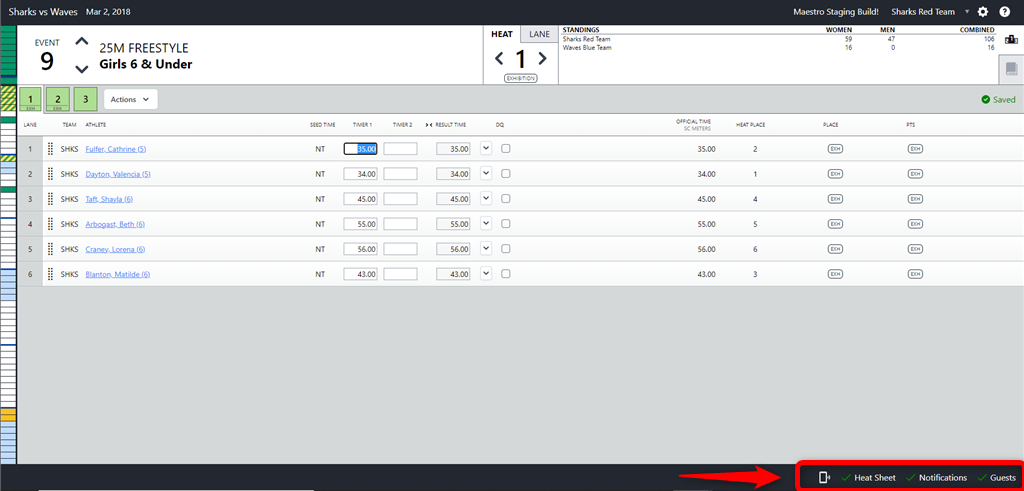 This info bar will keep you informed, so you can clearly see the status of the following SwimTopia mobile app settings:
Are Heat Sheets accessible via the SwimTopia mobile app?
Are Upcoming Swim Reminders and Live Results notifications enabled?
Will Guests (non-members of your team) be able to find the meet in the Public Meet Search?
When these configurations have been enabled, the info bar will update accordingly. For example, when the Publish Heat Sheets option has been enabled, the red X will update to a green checkmark.

For more information on these settings See ➞ Meet Maestro Settings - Mobile App
---
Automated Timing System Info Bars
When using an automated timing system (i.e. CTS Dolphin, CTS System 5/6, CTS Gen 7 Console, Time Drops, Wylas, etc.) there is additional user interface information that displays such as a timing system bar and current event/heat status bar.
➧

Timing System Bar

➧

Current Event/Heat Status Bar

➞ See the Running Your Meet section of our Help Center for more on the specific timing systems we support.
---
Heat View and Lane View
You choose to display your event in either Heat View or Lane View by selecting the Heat or Lane tab at the top of your screen.
➧

Heat View

Heat number is displayed in the Heat tab.
Heats are shown in boxes below the event number.

The heats are color-coded as well: green for complete, yellow for incomplete, and blue for heats not yet started. Color coding should make it easier to spot the incomplete heat (which would show yellow) in an event that is showing yellow.

Each row displays the swimmers assigned to each lane for that heat.
Easily move swimmers to different lanes within that heat by dragging and dropping the row to a new lane (hover over the left side of the row until your cursor looks like a cross).
» Note: Currently, to move athletes from one heat to another, you will need to click on the athlete name and manually change the heat/lane assignment.
Proceed between heats by clicking the left/right arrows next to the heat indicator in the Heat tab, or by hitting "Command" (Mac) or "Control" (PC) and the left/right arrow keys.
If on the last heat, arrowing to the "next" heat will automatically take you to the next event.
➧

Lane View

Lane number is displayed in the Lane tab.
All lanes are shown next to triangles (flags) below the event number.
Each row displays the swimmers assigned to each heat within that lane.
If timer sheets are printed by lane, this view will provide an efficient way to enter times as the timer sheets come in to the computer table.
Move between lanes by clicking the left/right arrows next to the lane indicator in the Lane tab, or by hitting "Command" (Mac) or "Control" (PC) and the left/right arrow keys.
If on the last lane, arrowing to the "next" lane will take you to the next event.
---
Event Actions Menu
Use the dropdown menu at the end of the list of heats or lanes to perform any of these actions below.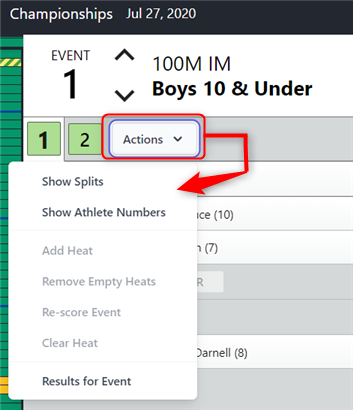 ➧

Show Splits
If enabled, an additional gray bar will display under each lane to display the split times, when available. For more on Splits ➞ See Meet Maestro Splits & Reaction Times
➧

Show Athlete Numbers
Some teams/leagues operate heavily based on athlete/registration numbers, more so than athlete names. As a result, we provide an option to show the athlete numbers (if available) on the time entry interface and in all applicable reports. These are not displayed by default since some athlete registration numbers include the date of birth, which is considered private data.
» Note: If the athlete's name is long, we truncate that to show the full athlete number since we assume if they are selected to be shown, they are most important to see.
Heat Sheet Example with Athlete Number displayed

For details on setting up Athlete Registration Numbers, See ➞ Athlete Registration Numbers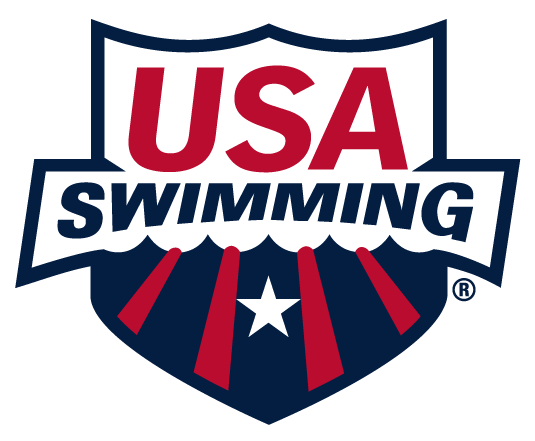 Note: If you are looking for information on how SwimTopia integrates with SWIMS 3.0 to match USA Swimming Member IDs, See➞ Overview: SwimTopia and USA Swimming Teams (SWIMS 3.0)
➧

Add Heat & Remove Empty Heats
Select these options when you need to add or remove heats
➧

Re-score Event
Normally your events will score automatically as soon as all data is input for all scoring heats in the event. If for any reason, your event is stuck in a "partial" update (yellow) state even though all the data is input, the re-score event option will force the event to score if it failed to do so automatically (it's rare, but can happen in some scenarios.
➧

Clear Heat
The feature gives users the ability to clear times & codes from an entire heat. This is especially useful after accidentally importing times into the wrong heat. (clearing lane-by-lane described in the Results Menu below)
To avoid accidental clearing, the user is presented with a confirmation request.

➧

Results for Event
If you need to print the results for an event at that moment, you can do so by selecting this option.
---
Results Actions Menu
The results action menu provides quick access to these actions instead of having to recall the shorthand codes, and when you need to clear those codes or adust the times.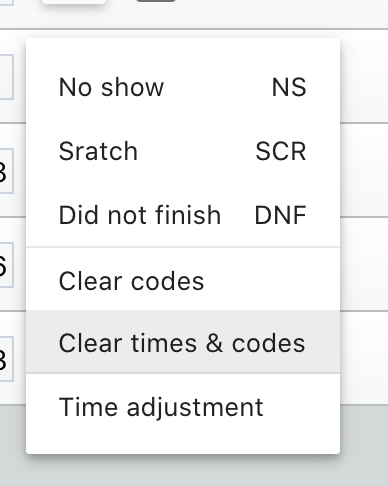 ➧

No Show, Scratch, Did not finish
Quick access to set these codes quick and efficient instead of having to recall the code format.
➧

Clear Codes
The feature gives users the ability to quickly clear the codes entered from each lane. This is especially useful after accidentally importing times into the wrong heat.
➧

Clear Times & Codes (Lane-by-lane)
The feature gives users the ability to clear times & codes from each lane. This is especially useful after accidentally importing times into the wrong heat.
To avoid accidental clearing, the user is presented with a confirmation request.

➧

Time Adjustment Form
We all know timing systems and people are not perfect. Malfunctions and user error can occur. When this happens, Meet Maestro provides an option for officials to adjust the time values as needed.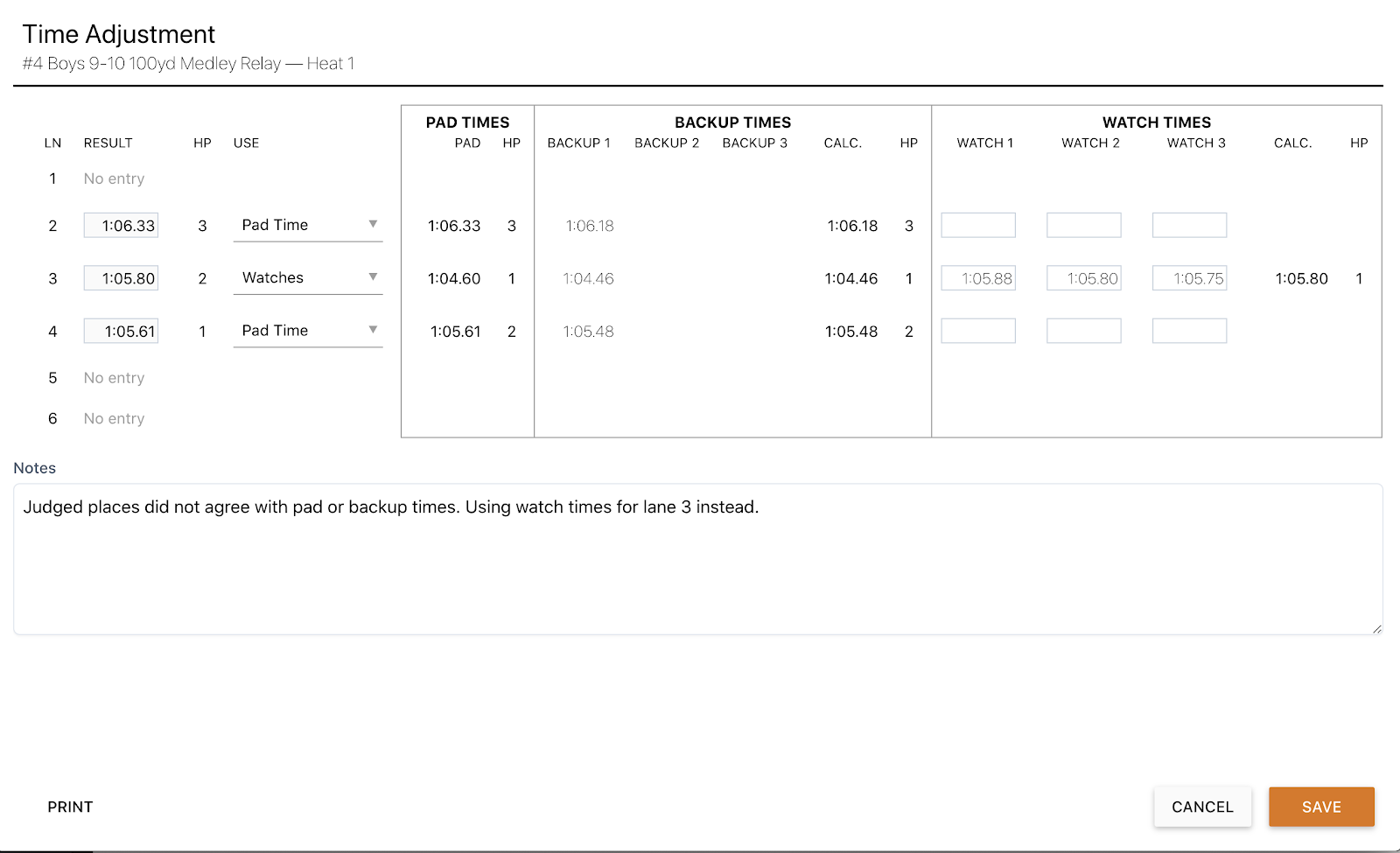 For more details on this form ➞ See Time Adjustment Form article.
---
Non-Scoring/Exhibition(EXH) Designations
(This applies to a Non-Scoring Event, Heat, Lane, and Individual Athlete Entries)
Entire events down to individual athlete entries can be marked as non-scoring/exhibition. For these configurations and for teams who have designated scoring heats and designated scoring lanes, you can immediately see a clear visual indication of which events, lanes, heats, and/or entries are not eligible for placing and/or scoring points as soon as you merge your meet.
» Note: If EXH designations seem inaccurate in your merged meet, review your Seeding and Scoring Rules found within your Meet Setup > Seeding & Scoring tab on the meet in your SwimTopia site (or the specific event details or athlete exhibition configuration).
➧

Example: Scoring Heat with Non-Scoring/Exhibition Lanes
In the example, heat 1 is a scoring heat, and the inner 6 lanes are scoring lanes (lanes 1 & 8 are non-scoring lanes)
HEAT MODE

LANE MODE

For more details and examples ➞ See Meet Maestro - Scoring and Placing
---
Timer Visibility Toggle
By default, three Timer input boxes will display, but not all teams will use all three. If your team wishes not to see all three input boxes, this can be changed with a click of the timer visibility toggle (><) directly from time entry header.
The first 2 clicks you make will reduce the number of timer boxes from 3 to 2 and then 2 to 1; the 3rd click will show all timers again.

» Note for teams using a timing system: This toggle does not change how many watches are expected. That value can be set in the timing interface for your selected timing system.
If there are hidden Timer fields with values in them that affect the result time, then a new tooltip icon (i) will appear in the row between the timers and the result time, as seen below.

Hovering over the icon will show a tooltip to explain.

Clicking the tooltip icon will display all timer boxes again, which is the same as when hitting the timer visibility toggle for the third time.
---
Team Standings & Benchmarks (Records/Time Standards)
The Standings will continuously update as the meet progresses.
➧

Standings Display

If Records are set to transfer in the meet merge from SwimTopia, and if Time Standards are created in SwimTopia and configured under the Settings > Benchmarks screen in Meet Maestro, they will display in the user interface as seen below.
➧

Benchmarks Display

---
➞
See

Meet Maestro - Results Entry article for more details on Entry Shortcuts, Warnings, DQs, Records & Benchmarks display and Course Correction Factors.