---
Covered in this Article:
---
Point Scoring, Place and Standings
As times are entered for each entry, the Heat Place, Place, and Points are automatically updated, based on the league (or team) rules in the Seeding and Scoring Rules section of the Meet Template.
Once the event is complete (meaning times or DQs have been entered for all heats and entries in the event), overall standings (women, men, total) will be updated.

➧

Points are not configured correctly?
Points can be configured directly on the meet in Meet Maestro in the event that the meet has been merged; is in progress; or is completed and it is discovered that they were set incorrectly, or not at all.
This is done on the Seeding & Scoring tab within the Settings menu (gear icon on upper right). ➞ See Meet Maestro Settings – Seeding & Scoring.
---
Judge Override of Timed Places
You can override the places with a "Judge's decision." When you hover over the Heat Place, Place or Points for any swim, a pencil icon will appear – simply click the heat place to edit it. If the place or points are overridden, it will be indicated by a grey triangle marker or grey tab (commonly referred to as a "dog ear" or "dogear") icon above the overridden number.

---
Non-Scoring/Exhibition(EXH) Designations
(This applies to a Non-Scoring Event, Heat, Lane, and Individual Athlete Entries)
Entire events down to individual athlete entries can be marked as non-scoring/exhibition. For these configurations and for teams who have designated scoring heats and designated scoring lanes, you can immediately see a clear visual indication of which events, lanes, heats, and/or entries are not eligible for placing and/or scoring points as soon as you merge your meet.
Covered in this Section:
➧

Example: Non-Scoring/Exhibition Event
An event can be marked as Non-scoring/exhibition when created in a Meet Template or directly in the meet on your SwimTopia site. This designation only excludes the event from scoring points.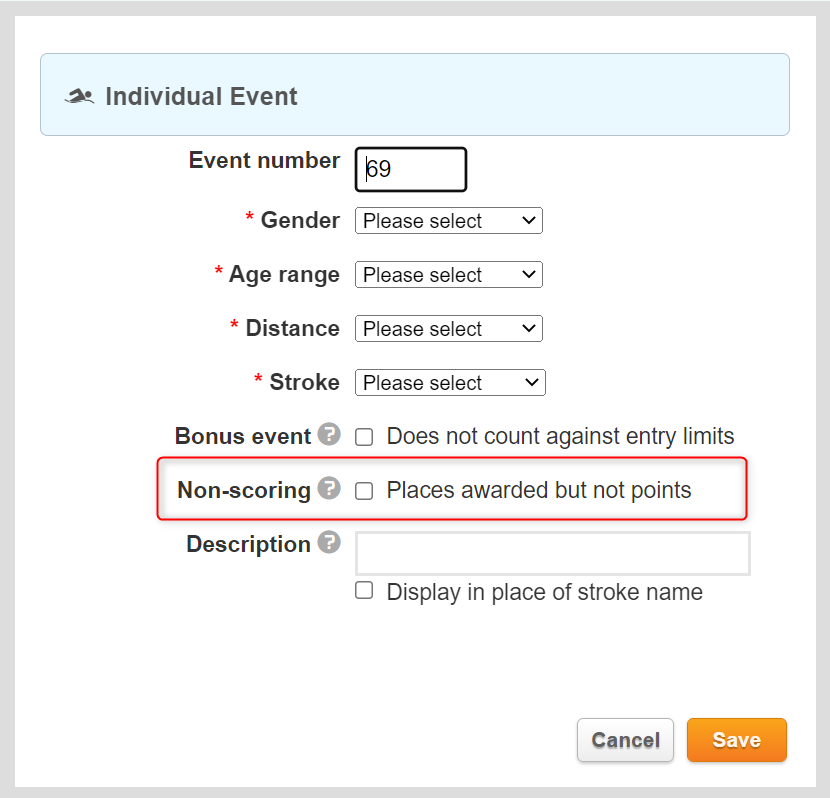 When events are marked as Non-scoring:

An "Exhibition" badge is shown in the event details area to indicate the event is non-scoring.
"EXH" placeholders are shown over the Points column, indicating the non-scoring rule is limited to "points only" but the athlete can still place.
➧

Example: Scoring Heat with Non-Scoring/Exhibition Lanes
In the example, heat 1 is a scoring heat, and the inner 6 lanes are scoring lanes (lanes 1 & 8 are non-scoring/exhibition lanes)
HEAT MODE

An "EXH" badge displays under to the lane number, to indicate this is a non-scoring/exhibition lane.
The "EXH" badges in the PLACE and PTS columns indicate that both are prohibited in specific lanes.
CLOSEUP VIEW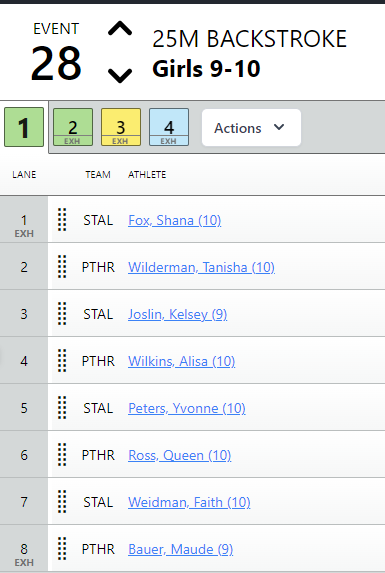 LANE MODE

Exhibition lanes are indicated via an "EXH" badge under the lane.
Each non-scoring heat is indicated with an "EXH" badge under the heat#.
The "EXH" badges on the Place and Points columns indicate that neither placing nor point scoring are allowed in lane 1 of each of the heats.
➞ EMPTY NON-SCORING LANES MARKED AS EXH
The "EXH" badges are also displayed in empty lanes to make clear that if an athlete is added to this lane, they will not be able to place or score points.

» Note: Within a non-scoring Heat (designated by "EXH"), a lane will only be shown as "EXH" if the Heat is set up to "Limit point scoring only" but the lane scoring rules are also set to "Limit placing AND point scoring" making the lane more restrictive.
➧

Example: Non-Scoring/Exhibition Athlete Entry
Currently, an exhibition athlete entry means it is not eligible for placing or points. Athlete entries can be marked as an exhibition before the meet is merged or after:
In SwimTopia from the meet entries matrix: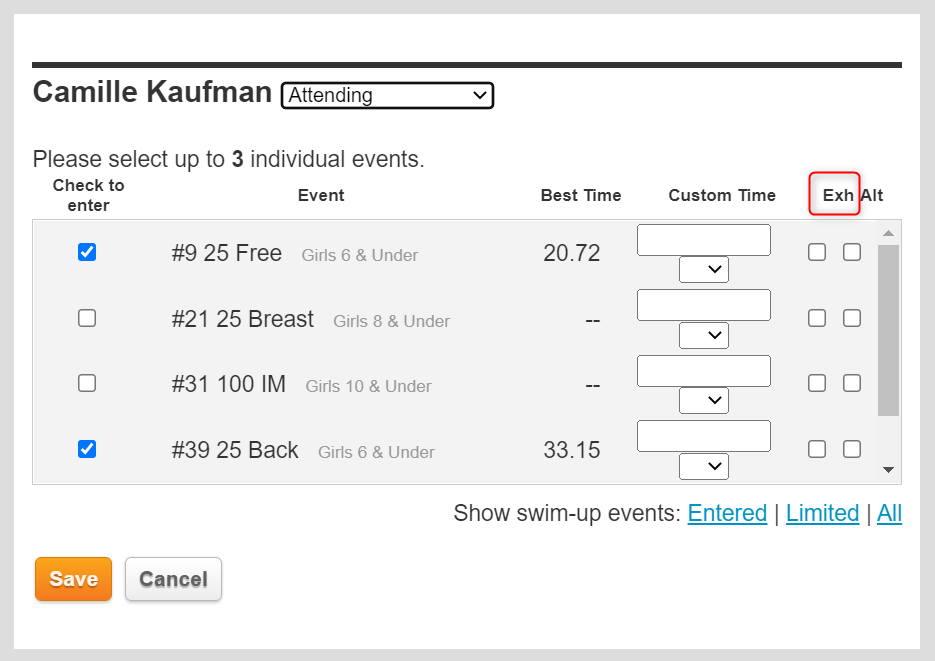 In Meet Maestro by clicking on the athlete name in the event, or from Settings > Athletes: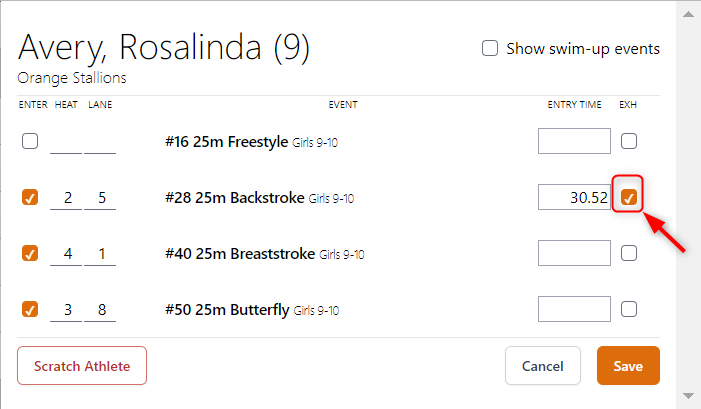 The entry is marked with an "EXH" badge next to the athlete name.
Both place and points are shown with "EXH" badge placeholders, indicating that this entry is eligible for neither place nor points.
➧

Seeing an "EXH" badge in a spot you don't expect
If EXH designations seem inaccurate in your merged meet, it is likely that you did not exclude your non-scoring lane(s) when prompted during the merge process.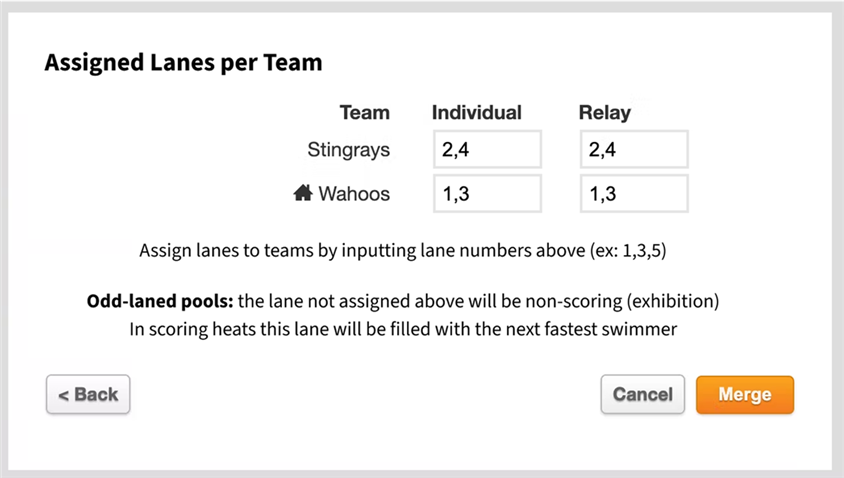 If your meet has not started, the best course of action would be to re-merge. If it has started, or you have done many deck changes, you can submit a support ticket to request that SwimTopia reseed your meet.
We also suggest that you review your Seeding and Scoring Rules found within your Meet Setup > Seeding & Scoring tab on the meet in your SwimTopia site (or the specific event details or athlete exhibition configuration) to ensure those settings are accurate.
➧

Update an athlete to non-scoring/EXH after the meet is complete
This is a change that you can make yourself within your meet in Meet Maestro, following the steps below:
If the meet is locked, go to Settings (gear icon (upper right) > Finish & Export
Turn off the "Lock out changes" switch
Go to Athletes
Search for the athlete and click on the name
Check the EXH box next to events that should be Exhibition, click Save
Go back to "Finish & Export" to turn on the "Lock out changes" switch
Click "Transfer Results"
» Note: If any changes to the results were manually made on either team's meet in SwimTopia, re-transferring the results will override those edits, so we suggest confirming with the competitor team before making changes.
---
tag:maestro tag:maestro-scoring