PREMIUM
This feature is available to our Premium customers.
SwimTopia gives you a robust content management system for your public-facing pages. You have full control and flexibility to display information for your families, making your site a go-to resource for all things related to your team and season.
Most of our teams create static content for their home pages by using Text Area, Announcement, and Image snippets. This will include things like an announcement box with a welcome message, a team photo, details about the team, and more. They'll use their sidebars to include upcoming meets, recent news, sponsor logos, etc. See our Help Center articles about Creating and Editing Pages, Editing Template Content, and Working with Snippets.
Click on the images below to see how a few other SwimTopia teams have set up their sites:
Teams can set up pages with content that's used frequently, such as meet info, practice times, weather policies, upcoming events, and more -- parents learn to come to these pages when they are looking for team information.
For most of our teams, the News page is used more for quick, time-sensitive announcements – like a rolling news feed (somewhat like Facebook). You can call attention to recent news posts by adding a "Recent News" snippet to your sidebar.
Here are some resources to give you ideas about how to use your website:
➞ Customers' SwimTopia sites - check out the look and feel, menu choices, and content on other SwimTopia sites
➞ SwimTopia new site template - features menus and template pages that we offer to new teams, complete with snippet examples and links to Help Center articles. Due to your site migration, you won't be starting with this site template, but you can check it out for ideas while you set up your SwimTopia website.
By placing content on specific pages on your site, families learn to use the site to find information they're looking for, with pages that are easy to read and easy to find. And once they get in the habit of using your website as a resource, they'll find that it's much faster and easier for them to retrieve the information they're looking for, rather than sorting through their inbox or scrolling through the news feed.
Examples of top-level and sub-pages could include:
Meets and Events

Files attached to meets, such as heat sheets, timelines, results

Swim meet 101

Instructions for meet signup

Descriptions of volunteer jobs

Maps to other pools

Practices

Practice times

Practice policies

Team

Team handbook

Coaches

Board members

Location

Contact us

Resources

Team's documentation, such as Volunteer Policies, Code of Conduct, etc.

Weather policies, link to a weather website

Swimming rules & DQs

Links to the league site
You can even highlight upcoming meet info by linking to a "hidden page" inside an announcement snippet on the home page.

Links to a page with these details: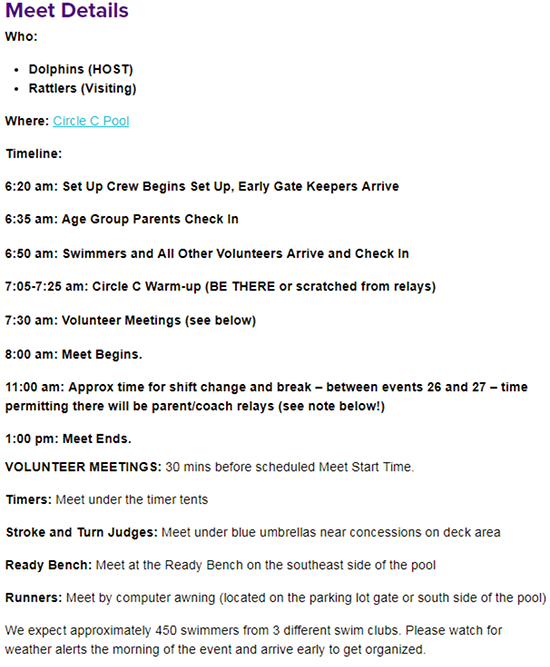 The great thing about setting up pages with frequently-used information is that parents know where to find things, no matter the time of day or how long ago they received an email. They get in the habit of using your website as a resource to find all the information they need about your team, in an organized, easy-to-use format. And then the News page is used for quick announcements that are time-based and have a shelf-life.
Regarding news posts and emails:
Most families realize the News page is like a blog engine or news feed that displays the most recent posts, and as you add more posts this season, the older ones will fall off the page. Going forward: we encourage you to use our easy-to-edit web pages to organize and display team information, and you can decide whether every email that gets sent to your team should be posted on your website as a news post. Should you decide to post emails on your News page, you can send the email using our Communications module, and select "Also publish as news post."
hcmanagewebsitepostspublished