SwimTopia Snippets allow you to add many different kinds of content to your website.  For more information about using Snippets, see our article, Working with Snippets to Create and Edit Page Content, or view our short video about Working with Snippets.
Upcoming Events / Next Meet Snippet
Choose how many events from your Team Schedule to display in list format on any page. You can select to display swim meets only, calendar events only, or all events as needed.

Click Create to save your changes or Cancel to exit.

Or, select Display next swim meet to show your next meet's name, date and location along with buttons for meet entry and volunteer signup status. This snippet is formatted to look best on a Template side bar. This option will not display calendar events.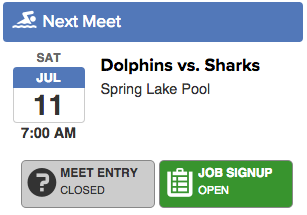 For either option, if there are no upcoming events, the snippet's title will be displayed but the content will be blank.