PREMIUM
This feature is available to our Premium customers.
The Registration Alert snippet displays a Register Now button that leads to your Registration page. This button will lead straight into your open registration form, or the Registration page will display a list of forms (if you have multiple open at once) for your members to choose from.
---
Covered in this Article:
---
How the Registration Alert Snippet Works
The Registration Alert Snippet is part of your template when you signup and will only display on your site when the registration form is open as seen below.
Manage Team > Registration:

Registration Snippet display:
» Note: Do not delete this snippet or it will not display when it should. If you accidentally delete this snippet, you can re-add it.
---
Editing the Registration Alert Snippet
The Registration Snippet will be visible when you are editing the page template whether or not registration is currently open.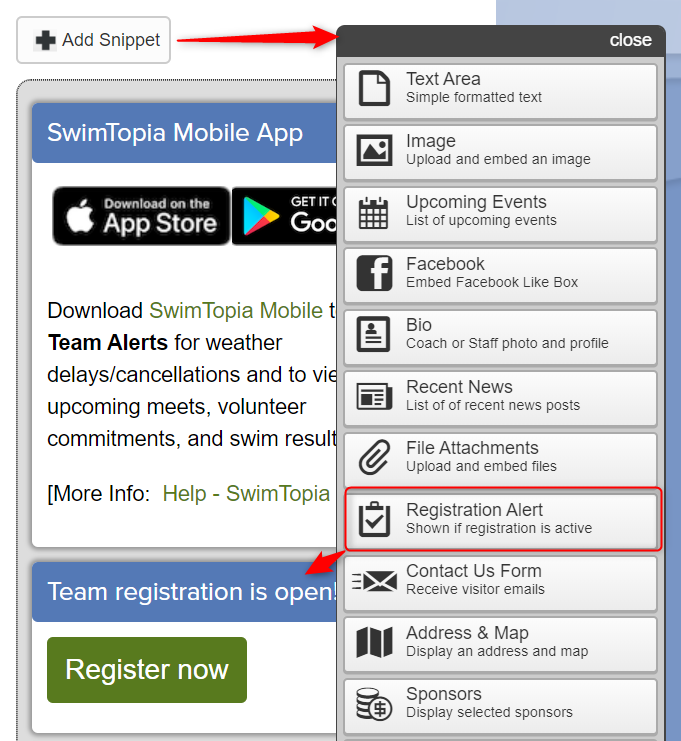 You can edit the Title of the Registration Alert to display as you would like when your registration form is open.

Click Update to save or Cancel to exit.
---
Additional Snippet and Registration Information
➧ For more information about using Snippets, ➞ See our Working with Snippets to Create and Edit Page Content article.
➧ To get started creating your Registration form ➞ See our Creating and Managing Registration Forms article and ▶️ Training Videos - Registration.
---