PREMIUM
This feature is available to our Premium customers.
SwimTopia Snippets allow you to add many different kinds of content to your website. The Contact Us snippet is important to provide your parents/athletes with an option to communicate with your board and coach. This snippet will create a form that can be sent to any email address you choose.
---
Creating Your Contact Form Page
The Contact Us snippet can be added anywhere you want your members to see it. You decide if you want an entire page dedicated to your Contact form, or if you want to include it in the side bar (template area) of any page on your site, or both.
➧

Step 1:
From the "Welcome..." menu at the top right, select "Edit Page Content" or "Edit Template Content" (dpending on where you want your form to display - Page = main area of the page, Template = side bar)
➧

Step 2:
Click on the +Add Snippet button.

➧

Step 3:
Click on and drag the Contact Us Form Snippet to your page.
(This can be moved anywhere on the page or template area when done setting it up)
Contact Us Form Snippet

➧

Step 4:
Enter the Title, the Recipient email address (you can enter more than one email address, separated by a comma), and Topic Choices (these will appear as a menu selection list on the form.)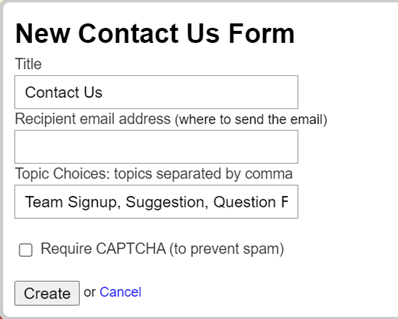 >>Note: The topic selected on the form will appear in the subject line of the incoming email, so that you can filter by topic, or set up a forward to other recipients in your email client ➞ See Contact Us Form: Forward by Topic Using a Gmail Filter OR you can also add multiple Contact Us snippets to create a topic specific page as seen here, for example - https://www.lhsplashers.com/contact-us
➧

Step 5:
Require CAPTCHA (to prevent spam): This is optional and can be activated at any time if you don't want your members to have this extra step now, but want to turn it on if you experience any spam issues.
If the "Require CAPTCHA" option is enabled, a CAPTCHA field is added to the form (powered by hCaptcha).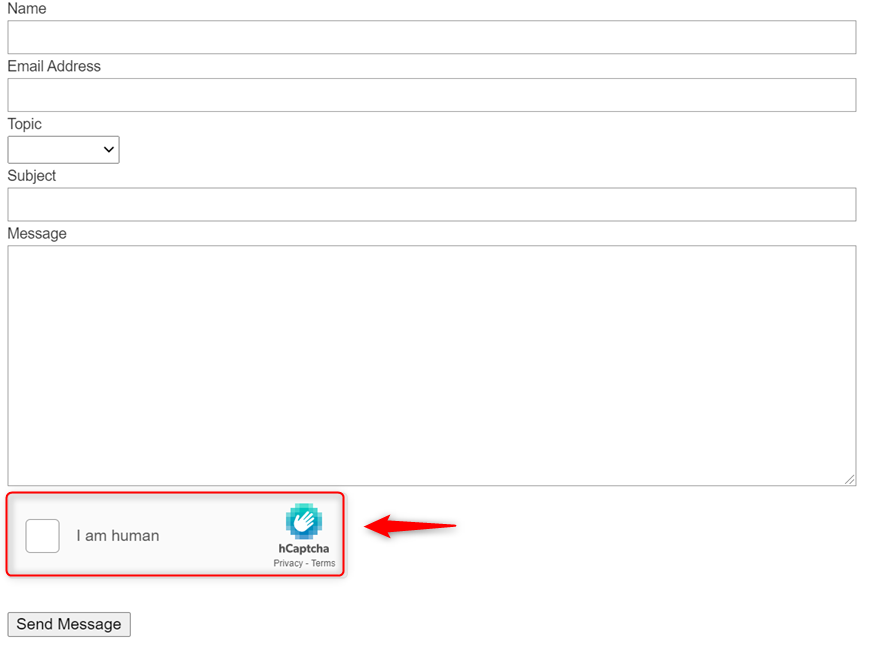 ➧

Step 6:
Click Create to save your new form or Cancel to exit.
---
For more information about using Snippets ➞ See our article, Working with Snippets to Create and Edit Page Content, or view our short video about Working with Snippets.