To edit the Main Registration section, click the title from the registration section menu.

Registration Limits
SwimTopia can automatically limit registrations to maximum number that you set. These limits are per form, so that each form you have open in a season can set its own limit.
See the Registration Limits tutorial for more info on setting up age group registration limits, waitlists, and automated notifications once limits are reached.
Title and Description
Enter a descriptive title for the form and any other information about registration for families in the Description text area.
Keep Require Home Address checked to ensure that every new registration includes a mailing address.
Setting the Reply-To Email Address
In the system-generated registration confirmation email that gets sent to your new members, the "From" field will say notifier+teamname@swimtopia.net: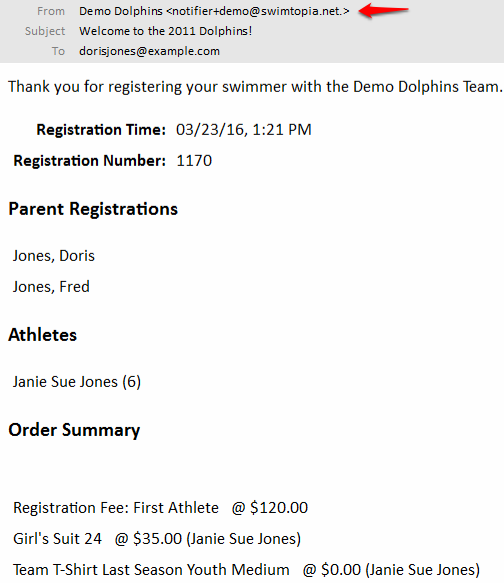 You will need to set your Reply-To field for replies to the registration form email to be sent to. 
If you are making a new site from a provided site template, the site owner's email address will be used. A new form created using the new form button will use the current user's email address.  
We recommend using a team email address that can be reused each season or make sure to update the email when the new season starts. If you want a copy of each confirmation email to be sent to that address, you can check the box next to "Copy each registration confirmation email to this address".  

This will populate the team admin's email address in the Reply-To of each confirmation email, which will help ensure that your members' emails are being sent to their intended recipients.

Ages and Fees
Check Do Age Restriction to activate minimum and maximum ages for swimmers.
Click Add Additional Athlete Fee to gradually reduce fees for multiple swimmers in one family.
Click Maximum charge per registration to activate an upper fee limit (does not apply to acknowledgement fees, league fees, merchandise, or other fees). 
Age-Range Fee Override
To provide special pricing based on athlete age, add one or more Age-range Fee Overrides below.
Fee overrides takes precedence over base registration fees.
» Note: Any athlete that has an overridden fee applied will not be counted toward multi-athlete discounts, but will be counted toward the per registration maximum charge limit (if any).
Private Forms 
A private registration form will not be linked to by the Registration Alert snippet on your website when you check this box:
Users will be able to access this form only via a direct link which will be shown on the main registration forms list. Note: Your form needs to be in an Open status to access. 
Private forms can be used to make accessible alternate pricing (say for board members) or to allow a select few registrations after the open registration period has closed.
Custom Questions
Custom questions are for things that will not change the fees or determine if an athlete is eligible to participate in the team. Use Merchandise for things like team t-shirt orders. For questions that DO impact registration, use Acknowledgements (below). To view the answers to customer questions, download the registration data.
If you would like to ask team-specific questions during registration, click Add Custom Question, and fill out the yellow form.
Enter your question heading and the question text. A preview of how the text will appear is in the Preview box.
Uncheck Answer Required to make this question optional, and choose how the answers will be selected and enter a list of answers in the Answer Options field. 
Click Add Custom Question to enter another question, or click Remove Question to clear it. 
When you are done adding questions, scroll down to the Acknowledgement Section to add Liability Waivers and Photo Release Waivers to your registration form.
Acknowledgements
Click Add Acknowledgement Section for each Liability Waiver, Photo Release Waiver, Facility Fee or Out-of-Area and Volunteer Opt-Out agreements, Resident or non-resident or neighborhood or HOA fees, etc. you will be including on your registration form. 
Enter the title, text and display order of your acknowledgement.

Click Require Acceptance if it is necessary for registration approval, and review or change the text you want your users to see next to the checkbox.
Require electronic signature will allow the registrant to enter their initials to indicate acceptance. 
Automatic Role Assignment
You can automatically assign all parents/guardians to a Role you specify when the acceptance box is checked.
Assignment during registration to an exempt Volunteer Opt-Out Role will allow users to bypass the volunteer page and pay a fee (see below).
Acknowledgement Fees
Check Include additional fee to allow collection of an additional fee required for registration, such as a a volunteer opt-out fee or other types of one-time per swimmer or per registration fees.
» Tip: there is a place in the Payment Section to add an HOA or Club member number for registration payment. 
Set the parameters of your fee and a description your users will see on the payment confirmation page. The example below shows how to charge a non-member facility fee per swimmer, except for those older swimmers who already pay a reduced registration fee (see Age-Range Fee Override above).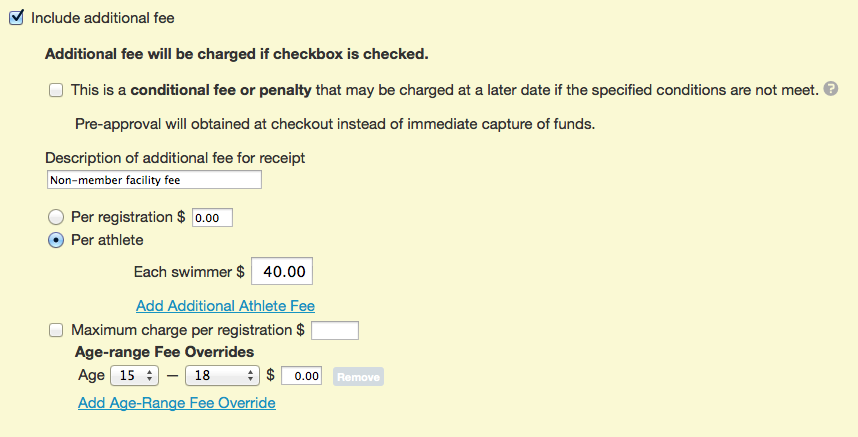 Fees can be charged immediately (as in the example above), or pre-approved for capture or release in the future (conditional fee).
Conditional Fees
Conditional fees provide a way to collect pre-approved fees, penalties, or deposits at a later date, if some condition is not met. 
For example, you can charge a "Volunteer Penalty" as a conditional fee per swimmer or per family, to be applied during registration but only charged to the pre-approved credit card after the season is over.

You can apply multi-swimmer discounts and and age-range overrides to conditional fees, and set a maximum fee, just like with other acknowledgement section fees.
During checkout, conditional fees are noted separately from all other itemized charges. Only the "Total Amount Due" will be charged at checkout.

The conditional fee will be saved with the registration and can be captured or released by an admin up to 8 months from the date of the approval.
 *Note: WePay must be set up and enabled in your registration form in order to process conditional payments during checkout.
Each payment transaction will be processed separately. The first (amount due) transaction will be processed immediately and assessed the standard processing fee of 2.9% + $0.30, while the second (conditional) transaction, if and when it is processed, will also be charged a processing fee of 2.9% plus an additional $0.30, because it represents a separate transaction.
See the Completed Registrations tutorial for more info on how to capture or release conditional fees.
Click Save to save the changes for this section.