Some teams choose to assign Registration Numbers (a.k.a. Athlete Numbers) for their athletes.
Registration Numbers can be imported from an existing Team Manager database, auto-assigned or created manually in SwimTopia. Whichever scenario fits your team, there are multiple options SwimTopia supports for assigning, viewing and downloading these numbers.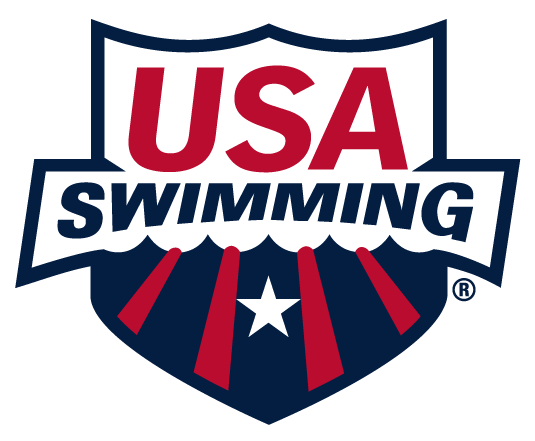 Note: If you are looking for information on USA Swimming Member IDs, these can no longer be manually entered or auto-assigned, and must come from the USA Swimming database. See ➞ Overview: SwimTopia and USA Swimming Teams (SWIMS 3.0)
---
Covered in this Article:
---
Assigning Registration Numbers
Registration numbers are not auto-assigned by default during registration, but there are two ways you can assign a Registration Number to an athlete.
➧

Option 1: Edit "Athlete Registration Numbers" Report
Edit the "Athlete Registration Numbers" report under the Reports tab (within the Athlete Information section) to either use the Auto-Assign button at the top, or manually enter each number.
» Tip: You can enter an initial Registration Number, Save (at bottom), and then use "Auto-Assign" to generate additional incremental Registration Numbers based on this initial value.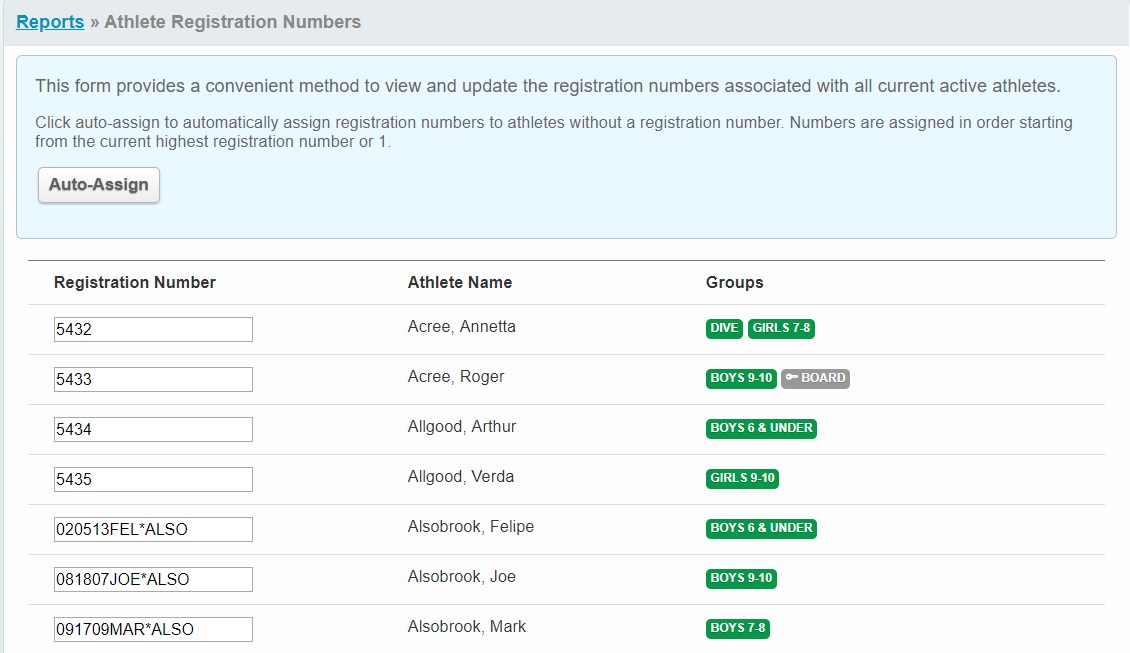 Don't forget to scroll to the bottom of the page to Save Changes!

» Note: If a user is connected to a USA Swimming Member Account, auto-assign or editing of registration numbers for those users is not allowed.
➧

Option 2: Manual Entry on Athlete Profile
Manually enter a Registration number in People > Athlete Name > Edit (top right corner within athlete profile).

Once on the edit screen, scroll down to the bottom and you will find the "Registration number" field.

» Tip: The Registration Number is not used by SwimTopia to uniquely identify athletes, or to de-duplicate athlete records. However, the Registration Number is used to match/deduplicate athletes in other meet mgmt software. For this reason, care should be taken to ensure that if a registration number is assigned that it is unique for each athlete on the team.
---
Athlete Numbers in Meet Maestro
Athlete Numbers are configurable to display in the time entry interface and reports within SwimTopia's meet management application, Meet Maestro ➞ See Meet Maestro - Time Entry Interface Overview
---
hcmanagepeoplenewathlete hcmanagesettingsdatamaintenancetools